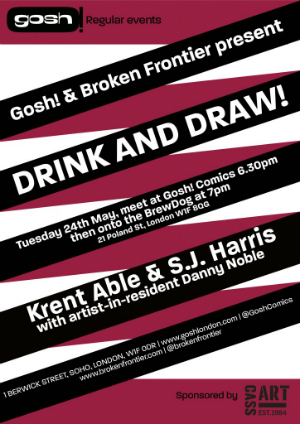 The Gosh! Comics and Broken Frontier Drink and Draw returns on May 24th and this time our venue is the BrewDog pub on Soho's Poland Street. Our third gathering of 2016 sees two biting purveyors of parody with nevertheless very different approaches to the page on hand – the always outrageous Krent Able and the ever dapper S.J. Harris.
Joining them, as is customary on these occasions, is our Artist-in-Residence Danny Noble who is currently in the spotlight again for her striking Broken Frontier Small Press Yearbook cover and story. Your co-hosts for the night are myself (Broken Frontier Editor-in-Chief Andy Oliver) and Gosh's very own Nora Goldberg.
Krent Able's Big Book of Mischief was published by Knockabout in 2012 collecting his satirical work from music magazine The Stool Pigeon. Featuring skewed and twisted looks at pop cultural icons like Nick Cave, Morrissey, Johnny Cash, Kanye West, the Banana Splits and so, so many others it has the feel of a mischievously darker and more disturbing version of Viz. Other outlets to disseminate the gloriously warped imaginings of the Able mindscape include the NME, Vice and The Guardian.
I described S.J. Harris as having a "deliciously morbid wit" when I reviewed his debut graphic novel Eustace from Jonathan Cape here at Broken Frontier in 2013. Fans of that brilliantly bleak yet frantically farcical dissection of the mores of 1930s England will be delighted to know that Harris is currently working on the next volume in a projected series. He has also been a recent contributor to anthologies like Tiny Pencil and Keara Stewart's dreams and nightmares anthology A Bit of Undigested Potato.
If you're a Broken Frontier regular and you don't know who Danny Noble is by now then you must have a worryingly low attention span! Danny was one of my inaugural BF 'Six UK Small Press Creators to Watch in 2015' and a contributor to the aforementioned Broken Frontier Small Press Yearbook. She gained a much deserved nomination by the BF staff in the Breakout Talent category in last year's Broken Frontier Awards and was one of the standout talents on the UK indie scene in 2015.
Her drunken slapstick thespian protagonists Ollie and Alan appeared in two collections last year – Was it… Too Much for You? and Ollie & Alan's Big Move – and her work also appeared in anthologies like A Bit of Undigested Potato and Dirty Rotten Comics. You can read her recent interview looking back on the 'Six to Watch' experience here.
Join us next Tuesday night for another fun evening of drinking, drawing and comics camaraderie. We kick off at 6.30pm in Gosh with a chance to get hold of signed comics and books from our featured creators before moving over to The BrewDog for 7. Look forward to seeing you then!
Join the Facebook event group here.