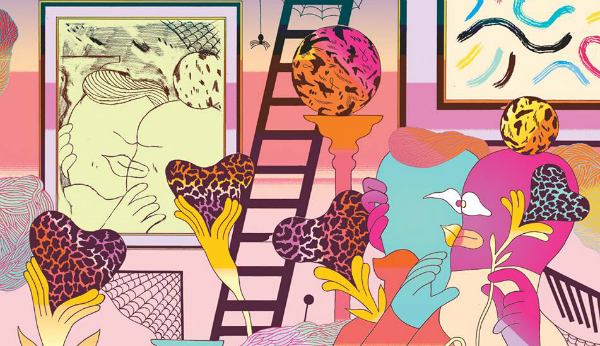 A SAFARI FESTIVAL TIE-IN!
For anyone with an interest in the international small press comics scene there are few more important micropublishers out there at the moment than Latvian outfit kuš!. The regular schedule of their themed š! anthologies and their mini kuš! minicomics means that there is always plenty of opportunity for their appreciative readership to enjoy the work of a vast company of cross-continental creators who are celebrated within their pages.
With the kuš! team embarking on a "world tour", and with an imminent appearance this week at Breakdown Press's Safari Festival on August 22nd (where they will be launching š! #22), I took the opportunity to chat to kuš! founder David Schilter about their origins and philosophy, how they have developed as a publisher over the last few years, and their role in bringing comics to a country with no formal traditions in the medium…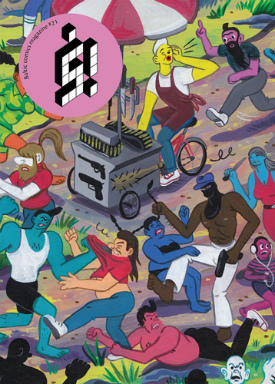 ANDY OLIVER: While many Broken Frontier readers will know of kuŝ!'s output as a publisher they may not be as aware of the people behind it. Who makes up kuŝ!? And what were your routes into the world of comics?
DAVID SCHILTER: kuš! is made up of Sanita Muizniece and I who work on it basically 24/7 holding it all together. We're supported by our friends Monika Grūzīte and Markus Häfliger who are responsible for the design. In a loose way we could also be called a collective, as we often meet up with the local artists for comic jams and exhibitions and also for visiting festivals and taking part in various comic projects.
My way into comics was a natural one; I am Swiss and grew up with comics, reading them all my life and getting introduced early to alternative comics through the excellent Fumetto festival in my hometown Lucerne. I studied law, but after my master's degree moved to Latvia and ended up founding kuš! as a way to keep me occupied in this foreign land. Soon Sanita joined the organization. She studied English literature and social work and works as a freelance translator and an all-rounder for her family's car paint distribution company. So she had a lot of color in her life before becoming a comic publisher even though she hasn't been exposed to comics, as they simply didn't exist in Latvia during her childhood.
What was the genesis of kuŝ!? How would you describe its mission statement, so to speak?
We're almost 3000 days in it and we still wait for the creation of light…  The process of creating what makes up kuš! has been, and still is, very messy. Learning by doing and trial and error still make up our everyday work and we have many steps left to develop. In the beginning the magazine was in Latvian and our mission was to introduce comics to Latvia, a country where this media was so far basically unknown.
Emphasising the international scope of kuŝ! – work from Mexico's Inés Estrada, Argentina's Berliac, and South Africa's Jean De Wet
After our local distributor dropped us after one year in 2008, we actually wanted to give up, and then Sanita accidentally found public funding for making an English language publication – the birth of the š! anthology. Since then it is still our goal to promote comics in Latvia, but our focus shifted more internationally and now we basically want to spread Latvian comics and international artistic comics around the world.
Do you have any thoughts on why comics as a medium have never taken off in Latvia? And in the years since kuŝ! was founded do you feel you have had a positive effect in advancing the form in Latvia?
Latvia was occupied by the Soviet Union until it regained its independence in 1991. During the Soviet times comics as a medium from the West were said to be simplistic and stupid and were basically forbidden. So there weren't any comic publications. In the same time though there has been a very strong illustration culture for children's books and also political caricature. Art is very well regarded in Latvia and the education of the craft is very strong, but narratives in drawings are seen as childish and not artistic.
Anthology pages from Canada's Kara Sievewright, the UK's Oliver East and Germany's Paul Paetzel
Through our publications we managed to change some people's minds, showing what comics are capable of in experimental and artistic ways.  Meanwhile we managed to excite many artists to draw their own comics. It's still a much hidden culture, but people who are more open to art mostly know about us and now accept what we are doing.  We haven't managed to change the popular attitudes yet, but slowly comics are becoming a part of alternative culture.
Unfortunately we're still the only publishers of comics, but at least some artists are putting out their own fanzines now and also a new magazine dedicated to illustration was created three years ago, and they put out very strong books of alternative illustration. So, all in all the comics culture here has grown from being non-existent to being just a bit hidden…
Your flagship title is your ŝ! anthology. Why that particular format for the book? What appealed to you about the digest size? And what was the idea behind theming each issue?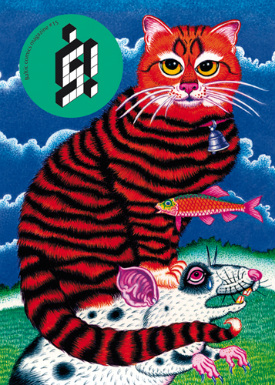 As I mentioned before, most things happen in a quite unplanned way and somehow by chance. Our first publications were bigger (B5) and in Latvian, and then we got very tiny funding to print some books in English, so we chose a small format, that was cheap enough to print. After the first issue we continued regularly putting out the small publications, but also made three bigger ones in a A5 format, but the smaller format seemed to be more appreciated by most people, somehow seen as unique, so we consciously decided to stay small. Also now it actually helps a lot. For storing the magazines, we need much less space and shipping the books is much cheaper this way. Small is not only beautiful, but also practical!
The theming of the issues we have done since the very beginning. I guess it was because I was inspired by the Swiss comics anthology Strapazin, which has run for over 25 years now and I thought I could bring something similar to Latvia. We try to mix it up once in a while, so our "classical" issues have had themes like "Love Hurts", "Lost in the City", "Cats" and very non-comic topics like "Sports" and "Mathematics".
Next to that we've done an issue focusing on female artists, one on the Finnish and one on the Portuguese comic scene, one for comics as poetry, one focusing on autobiographical stories and even one of comics created by contemporary artists who don't usually create comics. Actually our newest issue, š! #22 "Fashion" is not about fashion, but we invited artists who usually pay very detailed attention to their characters' clothes and style. In this way we try to keep the issues exciting both for the readers and also for us, not to get into a routine, as we've done over 30 anthologies by now.
The 'Sports', 'Poetry' and 'Mathematics' issues of š!
Can you tell us briefly about the mini kuŝ! series of minicomics and some of the artists you've showcased in them over the years?
The initial idea of the mini kuš! was to give newer artists the space to created slightly longer stories than in a regular issue, but not to overwhelm them with creating a "Graphic Novel" from scratch. It's still one of the main ideas, but meanwhile we've also invited a bunch of more established artists, who have already published a bunch of books. For them the mini kuš! series provides a space to experiment and do whatever they want, without worrying about a big editor.
It's hard to point out a single artist from the 37, as it was a joy to be publishing all of them. We always love our newest ones, and this time we got some very crazy, colourful stuff from Mikkel Sommer, Tommi Musturi, Lai Tat Tat Wing and Theo Ellsworth! Usually we're most excited to get comics by Latvian artists as it seems a great step to have motivated them create something longer than 4 pages. Take a look at the last ones by Zane Zlemeša, Anna Vaivare, Rūta Daubure and Oskars Pavlovskis, they got very good reviews!
Three of the latest mini kuŝ! books from Tommi Musturi, Theo Ellsworth and Lai Tat Tat Wing 
One of the signature elements of all your publications is the experimental approaches to the medium from an array of cross-continental contributors that sit between their pages. Is that level of boundary-pushing creative freedom something you have been actively looking to champion?
Yes!
What are the logistics to putting together an edition of ŝ!? Do you curate it by actively approaching creators? Are you open to submissions?
It varies a lot. For our regular issues we decide on a theme and then we invite artists who we think would fit. Sometimes artists send us already made stories and then we get inspired by them and build up an anthology around it. We used to make a lot of open calls, but the last times we got so many entries that it didn't feel right to only publish a tiny fraction of them, so we decided to do less open calls.
mini kuŝ! interior pages by Anna Vaivare, Oskars Pavlovskis and Zane Zlemeša
But we're very happy about any artists contacting us and presenting their work. It is interesting to put out work by many young artists, who might have never been published before. We're also quite active on tumblr, where we follow almost 2000 artists, it's a great place for discoveries and it has become an important part of our working day. That's great about being a publisher, you can just spend hours on the internet and read tons of comics, without feeling guilty you don't do anything.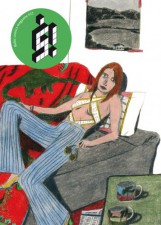 Your latest issue of ŝ! launches very soon at Safari Festival with that theme of 'fashion'. What creators do you have lined up for that issue? Are there any stories within its pages that you're particularly excited about?
This issue we created with a different approach and we invited artists who all pay great attention to fashion in most of their work. This involved more research than usual; actually there are not so many comics with great fashion. There are great fashion illustrations, but not many stories. So we also asked around on Twitter which comics with interesting fashion people enjoy. Many suggestions involved a lot of quite skimpy stuff, though, where the characters wear very little fashion so we got to figure out ourselves who would suit best.
The issue features many artists who we recently discovered and have never published before such as Laura Callaghan, Joseph P Kelly, Sharmila Banerjee, Tamia Baudoin, Otaki and Hetamoé, and Roman Muradov and Anna Deflorian who had appeared only once before in our publications. Most of the rest are Latvian regular contributors. One of the most hilarious stories might be about a very fashionable poodle by Mārtiņš Zutis (below right). Others feature mostly humans and are all very chic.
Pages from ŝ! #22 featuring Hetamoé, Laura Callaghan and Mārtiņš Zutis
You're on something of a "world tour" at the moment aren't you? Where can international readers expect to see you through the rest of the year?
Haha, yes, we just announced the kuš! world tour! What could be a better way to show off and make everyone jealous? Well, we are traveling around quite a bit all the time, but this year we'll also visit Bogotá, Medellín and Brooklyn, so it sounded appropriate to call it a world tour. Apart from these places after the start in London we'll also visit Helsinki, Brussels, Paris, Antwerp, Berlin, Bologna and maybe even more places.
Touring seems to be one of the best ways for us to distribute our books.  We ship all of them already ourselves all around the world, and, instead of spending all the money on stamps, we might just as well spend it on some flights and get the books to places where no shops carry them. It's part of our alternative distribution model. Sanita and I don't have to go to all the places ourselves, luckily also some of our artists get to travel in the name of kuš!. The detailed plan can be found on our blog.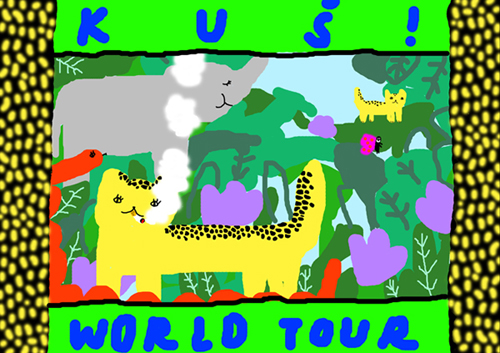 World Tour poster by Līva Kandevica
Give us a lowdown on some of the exhibitions and workshops outside of publishing that you have also been involved with over the years?
In the last eight years we've had quite a lot of exhibitions with Baltic artists and international guests like Tommi Musturi, Ruppert & Mulot, Anke Feuchtenberger, Kolbeinn Karlsson, Atak, Léo Quievreux, König Lü.Q, Lamelos, Pakito Bolino and more. We have a traveling exhibition called "The Last Match" (below) that features the work of almost 400 international artists collected in matchboxes. We've done a comics art project with people like Nicolas Zouliamis, Mari Ahokoivu, Emelie Östergren and Søren Mosdal reinterpreting the classical paintings of the National Art Museum.
For three years we've done a Latvian comics competition to motivate Latvians to draw comics and give them a nice award. Once a month we do a "drink & draw" with local artists, which in summer transforms to shashlik & draw. We're also part of the CUNE comics residency program and hosted James Turek, Emmi Valve and Berliac for a month each in Riga. We've been part of a Europe-wide project combating racism and promoting the work of artists with migrant backgrounds. Currently we're involved in a project with German historians and five European artists to create comics about victims of National Socialism.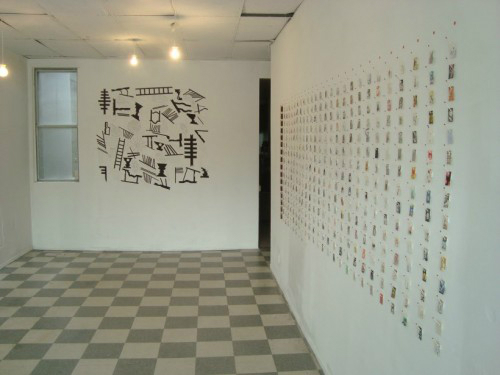 We also quite often organize workshops in Riga and we had the luck to get great teachers such as Inés Estrada, Amanda Baeza, Henning Wagenbreth and Thomas Wellmann. Often we also do our own comics workshops together with Latvian artists for students, youngsters, kids and even seniors. Once in a while we do comics parties with music and live drawing, animation screenings and comic readings. It's weird that we still manage to publish comics, which is actually our main activity, but all these events are very important and usually not only very stressful but also a lot of fun.
And, finally, what's next for kuŝ!? What are your plans for the future?
Every time we're asked this question I would say we don't have any special plans and just want to carry on with what we do so far. This time I can announce we'll start something new! In October we'll release the first kuš! mono. It's a comic of 100 pages by an artist who was a bit too productive with his anthology contribution, so we decided to make a book… We're very excited about it and hope it will be the first of many more!
For more on kuš! visit their site here, their online store here, and follow them on Twitter here.
For regular updates on all things small press follow Andy Oliver on Twitter here.
kuš! will be exhibiting at Safari Festival on August 22nd.