BROKEN FRONTIER AWARDS – BEST WRITER AND BEST NEW SERIES NOMINEES!
'3 Reasons Why You Need to Read…' is Broken Frontier's semi-regular spotlight on a given serial comic that we think should be on your pull list. Whether it's because of its thematic explorations, its craft and presentation, or if it's something altogether more frivolous, we'll provide you with a trio of pointers as to why you should be checking each chosen book out…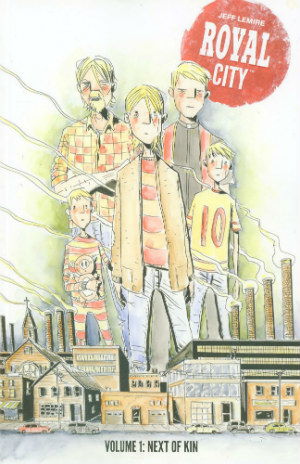 Debuting in the first quarter of 2017, Jeff Lemire's Royal City from Image Comics was advertised as possibly the most ambitious project of his acclaimed comics career and his "most personal work to date". From Lemire's breakout work in the Essex County Trilogy from Top Shelf a decade ago to his involvement with a number of Marvel and DC super-hero properties, the creator's diverse portfolio of projects – including Sweet Tooth, Secret Path, Black Hammer, The Underwater Welder, Plutona and A.D: After Death – has consistently underlined his place as one of the most versatile storytellers working in the medium.
Royal City centres on the Pike family who are drawn together again after many years when ageing father Peter suffers a stroke and is hospitalised. Peter's wife Patti is domineering yet wracked with guilt, eldest son Patrick is a novelist whose life is spiralling out of control and who is returning to his childhood home after years away, daughter Tara has carved out a successful career but is now faced with a moral quandary that could have serious repercussions for both her family and her town, while Tara and Patrick's brother Richie is a slacker screw-up constantly getting himself into scrapes.
At the heart of the tale, is the youngest Pike child Tommy who, despite dying in mysterious circumstances in 1993, still appears to his family in a variety of incarnations…
#1 Beautifully realised characterisation
Perhaps Lemire's greatest triumph in Royal City is how quickly he made us care about a group of largely unsympathetic characters. That's because Royal City explores so many of those recognisable alternative rites of passage that aren't celebrated or commemorated as landmarks. The sense of ennui as the years pass you by; being trapped by your own past; the feeling of being an impostor in your chosen vocation; and the realisation of the intangible nature of the concept of success. We see ourselves staring back at us in the Pike family's frustrations and their weary resignation, and we cannot help but feel empathy with them.
Lemire's quiet manipulation of his audience has ensured that connection has steadily grown across the two arcs, especially as the jump back in time to the last days of Tommy Pike in the second storyline has slowly revealed in increments exactly what made the characters the people they became. Despite its thematic gravity the drama in Royal City is understated and delicate, evolving more from our investment in this fundamentally flawed yet all too identifiable cast than in ostentatious set pieces.
And, of course, this is all so finely complemented by Lemire's loosely rendered yet so expressive visual characterisation, careful muted colour choices and panel-to-panel pacing. All of which say so much about his characters' emotional states and outlooks.
#2 Epic yet accessible
This is a book where past and present, environment and characterisation, theme and atmosphere, constantly reflect each other. It feels sprawling and epic, yet simultaneously incredibly down-to-earth and relatable. The collapse of the Pike family unit, for example, is metaphorically echoed in the deterioration of the failing industrial Royal City that they make their home in. The shifts across time in different story arcs give a sense of scope and yet we never forget the very human dramas that the comic pivots around. Time, place, motifs and characters don't just interweave in Royal City – they mirror and almost embody each other.
With a careful employment of psychogeography and magic realism that never come across as intrusive as narrative devices or, in the latter case, otherworldly in delivery, Royal City feels like both an urban saga in the making and the most accessible of concentrated family dramas.
#3 The Royal City playlist!
Lemire has expanded the reading experience in a number of issues providing his own playlist for the instalment in question. It's not the first time you may have come across this idea but it adds to the differing period elements and gives an extra cross-media layer to the book. You can access the list on Spotify here.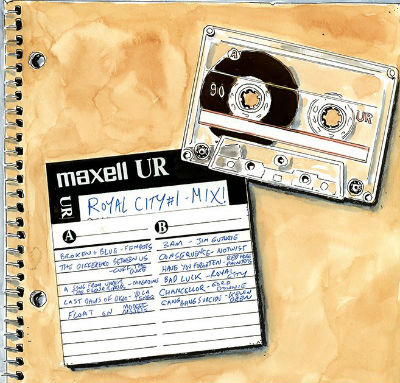 Jeff Lemire (W/A), Steve Wands (L) • Image Comics, $3.99
Royal City Vol. 1 collecting the first story arc is available in trade paperback. Royal City #10, completing the second storyline, is published by Image Comics on February 21st.
Read about the 2017 Broken Frontier Awards here. 
Feature written by Andy Oliver