Curated by superstar writer Garth Ennis, Battle Classics presents two previously uncollected tales of intense warfare during WWII by Alan Hebden and John Wagner, from the heydays of the Battle comic.
If there is a better way of starting up a boys' magazine than hiring freelancers John Wagner and Pat Mills to write the lead serials, I certainly can not think of one but that is exactly what IPC did when Battle Picture Weekly started in 1974. Though squarely focused on action-packed tales from WWII, it did sometimes feature other conflicts throughout history. Throughout its run from 1974 until 1988, it frequently underwent name changes and mergers with other properties but they steadily managed to put on paper some of the best war stories the comics world has ever seen.
Titan Books having collected already the magnificent Charley's War, Darkie's Mob and Johnny Red, Battle Classics collects the best of the rest according to Ennis. Superstar writer Garth Ennis (Preacher, The Boys, Punisher, Battlefields etc.) started reading their war stories from the age of eight and is a self-proclaimed Battle fan.
Two main stories take up this volume: H.M.S. Nightshade by John Wagner and Mike Western and Alan Hebden and John Cooper's The General Dies At Dawn. Both use the same narrative device of having the main character as a storyteller, recounting their experiences to an outside party. There's one huge difference though: George Dunn recounts his experiences aboard the Royal Navy Corvette K70 aka H.M.S. Nightshade and its crew, battling the Nazis on the Arctic convoy run to Murmansk in Russia in temperatures 50 degrees below zero, where your skin freezes off if you leave it uncovered and the icy water can kill you in two seconds flat. The General Dies At Dawn is told by the general himself, recounting his ordeal to his jailer while awaiting his execution. It is a rather dark and gloomy story touching on material quite progressive for those days. As an added extra, each episode counts down another hour of the general's life while he recounts his story to his jailer.

Mike Western's H.M.S. Nightshade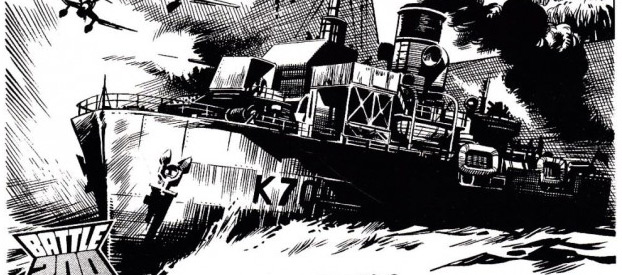 Both stories – never before reprinted – feature classic evocative artwork and superb scripting. As to be expected from Battle, Wagner and Hebden are a treasure trove of facts and figures and make the most out of their story's setting. The claustrophobic atmosphere Wagner establishes on the Nightshade corvette and the nightmare run to Murmansk are exploited to tell some hair-raising tales with the constant dread of the double menace of the Germans and the dangers of the freezing ocean. Never before did floating on a big hunk of iron on a bottomless sea amidst enemy ships and submarines seem like such a bad idea.

Even offshore, the crew of the Nightshade has to deal with the horrors of war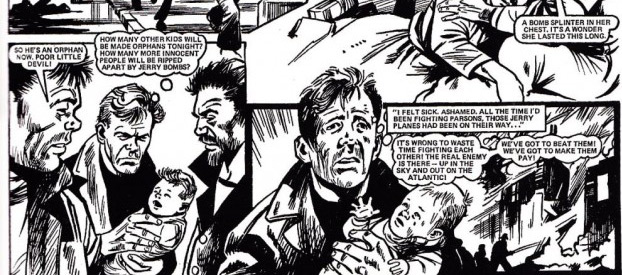 Artist Mike Western actually lived through the Second World War and worked as an animation artist on Orwell's 1954 Animal Farm adaptation among others. For Battle he is best known for his gritty art work on Darkie's Mob (with John Wagner) and his more chiaroscuro brushwork on H.M.S. Nightshade. It is solid action adventure storytelling where he doesn't spare the blacks to enhance the neurosis of the claustrophobia. Characters seem to be forever getting in the way of themselves, stumbling over wires and machines, ducking for cables and low doors.
Back on solid ground though, Alan Hebden's general Otto Von Margen is also having a hard time of it. Found guilty of crimes against the Third Reich, he idles away his time awaiting his execution recounting how he came to humiliate the SS which eventually led to his subsequent disgrace. Hebden's script makes each of the 11 episodes counting down to Von Margen's pending death by firing squad add an extra layer of tension to the story. It's a very raw and uncompromising look at how people choose to behave in war, no matter which side they're on. The inevitable ending is only the icing on the cake. Drawn by John Cooper of Johnny Red fame, he lays down all the necessary grounding for this dark tale: grubby characters, rough brushwork and somber scenes of battlefields where clouds of black smoke trail away all hope.

John Cooper's gritty linework on The General Dies At Dawn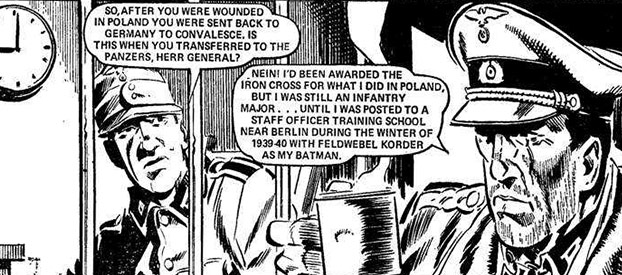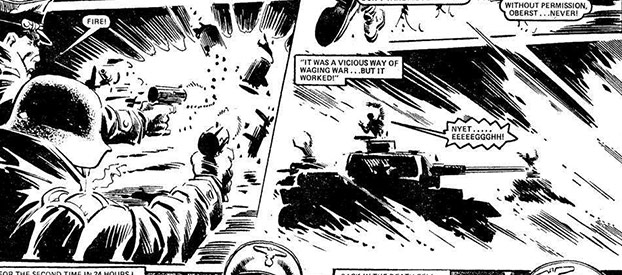 To close out the volume, Garth Ennis selected three shorts showcasing artist Cam Kennedy who demonstrates his attention for military gear and some excellent posturing on the soldiers involved.
Garth Ennis Presents – Battle Classics is a must-have for every fan of war stories. Featuring strong stories about the extremes humans can withstand in battle, both from nature and their fellow humans, it showcases war at its most human and its most intense. If you are interested in learning more about Battle and the stories they published, here's a very good fan site collecting all information pertaining the Battle comic.
Garth Ennis Presents – Battle Classics by John Wagner, Alan Hebden, John Cooper, Mike Western and various is published by Titan Books. It is a black and white hardcover counting 256 pages and retails for £19.99.