2000 AD has released two new graphic novels onto the US market. Durham Red introduces the US audience to this enigmatic vampire bounty hunter in the classic tale The Bitch, while Hondo City Justice is the follow up to Hondo City Law, taking place in the Japanese counterpart of Mega-City One in the Dreddverse.
Durham Red: The Bitch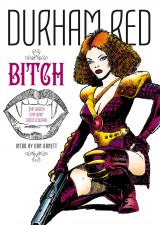 Let's tackle the good stuff first. When writer John Wagner is involved in the story of a mutant vampire bounty hunter who is hunting down a time-displaced Ronald Reagan, only for him to end up as her chaperone in a thinly veiled satire on East-West relations, you know you're in for a good time.
When former US president Ronald Reagan is taken prisoner by a group of future alien freedom fighters, Strontium Dog's Johnny Alpha reluctantly teams up with the bloodsucking femme fatale, Durham Red, to get him back.
With veteran 2000 AD artist Carlos Ezquerra firing on all cylinders with his trademark detailed and gritty line work, Wagner's satire of an alien civilisation oppressed by humans who then single out one of the worst examples of that species to blackmail them starts out strong, with one pun being fired at the reader after another. Wagner obviously has a blast writing the bumbling Reagan, who's incoherent, self-absorbed and convinced the whole time that he's been kidnapped by the Commies.
Unfortunately, the story quickly degrades into your standard hide-and-run while blowing stuff up, coupled with useless banter. Alan Grant takes over the writing but lacks the flair for satire that Wagner possesses.
If not for the hilarious inclusion of Reagan, there's simply not that much to like. There's a nice twist somewhere in the middle, and Durham Red must have been a breath of fresh air when introduced to 2000 AD in the late eighties, but in the end it all comes across as rather forgettable.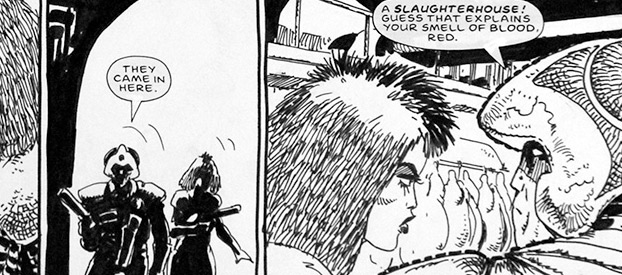 With great art and some great laughs, Durham Red: The Bitch displays Carlos Ezquerra at the top of his game. John Wagner pens a strong beginning to the Reagan-kidnapped-by-aliens plot, it but peters out towards the end.
Hondo City Justice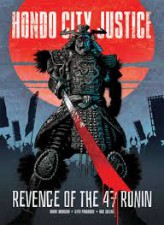 A collection of short stories from the Judge Dredd Megazine set in Hondo City, Japan's counterpart to the US Mega-Cities in the Dreddverse, Hondo City Justice is the follow-up to Hondo City Law, discussed in an earlier incarnation of this column.
Just like its predecessor, it's a bit hit and miss. However, the misses outweigh the hits this time around. First up, and the best of the lot, is 'The Harder They Come' by Robbie Morrison and Colin MacNeill.
The greatest martial artist of the Radlands, Deathfist (aka Stan Lee), sets his eyes on the new CEO of the Taoko Corporation, who wants to terraform the Radlands to prosperity.
Aided by a whole roster of criminal enforcers inspired by Japanese culture (including a mutant beast, a manga-inspired angel of death and a Japanese gunslinger with four arms), Morrison pens a fast action tale where Deathfist comes face to face with the Ronin judge Shimura and past grudges are settled with the fist… of death? Judge Dredd shows up for the obligatory cameo, as does the popular female Hondo Judge Inaba, and away we go!
Colin MacNeil turns in his usual tight art job with clear storytelling, great characterisation and a smooth handle on the action scenes. As I said, an excellent tale featuring emotion and hard men doing what they do best in an unrelenting world.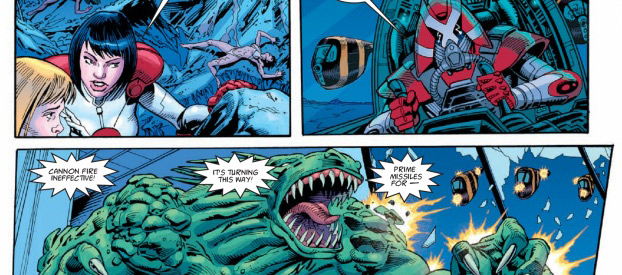 The worst by far of the bunch collected here is the second story, 'Project Behemoth', featuring Judge Inaba. A corporation's chemical experiment turns a man into a Godzilla-like mutant, towering over the city exacting its terrible… I get bored even typing it.
A problem resurfaces from the earlier volume: Judge Inaba is just a terribly bland character. Add that to lacklustre action and tedious superhero-inspired art by Mike Collins and Cliff Robinson (who handles the inking, I presume?), and you have an insipid story that just gets on your nerves after a while.
The same can be said for 'Revenge Of The 47 Ronin' by the same team. The 47 legendary heroes of Japanese culture are resurrected as magic zombies who wreak their terrible revenge upon a city that… I think you get the point. Again, Judge Inaba runs around trying to solve things with a few quips and a laser katana, things explode, end of story.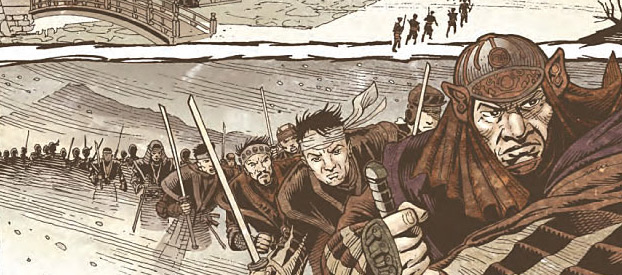 A bit better is the final  story in the volume, produced completely by Steve Parkhouse, entitled 'Tiger Sun, Dragon Moon'. A feudal revenge story with sci-fi dressings, it is an emotional and violent tale of invasion by mutant hordes and a mysterious assassin whose motivations never become completely clear.
The story meanders a bit and never gets quite there in terms of persuasion and character identification, but at least it's Steve Parkhouse, and his art here is quite spectacular: laid back with a harsh line full of spotted blacks and negative space.
All in all, Hondo City Justice is not the best collection of Hondo City tales; I'd check out the previous volume if you're curious about this part of Dredd's world.
Durham Red: The Bitch by John Wagner, Alan Grant and Carlos Ezquerra is published by 2000 AD and Simon & Schuster. It is a black and white softcover counting 144 pages and retails for $17.99.
Hondo City Justice by Robbie Morrison, Colin MacNeil, Steve Parkhouse and others is published by 2000 AD and Simon & Schuster. It is a full colour  softcover counting 180 pages and retails for $19.99.