The Hellboy Universe's resident pulp hero returns for another rip-roaring thrill-ride, hot on the tail of the mysterious Crimson Lotus, in this beautifully-drawn period piece.
Although appearing only sporadically within the bizarre, Lovecraftian milieu of Mike Mignola's iconic Hellboy cycle of comics, Lobster Johnson is perhaps one of the most popular secondary characters to emerge from the successful property. Firmly entrenched in the pulp tradition, Lobster Johnson appeals to the comics historian in all of us, while paying tribute to the dark, violent, often supernatural themes traditionally found in tales of the era.
Setting aside his ultimate fate as a wandering poltergeist of sorts, A Scent of Lotus returns Lobster to his street-level roots in 1930s New York City, pitting the masked vigilante against a fearsome Imperial Japanese agent, who appears to be the sponsor of a series of brutal Chinatown killings.
As the repercussions of the murders threaten to consume the city's criminal element, Johnson must try to unravel the mystery behind the master operative known only as the Crimson Lotus. If that weren't enough, an over-zealous member of New York's Finest sets his sights on the gun-toting mystery man, scheming to bring him to justice by using his own associates against him.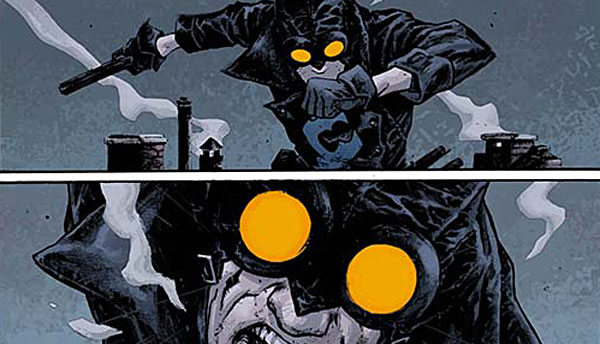 Mignola and Arcudi certainly know their pulps and it shows in this tale from Lobster's past. Characterization and dialogue are spot-on and their quick transitions from one scene to the next mirrors the fast, action-heavy pace typical of the pulps. The real star of the book though is artist Sebastián Fiumara whose atmosphere-laden artwork really sells the story's setting and period. Using heavy, textured shadows to create mood and suspense, Fiumara is able to draw the reader into Lobster's dangerous underworld home.
Despite pages drenched in inky murk, Fiumara's stellar ability to spot the blacks allows for a clean reading experience, with a balanced visual tone that doesn't lose the reader's eye from one dark panel to the next. It's this storytelling precision combined with a rendering style reminiscent of the great Wally Wood that really allows the story to resonate with its audience.

Showcasing tight, focused, stylish storytelling at its finest, A Scent of Lotus will surely only add to Lobster Johnson's burgeoning mythos. With the BPRD and now its star Abe Sapien already spinning out of the core Hellboy property, can a Lobster Johnson ongoing be far behind? Here's hoping this latest little two-issue tease is only the prologue to more pulpy period fun with Lobster and his crew!
Mike Mignola and John Arcudi (W), Sebastián Fiumara (A), Dave Stewart (C) • Dark Horse Comics, $3.50, July 24, 2013