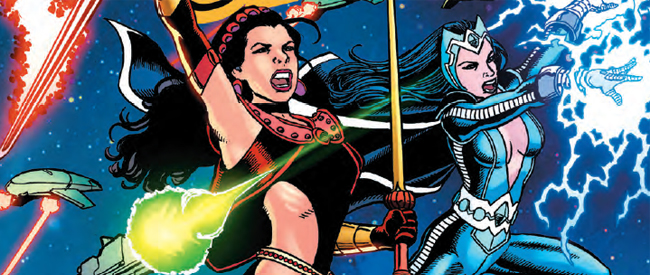 One of the most beloved creators in the history of comics has taken to the road to promote his new creator-owned series Sirens from BOOM! Studios. Yesterday, George Perez graciously visited the publisher's LA offices to take questions from a handful of journalists representing the funny book press.
Hosted by BOOM! Studios' Marketing Manager Mel Caylo, the press call with the legendary creator was an enlightening rapid-fire hour of insight into the creative process that made Sirens possible.
A six-issue limited series bounding through the vast frontiers of time and space, Perez's return to creator-owned comics arose out of a need to challenge himself creatively, "I wanted to treat it as the George Perez series to end all George Perez series."
Drawing inspiration from a wide variety of sources from Doctor Who to classical mythology, Sirens is a sprawling tale of warrior women pulled from across time and space to protect the Earth from an evil despotic cabal.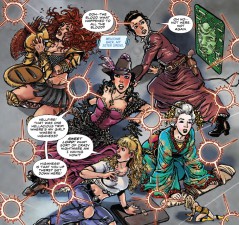 With an ensemble cast dominated by strong women, Perez noted he used real people as his inspiration. "The one thing I'm trying to do is to just understand them individually as women, in obviously very extraordinary situations… If they're in the same predicament they should all react slightly differently."
One of the obvious pitfalls of working with such a large cast is sacrificing the story by spreading it too thin, although lots of interaction amongst characters has its benefits the artist noted with a chuckle. "I work alone in a studio, so it keeps my social skills honed by doing a book where people are actually talking to each other."
When asked why he chose to partner with BOOM! Studios for the release of his first creator-owned book in over a decade, Perez stated while he'd had a great time at both Marvel and DC, the industry had changed and creators were no longer the ones making storytelling decisions.
"I was finding a lot of the characters I grew up with were becoming strangers to me. I felt like I was no longer creating comics but manufacturing comics and I needed some kind of creative stimulus."
Because Sirens is a work steeped in history and myth, as well as science fiction, Perez could see certain parallels between our past and present when asked if there were any lessons we could learn from our own history.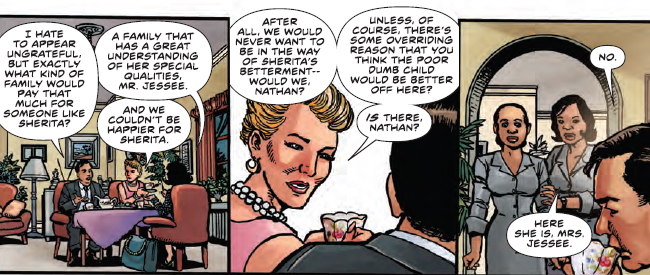 "Unfortunately, it's like in real life. So many of us don't learn our lessons from the past. Sometimes you have to point that out. The things I dealt with are things that propel a story – everything from colonialism, imperialism to prejudice and the like.
"And in order to get along – and this sounds a bit like Gene Rodenberry on Star Trek – in order to get along, we have to get past that. But certain parts are just human nature. In Sirens some of the Sirens who have gone back to the past will learn certain values that maybe have started to be forgotten in the future. "
As the discussion turned to the changing demographics of the comic book-buying audience, Perez agreed that his new series might not have been picked up by a publisher years ago. "The large female readership that's burgeoned since I started in the industry has changed the landscape…different types of stories that women enjoy were not really done as often back then.
"Because it was a young boy network you were trying to appeal to young adolescent teenaged boys…There was a female following out there but they weren't being served."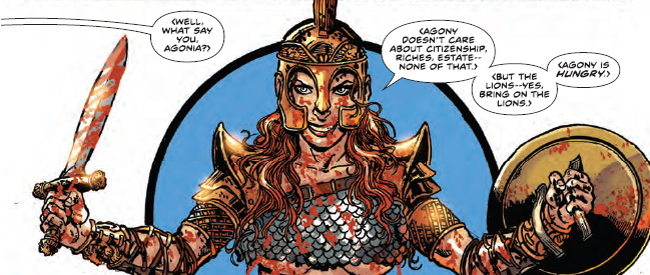 "Wonder Woman was my watershed in that regard. When I realized it had an impact and there was this audience out there that – I was going out to serve them specifically – but they felt that finally somebody finally was. It inspired me that when finally got to do a creator-owned book it would be a very female-centric. I love to explore the female experience."
Another facet of the industry that's changed over the years is the fact there are more at Perez's disposal to take his art to the next level. With the amount of detail packed into each frame of a Perez-drawn comic, it was hard for the printing process to keep up with him, earlier in his career.
With the advent of digital printing and drawing, he's now able to pack as much detail into his pages as possible, without losing it all to inferior reproduction. And don't forget, due to ongoing medical issues related to his vision, we're talking about someone who is technically visually impaired.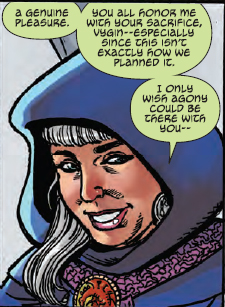 "I'm very proud of the fact that people who have seen the first issue can't believe it's been drawn by a visually impaired man. I take great pride in that but that's because I've added digital drawing to my arsenal of weaponry. I had to find another way of being able to still do George Perez style work even though George Perez's body is rebelling against him at every turn."
At the end of the day though, more than technological progress or an abiding fascination with history, it's Perez's family and friends that really inform his work. His wife Carole even serves as a model to one of Sirens pivotal characters, the mysterious and powerful Fanisha. As an artist he maintains the people closest to him are the ones who make it all possible.
"The social interaction is so important to me. I can't live my life in a vacuum. With Carole my wife, my nieces, my nephews, and everything else, I'm alive. It gives me that spark to create to please them and to reflect them. The things I've learned from all the people I've known that's what creates the stories I have…
"They are gold to me and my fans, many of whom have become like family to me, sustain me and this is my love letter to them in many ways."