Press release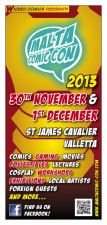 Do you remember how much fun you had at the Malta Comic Con 2012? How good it felt to meet all the awesome guests and creators that exhibited at our show? The rush you felt seeing your favourite creators sign and sketch? Do you remember how amazing it was to spend 2 days with so many wicked folk, discussing and doing the things you like most? Of course you do! How can you forget when we all had such a blast at the show? All those lovely people in costumes, all the buzz in the video game rooms, the thrill of tabletop and role playing games with the wicked folk at W.A.R.S, all those informative and entertaining talks, discussion panels and workshops! And what about all the free movies? The portfolio reviews, those impressive exhibitions and most of all, the fun filled atmosphere experienced during the whole 2 days of the convention!
You would all love to experience all these feelings again don't you? And why shouldn't you? Yep the Malta Comic Con is coming again and it's going to be super!
And if you haven't experienced the Malta Comic Con yet, this is your wake up call!
Wicked Comics are proud to announce that this year the Malta Comic Con (Good Vibes) will be happening on Saturday 30th November and Sunday 1st December at St. James Cavalier Valletta. So keep the dates free for 2 more days of fun for everyone! Fans can look forward to another killer roster of foreign creators who are not only gifted but are also really nice folks, more local creators and locally created comics, cosplay events and competitions, gaming events and competitions, free movies and animations showing during the whole duration of the convention, impressive exhibitions and a healthy number of talks, workshops and discussion panels. There will be something for everyone!
As customary Wicked Comics have designed a number of packages for fans wishing to travel to the Malta Comic Con from abroad, which include heavily discounted accommodation rates and local transport from hotel to convention. Similarly Wicked Comics have a number of packages tailored for foreign creators who whish to exhibit at the Malta Comic Con including heavily discounted tables.
Anyone wishing to know more about these packages, and local creators/retailers wishing to exhibit at the Malta Comic Con 2013 are kindly requested to email us for more details on info@maltacomic-con.com
For more details kindly visit: http://www.maltacomic-con.com
Testimonial from legendary comic creator and Malta Comic Con 2012 guest Herb Trimpe:
"I have to reiterate and say what a great time we had in Malta, and all because of your show.  Selling points:  great people–great location (the fort)–great environment (your country, five+ stars, fantastically beautiful)–hospitality tops–weather–the Med–oh, yeah, and…the food!  If I left anything out, you can add it, as we're sure it's the best of whatever. I honestly can't think of anything you could do better!" (H.Trimpe, 2013)