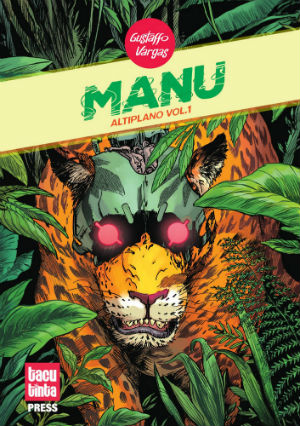 THOUGHT BUBBLE 2019!
As part of last year's Thought Bubble coverage at Broken Frontier I was introduced to the South American dystopian worlds of Gustaffo Vargas in the pages of his one-shot L1MA. This tense Peruvian sci-fi thriller was the work of an obvious major talent in the making and it's surely only a matter of time before Vargas's sumptuous artistic style is gracing the pages of a major publisher's serial comics offerings. His work would not look out of place at 2000 AD, Image or Dark Horse, for example, and I have zero doubt that this will happen sooner rather than later.
His debut comic at the festival this year is Manu which continues in a similar vein in terms of transplanting science fiction elements into a more recognisable reality, whether that be vast urban sprawl or the natural world. From the outset it's a highly atmospheric comic as a young woman arrives within the jungle environs of the Manu National Park (part of the Peruvian Amazon Rainforest). We observe her presence from the many perspectives of its inhabitants until, in a flurry of frenzied visual storytelling, her journey is stopped in its tracks by a cyborg jaguar…
The first volume of the Altiplano story, Manu centres on two main characters – Canela, hiding from pursuers within the jungle, and her partner Sonia who has travelled to this remote location to find her – alongside Canela's technologically enhanced intelligent monkey Bigote. With ties to the pages of L1MA it provides another entry point into this near-future world of gangs, unlikely tech, corruption and cyberpunk influences. It's a slow build narratively, with the plentiful action sequences and more tenderly realised romantic interludes at the forefront here rather than a rapid progression of plot, but it's a highly atmospheric piece wherein the world-building is as important as the characterisation.
Vargas's use of colour is stunning but it's his imaginative and inventive panel layouts that are sometimes highly structured, sometimes freeform depending on necessity, that really impress. This is an artist who has an instinctive understanding of how to use sequential storytelling to manipulate our perceptions of time, interaction, perspective and space. While Manu – like L1MA before it – still perhaps needs more in the way of expository clarity in terms of overarching narrative, it's a hugely impressive artistic achievement. I find it incredibly difficult to believe that this time next year we'll still be talking about Gustaffo Vargas in terms of self-publishing…
For more on the work of Gustaffo Vargas visit his online store here and Twitter here. Gustaffo will be exhibiting at Thought Bubble 2019  at Table 154a in the ComiXology Originals Hall.
For regular updates on all things small press follow Andy Oliver on Twitter here.
Review by Andy Oliver