Elevating the ego in 'egomaniac' to a whole new level, Arnon – the main character of Mijn Begrafenis (My Funeral) — is a womanising pathological liar who looks back on his life from his funeral, in a sardonic and bleakly humorous debut OGN.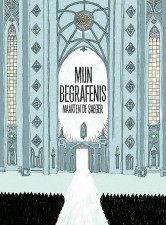 It takes a lot of guts to have as the protagonist of your first graphic novel a clearly insufferable sociopath intent not so much on ruining the lives of those unfortunate enough to cross his path but completely disregarding them as actual living beings. Luckily Belgian creator Maarten De Saeger injects his debut OGN Mijn Begrafenis (My Funeral) with plenty of dark comedy reminiscent of British situational humour that enlarges one's sense of self-importance and conceit.
Since the story is told by Arnon himself, the storyteller himself is an unreliable narrator, and De Saeger has a few surprises up his sleeve. Coupled with a cute storytelling trick – having the main character dead, recalling his life during his funeral – De Saeger succeeds in painting a portrait of a life that is basically a runaway train heading for a crash. From his ex-girlfriends to publishing a book from his grandfather as his own work, the lies keep stacking up.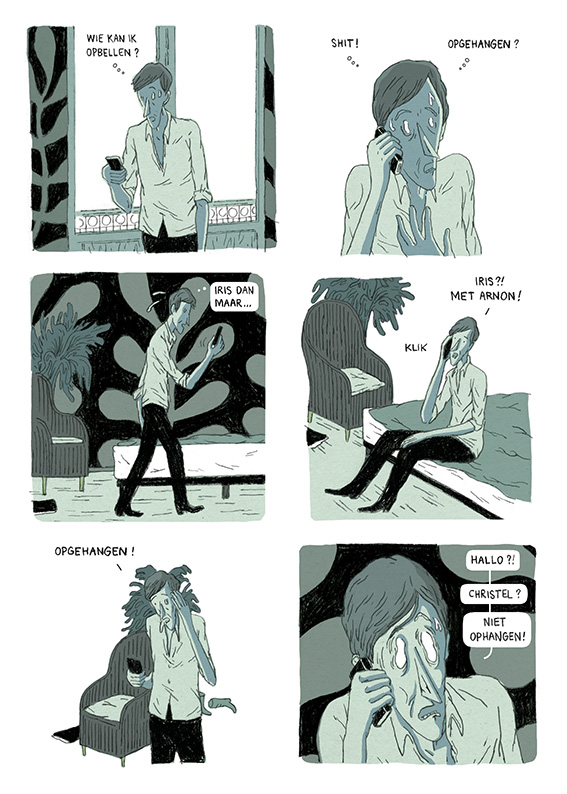 Any laughter to be had is derived from the trivialities of human behaviour blown out of proportion and the social awkwardness that ensues. It becomes a fascinating chronicle of a life wasted by insecurity, and you just can't tear your eyes away from the pages.
Having already learned the tricks of the trade as an illustrator, it is no surprise that De Saeger's panels are stuffed with beautiful line work and delicate spot coloring. His storytelling is also up to scratch, though, and is crisp and clear. His elegant line work is breezy and scratchy at the same time, with wispy figure work and solid expressions. It has a very modern feel, keeping with the times cemented by Manu Larcenet and Trondheim in his illustrative mode, in work like The Rabbi's Cat.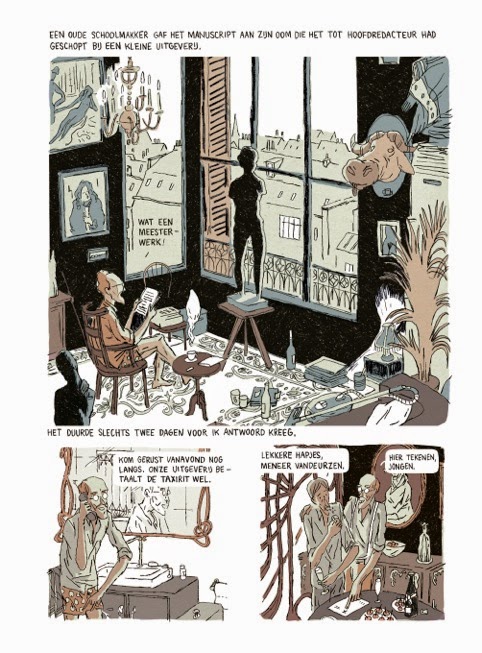 Maarten De Saeger's debut graphic novel immediately hits all the right notes: intriguing story, original storytelling and great modern art. The lead character exemplifies the worst of Man and is therefore immediately recognisable and strangely sympathetic. I guess there's a bit of Arnon in all of us. Highly recommended.
Mijn Begrafenis (My Funeral) by Maarten De Saeger is published in Dutch by Bries. It is a full-colour softcover counting 96 pages and retails for €16. Follow the artist at his blog.
For more news and info from Europe's comics community, follow me on Twitter right here.