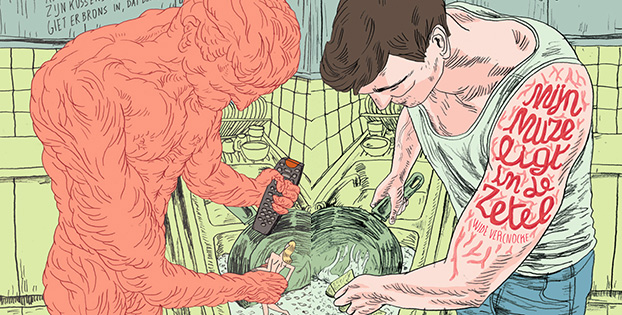 Contemporary absurdism ahoy in Wide Vercnocke's ode to his sofa.

My Muse is Lounging on the Sofa by Wide Vercnocke
This is the titanic tale of a man and his couch. Man versus his most primal instinct, his base desire, his innermost driving force: laziness. Artist and writer Wide Vercnocke delivers an introspective breakdown of his relationship with… his couch.
Belgian publisher Bries, never afraid of exploring new talent and new modes of storytelling, once more threads upon the path of the poetic graphic novel. The first foray being international artist Ephameron's Gone – read my Comics Journal review – where pictures gave new meaning to the elegant children's story it accompanied. In My Muse Is Lounging On The Sofa, Wide Vercnocke writes down an ode to his beloved couch in 12 absurd little tales. This object of his affection is celebrated in a graphic novel with a poetic structure: a short poem accompanied by an illustration followed by a mostly wordless comic mirroring the central theme of the poem. It is a daring and intellectual approach to comics-making but Vercnocke succeeds in making it feel organic, transforming the playful literary approach into easy-reading material.

In the first act, two muscled movers carry a couch unto a storied apartment. Subsequently, one of the movers is left behind who then turns into a complete non-literal couch-potato. He has (non-explicit) erotic adventures with both the couch, his remote-control, werewolves and his girlfriend. The combination of the relaxed, rubbery visuals with the muscled contours of the protagonist create surreal and poetic stories, founded in surrealism.

Vercnocke's scratchy line work and rough anatomy lends itself to this surreal approach. His figures and objects morph and twist into the outer visualisation of the author's twirling fantasies. They ooze a graphic design sense enhanced by the flat colouring. For a starting artist, it looks like a fully realised vision of what his art should be. His sometimes odd figure work is somewhat covered by this design sense and 'underground' look but I have no doubt that those are just growing pains.

Wide Vercnocke has succeeded in making a comic that succeeds in mingling language and visuals in a charismatic contrivance. His debut graphic novel is seductive and whimsical showcasing a unique approach to comics. A talent to watch out for!
My Muse Is Lounging On The Sofa by Wide Vercnocke is published by Bries. It is an oversized full colour book counting 80 pages and retails for €20.