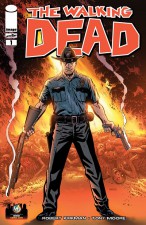 Press release
Renowned creator Mike Zeck will create the sixth in a series of exclusive Wizard World variant covers of Robert Kirkman's The Walking Dead #1 comic, provided for free to all full-price attendees at Wizard World Ohio Comic Con, September 20-22 at the Greater Columbus Convention Center.  Wizard World and Skybound, Kirkman's imprint at Image Comics, have teamed to produce the line based upon the Eisner Award-winning groundbreaking comic book series and best-selling graphic novels written and created by Robert Kirkman.
Zeck will be on hand at Wizard World Ohio Comic Con to sign copies of the limited-edition comic,  produced in extremely limited quantities and available to fans only while supplies last.  The first five covers, illustrated by superstar artists Michael Golden, Arthur Suydam, Julian Totino Tedesco, Neal Adams and Ethan Van Sciver, respectively, were huge hits at Wizard World events in Portland (February, Golden), St. Louis (March, Suydam), Philadelphia (June, Tedesco), New York (June, Adams) and Chicago (August, Van Sciver).  A different creator will draw the variant cover art for the two remaining scheduled Wizard World shows this year in Nashville (October) and Austin (November).
Zeck, who has influenced generations of artists, counts the "Kraven's Last Hunt" series, one of the highest-regarded Spider-Man storylines ever, and "Circle of Blood," a highly-touted treatment of "Punisher," as two of his most recognizable works.
Independent third-party comic book grading service CGC, a leader in the industry, will accept TWD #1 variant and Signature Series submissions at its Wizard World Ohio Comic Con exhibitor booth.
The 2013 Wizard World Ohio Comic Con will also feature Eisner Award Hall of Famer Stan Lee, Laurie Holden of "The Walking Dead," pop culture icon William Shatner, Summer Glau (Serenity, "Terminator: The Sarah Connor Chronicles") and WWE® Superstar Sheamus® among a standout roster of top celebrities, as well as an array of superstar comics creators.
The Walking Dead graphic novels accounted for seven of the 10 bestselling titles of the year and were #1 overall for both 2011 and 2012.