Press release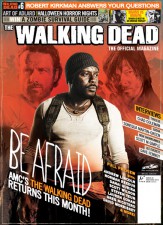 It's The Walking Dead's 10th anniversary! Happy Birthday to us!
And unless you've been living under a rock, you'll be just as excited as we are that Rick and the gang are finally back! We've packed this issue full of interviews and season four hints, and from what we've seen and heard, this is going to be the best season yet!
In this issue, we report back on San Diego Comic-Con and give you a sneak peek at our favorite bits!
Inside…
Show Time!
What better way to celebrate the start of the hotly anticipated fourth season of AMC's The Walking Dead this October than to talk to the person charged with bringing it to life? TWDM exclusively chats to new showrunner Scott M Gimple!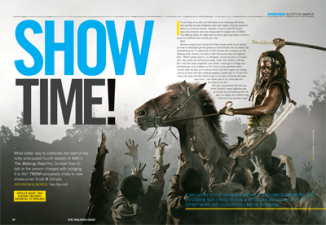 Hammer Horror
We talk to the man behind Tyreese, the hammer-wielding tough guy with a heart as big as his muscles. Chad Coleman tells TWDM just what it's like to step into the big man's shoes and become part of one of the biggest shows on TV.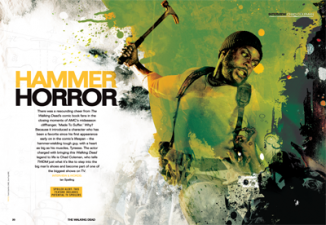 Kirkman Corner
We caught up with Robert Kirkman on all things TWD: celebrating the comic book's 10th anniversary, the beginning of the new major 12-part storyline and the start of season four of AMC's TV series!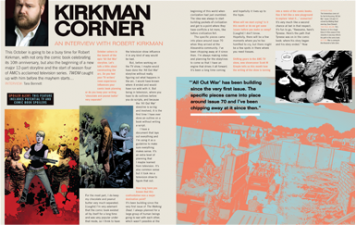 The Pros and Cons
When it comes to genre fandom, there's no place greater on Earth than San Diego Comic-Con! Our editor brings you the best of the exclusives, showcases, merchandise, cosplaying and more!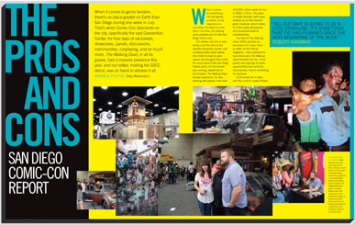 And finally…What would you do in a zombie apocalypse?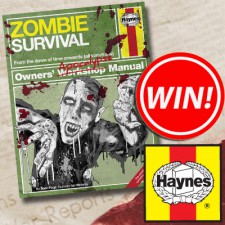 ENTER OUR COMPETITION HERE TO WIN
A HAYNES ZOMBIE SURVIVAL MANUAL!
Feeling underprepared for the post-apocalyptic life? Needing a few pointers on home-fortification? Is your granny developing a fondness for human flesh? Looking for help surviving the zombie infestation? Then look no further!
Haynes Zombie Survival Manual is the must-have title for any reputable zombie hunter, survival specialist, or conspiracy theorist. So whether you live in constant fear of the oncoming zombie apocalypse or are readying your shotgun, bandana and med pack as we speak, this is the book for you!
Check out Haynes' chillingly awesome video here
Follow the @HaynesManuals Zombie apocalypse at #zombiesurvival
 FOR MORE INFORMATION VISIT  
 WWW.TITANMAGAZINES.COM/WALKINGDEADMAGAZINE
TO BUY A COPY TODAY VISIT WWW.HAYNES.CO.UK/ZOMBIE
FACEBOOK: WWW.FACEBOOK.COM/WALKINGDEADMAG