Just a couple of months back Jayde Perkin was voted 'Breakout Talent' Award winner in our 2018 Broken Frontier Awards and, as 2019 progresses, the Bristol-based creator is going to be showing exactly why our BF team and readership had such faith in this emerging artist's practice. In June Perkin's first full-length comics work will debut at the East London Comics and Arts Festival after she won last year's ELCAF x WeTransfer Award. But first on the publication list is her children's book Mum's Jumper from Book Island; a project that underlines just how versatile Perkin is.
If you haven't been a regular visitor to Broken Frontier over the last couple of years you may have missed some of our extensive Jayde Perkin coverage in that time (she was also one of our 2018 Broken Frontier 'Six Small Press Creators to Watch'!). While Mum's Jumper isn't comics per se, it does fit firmly in the broader category of graphic narrative and ties into the themes of grief and bereavement that have informed much of Perkin's practice over the last few years. In that time she's explored her feelings about the loss of her mother in comics like Time May Change Me, Breathe in Deep, What a Life, Insides on the Outside and the upcoming expanded version of I'm Not Ready.
Originally crowdfunded by Book Island last year, Mum's Jumper is aimed at the children's market to help young people coping with loss. It sees Perkin translate her own experiences into a narrative that echoes the established motifs of her practice but subtly shifts perspective as we view through a child's eyes how grief impacts on them. Beginning with the passing of a little girl's mother, Mum's Jumper follows the events immediately thereafter as she and her father both deal with this turn of events in their own ways. From the practical ritual of the funeral and reintegrating with her school friends, to the more symbolic examination of her loss through Perkin's trademark use of compelling visual metaphor, it's an account that doesn't compromise in its depictions of the realities involved but does so with a delicate sensitivity and an ultimate sense of hope.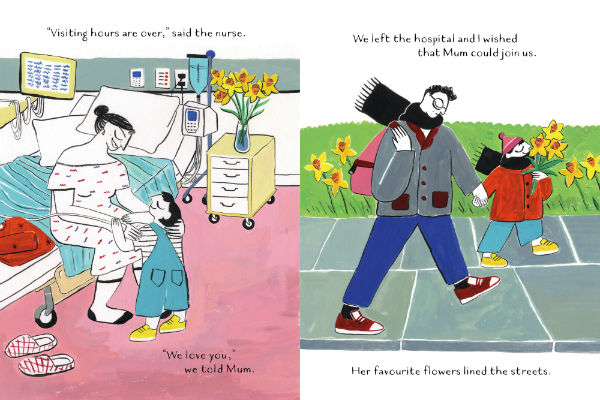 This is obviously not an easy subject to tackle in regards to its younger target audience but the vital importance of a book like Mum's Jumper is self-evident. The narration here is carefully pitched and beautifully realised, reminding children that their sadness is a natural part of the process but also underlining the ways in which their lives will reshape themselves to eventually accommodate that emptiness without it overwhelming them. The jumper of the title is a key symbol in that explanation, existing as both tangible link to the past but also as a representation of the importance of moving forwards.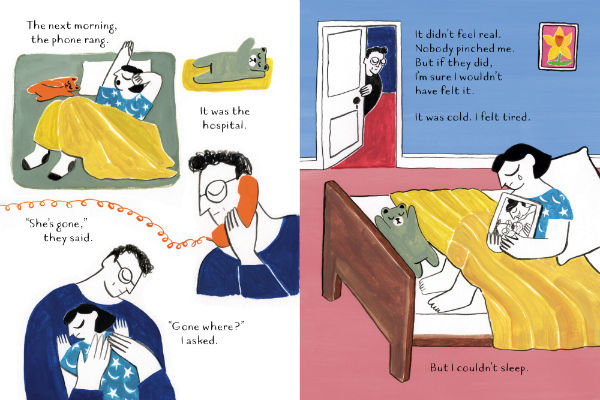 Perkin's visuals, with their deliberately disproportionate figures and slightly skewed dimensions lend the perfect sense of raw authenticity to her pages. Check out the image of the little girl's father almost enveloping her in a protective hug (above) for a fitting example of that. A children's book is a very different discipline for Perkin but, as with all her work, she knows when to communicate emotional truths through words and when to step back and let her resonant imagery do the speaking; her use of colour often emphasising mood or tone and adding to the power of each scene.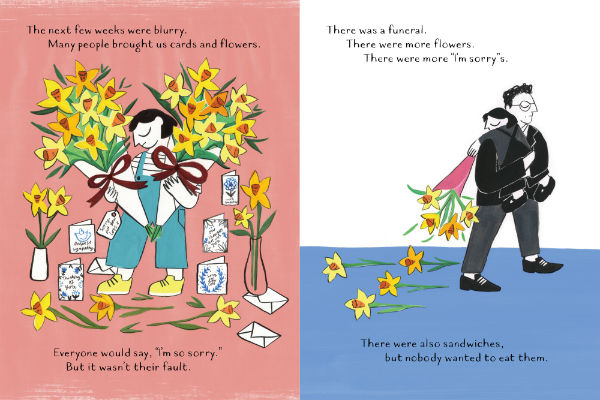 Mum's Jumper is Perkin at her visually eloquent best in a book that will be a vitally important support for families working together through the grieving process and children coming to terms with a life-changing experience. When we wrote about the crowdfunding campaign for Mum's Jumper last year I said that Jayde Perkin was one of the most gifted communicators working in graphic narrative that it's ever been my privilege to champion at Broken Frontier. 2019 will undoubtedly be the year that promise reaches the far, far wider audiences it deserves.
Jayde Perkin (W/A) • Book Island, £12.99
Review by Andy Oliver