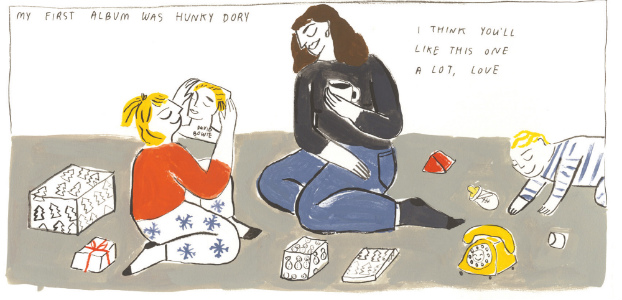 ELCAF WEEK!
"When I said goodbye to my mum and dad at the airport, I had no idea it would be the last time I'd see her with no wires, no tubes."
Those early words in Jayde Perkin's Time May Change Me set the scene for a minicomic that incorporates elements of both graphic medicine and memoir in an intimate and raw exploration of grief. Perkin's ELCAF-debuting book is a poignant piece of the most personal autobio that weaves the lyrics of David Bowie in and out of its touching and resonant pages.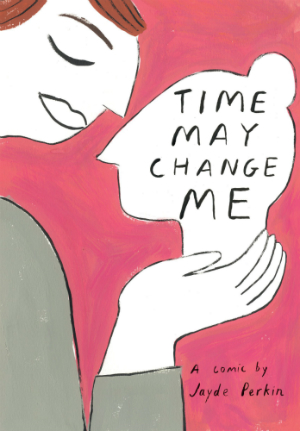 Beginning on the day before Bowie's death, Time May Change Me opens with a fleeting farewell to her parents as Perkin leaves with her partner for her Berlin home – her mother's long-term battle with cancer very much a prominent backdrop to proceedings. The passing of the iconic popstar the next day brings memories of the mother-daughter relationship flooding back to her as she remembers those childhood times when his music permeated their lives.
A return to the UK, however, proves a necessity when Perkin learns her mother's cancer has returned. What follows is a reflective piece on loss, grief, the mourning process and the inevitability of our own mortality…
By assimilating the work of Bowie in her narrative Perkin provides an additional point of empathy between reader and author but Time May Change Me would succeed without that frame of reference for its moving visual storytelling, uncompromising honesty and quiet moments of careful pacing.
There's an expressive humanity embodied in Perkin's deliberately disproportioned figures and skewed perspectives that is undeniably powerful, and yet delicate and sensitive too. Her use of colour, as well, is a careful one, evoking conflicting feelings of nostalgia, loneliness, fondness and despair where appropriate. And there are some memorable moments of visual metaphor as Perkin struggles to come to terms with a world without the pivotal figure of her mother in it.
Time May Change Me jumps between sequential art and longer prose passages, particularly in the comic's second half. On the one hand this allows Perkin to make a transition to a less structured form of storytelling – one that that underlines the rawness of her emotions as she slips into an affecting stream-of-consciousness monologue on loss and its all-enveloping hold.
On the other, though, there's a nagging thought that some of those more verbose sections could be broken down and reworked into the same powerfully communicative panel-to-panel storytelling that precedes them.  But there are echoes of Simon Moreton's recent Minor Leagues work in her ability to explore the same themes through different means of delivery.
This is a comic where, strangely enough, what isn't said speaks as eloquently as what is. Perkin brings us directly into that experience of feeling so trapped and imprisoned by our sorrow that time itself becomes an indistinguishable morass of pain and hopelessness. A heartfelt and tender account of coming to terms with bereavement with an almost cyclical structure, Time May Change Me should be high on every ELCAF-goers festival picks list.
For more on the work of Jayde Perkin visit her site here and her online store here. You can follow her on Twitter here.
Jayde Perkin and David McMillan are at ELCAF Table 44 from Saturday-Sunday.