Rozi Hathaway, Broken Frontier 2015 'UK Small Press Creator to Watch', and contributor to our very first Small Press Yearbook, is kickstarting her new comic Njálla here this week. It's a project I'm putting my full 'Small Pressganged' support to today. I'll give you reasons as to why as you scroll down the page – along with some teasing preview images – but first let's hear from Rozi herself in her campaign video below…
That's Rozi's pitch and, firstly, I think it's worth noting what an incredible couple of years it's been for Rozi Hathaway. Of course. back in 2014 she could hardly have made a more auspicious start in the comics world with her breakout work being a part of Ravi Thornton's acclaimed graphic memoir HOAX Psychosis Blues. That book, detailing Thornton's brother Rob's battle with schizophrenia, saw Hathaway's visuals sitting side-by-side with such esteemed artists as Bryan Talbot, Karrie Fransman, Mark Stafford, Hannah Berry, Julian Hanshaw and Rian Hughes.
In early 2015 she self-published for the first time, with her first solo comic The Red Road – the story of a young Native American girl's spiritual journey – getting very favourable reviews here at Broken Frontier, Forbidden Planet International and The Big Comic Page. She was featured in anthologies like A Bit of Undigested Potato, Dirty Rotten Comics and Home, as well as her own anthology venture Sneaky Business, and feminist zine Down to Your Skivvies.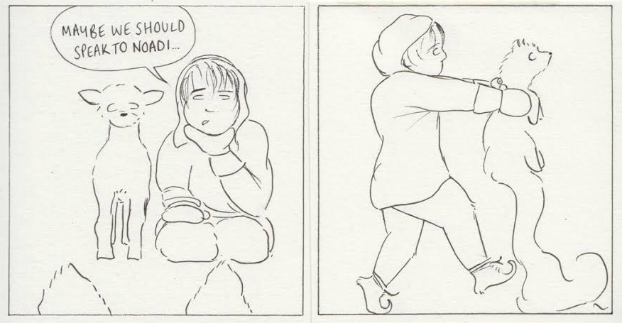 Above – completed inks from Njálla. The work will be painted as the Kickstarter progresses. Below right – the book plate available on one of the reward tiers
Last year I also announced Hathaway as one of the aforementioned 'Six UK Small Press Creators to Watch in 2015' at Broken Frontier alongside Jess Milton, Danny Noble, Emma Raby, Alice Urbino and Adam Vian. That series of coverage culminates in the Broken Frontier Small Press Yearbook, published this month, and including Rozi's best work to date – the affecting, beautiful and heartbreakingly poignant short story 'Afloat'.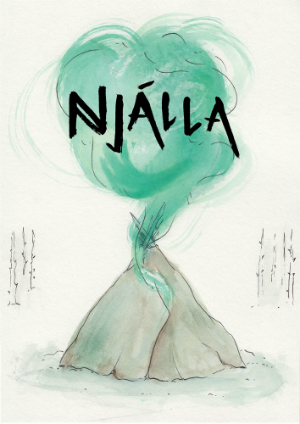 I used the words "to date" in that last paragraph very deliberately because the launch today of Hathaway's first crowdfunding campaign on Kickstarter looks set to be her most ambitious narrative yet. She describes the premise of Njálla as "an original comic story, based around the myths and legends of the Sámi people, indigenous to northern Europe's Arctic Circle, which today includes parts of Norway, Sweden, Finland and Russia. Lieđđi, a young Sámi girl, and her reindeer Unni end up on an unexpected adventure after coming face to face with the guovssahasat, the northern lights. Njálla is an atmospheric and magical comic for all ages, unearthing the legends of the Sámi through friendship, mystery and adventure."
Having covered her work so closely over the last year or so, I've observed firsthand Rozi Hathaway's creative development in that time. Her growing confidence as a storyteller, that assured understanding of the mechanics of her chosen medium, and a willingness to experiment with genre and tone are all hallmarks of a practitioner with a commitment to immersing herself in all aspects of her craft.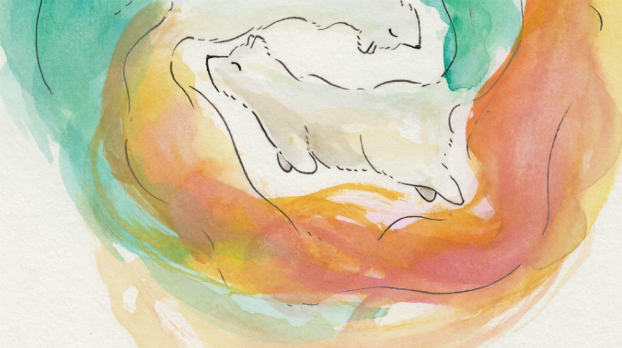 But where her work truly stands out is that strand to her practice that concentrates on pensive, very human narratives. She has an astonishing ability to evoke an emotional response in her readership with little or no exposition, pulling her audience into the lives and experiences of her protagonists through both the deftest visual characterisation and that hauntingly empathetic atmosphere to her pages. It's very much in evidence in The Red Road, in 'Afloat' in the Broken Frontier Small Press Yearbook, and in her slice-of-life tale 'Rejsen' in Dirty Rotten Comics #5.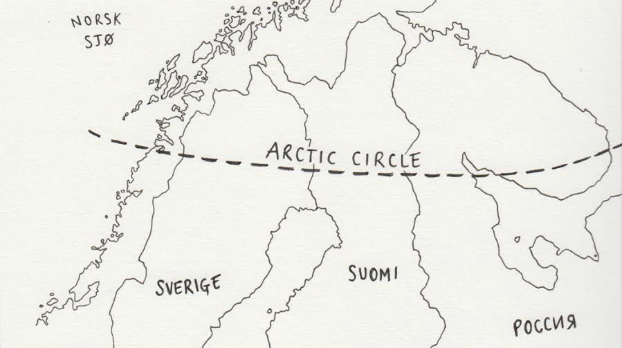 The campaign for Njálla runs until 6th May and has a very reachable target of £800. Beyond the obvious print and digital copies, rewards include book plates, prints, bundles with previous work, and original art. It's a project that is an obvious labour of love for its creator and one that comes with a Broken Frontier seal of approval for an artist I consider to be one of the most exciting new voices to have emerged from the UK small press scene in the last year or so.
I backed Njálla when it went online this morning because I believe this magical tale is, quite simply, one of the most exciting UK self-published books in the pipeline so far in 2016, and from one of the brightest prospects working in British small press. I hope you'll consider doing the same on Kickstarter here. We all get deluged with crowdfunding requests but we should never forget that this route to publication is one of the most crucial and democratic developments in comics in years. And it's books like Njálla that validate its vital importance…
For more on the work of Rozi Hathaway check out her site here. You can also follow Rozi on Twitter here.
For regular updates on all things small press follow Andy Oliver on Twitter here.