Bries is a Belgian publishing house that focuses on the creative aspect of comic books. It was founded in 1999 by Ria Schulpen and is currently still going strong under her guiding hand. It has launched the careers of international greats like Olivier Schrauwen, Pieter De Poortere, Brecht Vandenbroucke, Ephameron etc – artists who have seen their books published by the likes of Drawn & Quarterly and Fantagraphics. Ever the champion of the innovative non-commercial artists, Bries opened its own gallery space in 2011, exhibiting talents from all over Europe, and it curated a book fair called Klaxon, where art meets comics, in Antwerp, Belgium on Saturday, May 9th.
With graphic novels becoming ever more popular and the public embracing more and more expressive means of communication, 2015 is turning out to be a very productive year for Bries, with some outstanding publications already. This month Crossing Borders celebrates Bries with a series of creator interviews, in-depth looks and reviews of their latest releases.
---
If O Scenario has a plot, Jackson Pollock himself surely could have invented it. Dubbed "an eternal wandering of the plotless mind", O Scenario is written and drawn by the Pollet brothers and is an almost metaphysical walkabout through life's small problems, internal meanderings and social relationships.
Working in a rough line that almost looks like an inverted woodcut, the Pollet brothers were kind enough to share an anecdotal look at their creative process for certain pages and panels of the graphic novel. Just like O Scenario, don't expect a straightforward narrative, but come with us and dive deep into the non sequiteur chaotic creative world(s) of the Pollet brothers.
Page 1-5, 8

Pollet brothers: One summer I had written this biography of a little dog. His name was Touffe. A philosophical kind of dog.  Kind of wise but kind of whimsical too. You see what I mean: a real Toufist.
His name means 'tuft of hair' in French, due to his chivalrous tail's end. He considered himself the founding father of anarchism and had a specific style of reasoning: he excelled in thinking in spirals, based on the movements of butterflies. Touffe died at a very old age. I decided to write a little book called Touffe. Vie et oeuvre (in English: Toof. Life & work).
"Cute story", my brother said, "I want to draw it." "
"Why not", I said, "go ahead."
When the drawings were finished we sent the story to a publisher. She liked it very much but unfortunately she didn't do French books. "How about a translation?", we said. That was the most stupid thing we ever did in our entire lives.
Page 24
The story appeared to be impossible to translate. Don't ask us why. It just didn't work. Language is a tricky business.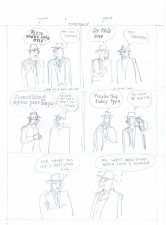 Page 17-18
In the end we got really storybored with this Touffe thing.
Page 15
"Let's forget about the dog", my brother the drawer said.  "No more animals, let's try a human being."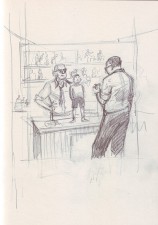 Page 13
Mmmmm… not quite what we had in mind.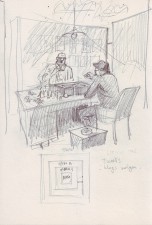 Page 14, 16
Creation is an a-maze-ing matter. When you think you're close, you're actually lost …
Page 19, 25, 26
… and when you think you're lost, you're pretty close…
Page 27-29
… but all of a sudden…  Yeah! There he was….
Page 30
…. page one…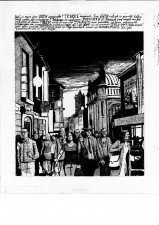 Page 10-11
…well… sort of
O Scenario by the Pollet brothers is published in Dutch by Bries. It is a black-and-white hardcover counting 128 pages, and retails for €29.
For more news and info from Europe's comics community, follow me on Twitter right here.