HCZF FORTNIGHT!
Olivia Sullivan was one of our 2017 Broken Frontier 'Six Small Press Creators to Watch'  and is an artist whose work many readers will first have discovered in the pages of much missed UK anthology Dirty Rotten Comics. With a penchant for the intriguingly experimental and the challengingly abstract – with the odd foray into autobio – Sullivan's distinctive voice puts her among a number of contemporary UK indie creators like Gareth Brookes. Peony Gent, Karrie Fransman and Simon Moreton who are genuinely pushing comics into entirely new and unexplored narrative territories. Her work to date has included I Drank Holy Water, SID and Muscle Memory (above).
Ahead of the debut of her Fried Milk at the upcoming Hackney Comic + Zine Fair on Sunday September 8th I caught up with Olivia to chat about her new comic, her unconventional approach to the form and the recent major recognition for her practice in the World Illustration Awards…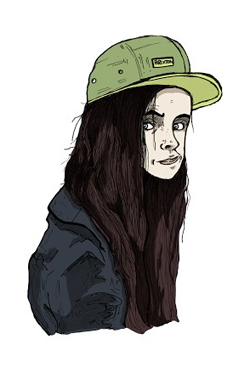 ANDY OLIVER: As is always the case with an event like Hackney Comics + Zine Fair your comics will be finding new readers on the day. For those coming to your sequential art for the first time what's your artistic background and who/what do you count among your inspirations?
OLIVIA SULLIVAN: My background is in illustration and experimental/moving image design. I'm inspired by observations of everyday life and location. Also, music and the experience of others.
AO: Your comics have become noted for their abstract and experimental approach to the form. How would you describe the recurring themes and the evolving presentational style of your work over the last few years?
 SULLIVAN: For the most part I think I'm drawn to more experimental approaches because I find it hard to stick to a certain style or a blueprint that has to stay with me forever. I'm still figuring it out, but I'm not sure if I'll ever have one specific style. I am disciplining myself to improve my drawing every week, abstract comics can allow you to avoid that – so I want to do more sequences, much more detailed imagery.
AO: Your new comic Fried Milk debuts at HCZF. What can we expect from it in terms of both its premise and format?
SULLIVAN: Fried Milk is a short comic that introduces more sequence into my work, while still maintaining some experimental approaches. It is the first part of an adventure wanderer story, where the main character finds themselves in an isolated place to seek an ambiguous item. I plan on further instalments of the story, and from there perhaps collate it into one book, or series of storyboards to animate. Although, I see it remaining as single volumes in regard to print, as I want to keep my comics affordable and accessible.
AO: You were recently part of the World Illustration Awards exhibition at Somerset House. What was the origin of your piece 'Old North. Isle Rocks'?
SULLIVAN: 'Old North, Isle Rocks' originated while I was hiking and researching in Cumbria, it is a place where my memories of Ireland are strong, while still living in England. So, I wanted to highlight that feeling for my final project at the Royal College of Art.  I created my retrospective narrative via moving image, object, smell and sound.  I used multimodal formats to enable a more immersive experience of the narrative, to attempt to place the viewer inside the story environment.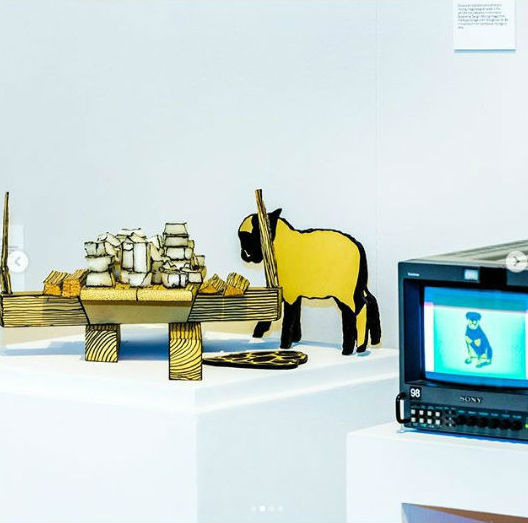 © The Association of Illustrators, 2019. Photography by Cristina Schek
AO: Thinking of those multi-media aspects to your practice that were part of 'Old North. Isle Rocks' how do different forms of communication complement each other in your work? And in terms of your comics can you tell us a little about your artistic process?
SULLIVAN: I used materials that were part of the narrative or location of my story, such Kendal mint cake (which is a notable Cumbrian treat). These objects/sculptures were able to enhance the imagery in my animation and my spoken word narration, by setting a physical scene that can be explored. A VR experience that is analogue.
My process of creating comics comes from either a random word I wrote, or a short story I had while being half asleep. I write them down and start thumbnailing a rough comic. I find it much harder to decide what 'type' it is going to be, e.g. full colour, digital ink.
AO: You were also in Japan for a while this year with a residency as part of the AIR 3331 exhibition. What did you take from your time as part of the Tokyo art scene?
SULLIVAN: As Tokyo is a comic/animation orientated place, it was very comfortable to create work and discuss it with people, even with language barriers. People also seemed to be interested in taking comics into new realms, so it is definitely a place I would like to return with my work in the future.
Examples of work from Olivia's Tokyo residency
AO: And finally what are you working on next? What can we expect from you through the rest of 2019 and beyond?
SULLIVAN: I'm working on illustrations and my portfolio, so I am able to focus purely on drawing at the moment. A passion of mine is Brazilian Jiu Jitsu, and I am planning on creating a body of illustration/design work in relation to the sport. For comics/storyboarding, I'd like to finish the Fried Milk volumes which may be presented in different styles or use of media.
For more on the work of Olivia Sullivan visit her website and online store here. You can follow her on Instagram here and on Twitter here. 
For regular updates on all things small press follow Andy Oliver on Twitter here.
Review by Andy Oliver
Olivia Sullivan will be exhibiting at Hackney Comic + Zine Fair on Sunday September 8th at Table 18.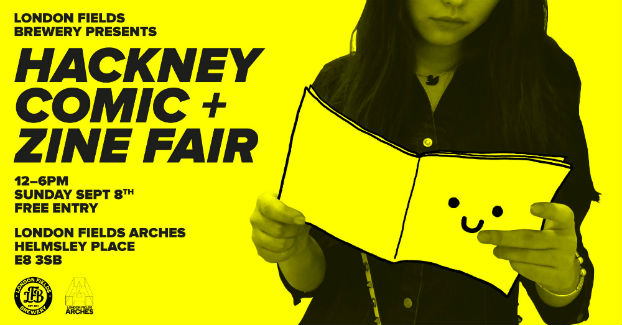 Olivia Sullivan is also a guest artist at this week's Gosh! Comics and Broken Frontier Drink and Draw on August 29th.