Even with its minimalist style, blank slate characters, and a complete lack of dialogue, Penguins – Nick Thorburn's collection of tragi-comic strips – is still acutely able to tap into the anxieties of life. What makes this doubly impressive is that while Thorburn is an accomplished artist in other mediums, Penguins is his first major release as a cartoonist, his outsider status perhaps being the source of the book's willingness to play with the medium. Underneath the experimental nature of his comic strips the book's examination of the irony and futility of a cruel world simmers to a profound tipping point until each thematic reiteration packs an even more devastating wallop. What makes Penguins truly great is that even as the titular penguins are buried under a doomed avalanche of hopelessness, the reader's sides will be bursting with laughter. Like all great comic strip characters, we can laugh at the mishaps that befall the penguins to comfort ourselves about our own tragedies.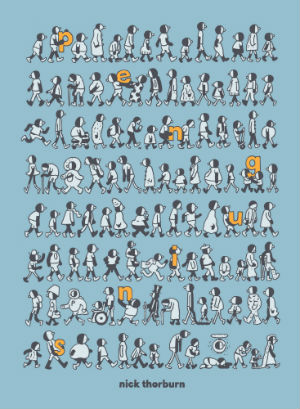 Time and again we see the strip's featureless human/penguin hybrids suffer a terrible fate or reversal of fortune. In one strip a penguin falls to his death trying to get a bird back into his house only for the bird to fly through the open window on its own after the penguin is long out of frame. In another a supplicant penguin turns the tables by beating the holy man he was praying to with his own staff.  A page spent with a cool dude penguin doing tricks on his skateboard ends with that penguin headed straight into the jaws of an alligator. A dance party quickly turns into a bloodbath as all the grinding bodies demolish each other. In perhaps the apex of Thorburn's experiments in unexpected calamity, a man runs through one edge of a panel only to smash face first into the other side. Few penguins escape their respective strips alive or without some humiliation or harm being done to them.
The source of much of this bloodshed as well as the book's comedy frequently springs from the relentless cluelessness of the penguins. One penguin dives into a pool to grab a hamburger despite the ominous shark fin circling around only to be eaten instead. Another cheerfully whistles unaware that the umbrella he has given to a family of ducks has strangled the mother leaving the chicks to die. Like the gun-toting penguin gangsters who keep panicking and shooting the same man, every character in Penguins is incapable of reacting with any foresight. It is this exaggeration that makes them the most human. This is best exemplified in a longer strip in which a penguin's courtship of a woman is ruined when he freaks out after she knocks over his computer with the roses he has just given her. Like so many of us the penguin is his own worst enemy, unable to see the forest for the trees. When in the final panel of the strip the penguin sits alone in a bathroom that is out of toilet paper, we empathize not only with his self-sabotage, but also with how life can still find ways to kick us when we are down.
The unpredictable nature of the events within strips also gives Thorburn such ample space in which to play that he can seem to be almost improvising the action from panel to panel. His penguins' lack of identity gives him a lot of freedom in terms of what changes from one panel to the next as the readers focus primarily on their movement within the space instead of their emotional performance. It is indicative of Thorburn's mastery of his craft that the reader never feels as if the narrative has gone off the rails, no matter how wildly surreal it becomes. In one strip a penguin's steam of urine turns into an unstoppable fire hose soiling everything in its path, and when the penguin tries to hold it in, his head explodes. In another, a penguin fisherman falls through a hole in the ice only to fall from the sky and be caught by a second larger fisherman who turns him into bait for his hook. Whole pages are devoted to watching various characters melt and disintegrate. Thorburn's chaotic dream logic reaches a high formal point in a series of background free panels where a penguin steps out of their airplane seat only to fall into the white void of the page. Much like the commonplace disasters and humiliations that befall the penguins the reader comes to accept these exaggerated fates. For while the bathroom being out of toilet paper is not the same as the falling into the void, it can feel just as devastating.
Whether the world around them is surreal or grounded, Thorburn's penguins just can't catch a break no matter how hard they try. The utter futility of trying runs throughout Penguins both in the everyday and the fantastical. While having an epic run on the "Penguins!" arcade game one penguin is surrounded by a cheering crowd only to lose them when he gets a "game over". A young penguin is denied the panda doll he desires despite his perfect performance at the carnival ring toss and leaves dejected with the smaller penguin doll instead. Another crawls across several pages of desert only to be rejected in the final panel. In the height of surreal futility a penguin cut down a tree only to find another axe inside which he then uses on the next tree. As Sisyphean as these efforts may seem, it is both their ludicrousness and the fact that these defeats happen to the already farcical penguins that will have the reader knowingly rolling their eyes and laughing. We have all been there.
Thorburn's devastating punchlines hit so hard because of the pitch perfect way in which he delivers them. Stylistically Penguins often resembles an old MacPaint drawing with Thorburn's usage of heavy blacks, large areas of white, and the occasional screen tone. This simple though precise rendering along with straightforward page constructions and only occasional usage of backgrounds in his panels creates a distraction-free environment for his comedy to unfold. The occasional splashes of color are garish and suitably complement the grotesque melting faces or geysers of urine he is depicting. However, his greatest strength is his pacing, be it a page filled with a cluster of small panels incrementally advancing the action or devoting a whole page to a single illustration delivering the punch line. In one particularly strong strip he spends entire pages slowly letting an iceberg melt underneath a helpless penguin and several more showing the penguin desperately waiting for help to arrive, only to have the majestic eagle be no help at all. Thorburn's willingness to not only delay this moment but to have it end so cruelly for the doomed penguin shows just how confident he is that the joke will land. Which it does, because if Penguins has taught the reader anything it is that just when things look their worst the bottom has yet to fall out.
Thorburn has a masterpiece on his hands with Penguins. He demonstrates not only a keen knowledge of visual storytelling but also a cutting wit. What is, on the surface, a collection of strips where terrible things happen to dimwitted penguins is at its core a way to cope with a harshly indifferent world. His humanoid penguins are all of us at our most foolhardy or unlucky. They let the reader laugh at all the times their own dumb decisions have gotten them into trouble or when it seemed like the world was just out to make them miserable for no reason. We breathe a sigh of relief because for once it is the penguin slipping on the banana peel and not us.
Nick Thorburn (W/A) • Fantagraphics Books $24.99
Review by Robin Enrico