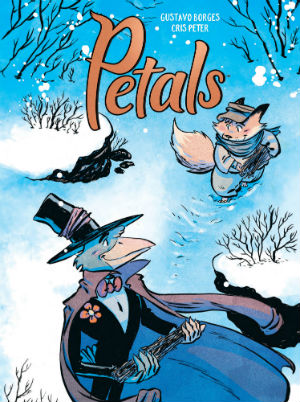 In the depths of the forest, a close-knit father and son family of foxes are attempting to get through a brutally cold winter. But when the elder fox falls ill his offspring is forced out of the refuge of their cottage to look for firewood in the thick snowbound countryside. It's on this foray into the harsh exterior that he meets a dapper bird, bedecked in top hat, bow tie and cloak. The friendship they form will last the cold seasonal months as the bird becomes not just an important part of their lives but of their family as well…
Released through BOOM! Studios' kaBOOM! imprint this deluxe edition one-shot (despite the hardcover presentation at 30-plus story pages it's obviously more accurately defined as an extended comics short rather than a graphic novel) is a truly beautiful piece of comics that is so carefully constructed and so delicate in its delivery that it manages the singular feat of being both a poignant tear-jerker and a thoroughly feelgood tale in one.
The first longer-form work by writer-artist Gustavo Borges (with colours from Cris Peter) Petals is a story that, in its limited page count, still speaks volumes about the power of friendship, collaboration, community and sacrifice. Ironically, perhaps, given that Borges tells his tale without words in a delicately crafted, exposition-free narrative, allowing us to discover and appreciate his characters through their expressive body language and actions alone.
To discuss the nature and relevance of the titular petals would be to overstep a line and rob the reader of the joy and the gift of narrative discovery but, suffice to say, this is a story that underlines the value of kindness in an otherwise unforgiving world. Some may take something allegorical and contemporary from that but, in reality, the themes Borges touches on here are universal.
For all the sense of impending finality to events here – the pacing and foreshadowing is subtly effective – it's a truly celebratory, life-affirming short. The animated motion of Borges' pages is outstanding and his use of panel effects to emphasise movement and the passage of time is similarly masterful. Given the story's wordless nature much emphasis is put on sound effects or iconographic symbols in place of dialogue in speech balloons to create atmosphere and mood or to explain plot points. From cloudy lettering emerging from teapots through to doom and gloom seeping out of the radio news and floating across the room, the book is full of those all-important storytelling tricks unique to the medium that we so love here at Broken Frontier.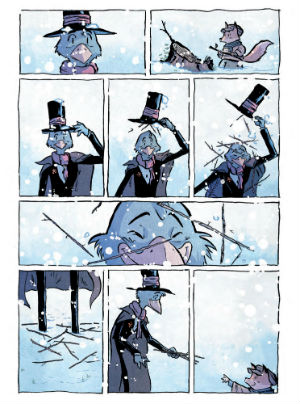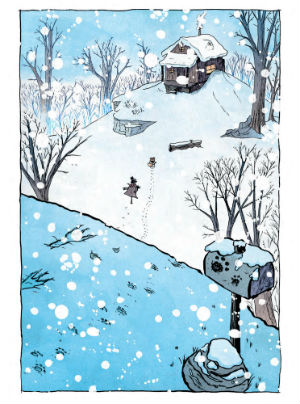 Cris Peter's colouring is a vitally important factor in Petals. Her wintry contrasts of the forest – all crisp, icy hues that will give the most stoic reader a sympathetic shiver or two – with the relative cosiness of the characters' home with its warmer brown shades underlining the plight of the cast throughout. A book that marks both creators out as exceptional visual storytellers, the genuinely all-ages Petals will charm, delight and touch its readers' hearts with its good-natured and welcome message.
Gustavo Borges (W/A), Cris Peter (C) • BOOM! Studios/kaBOOM!, $16.99
Review by Andy Oliver