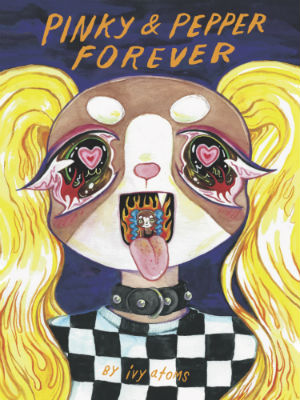 Pinky and Pepper Forever by Ivy Atoms is yet another strong debut graphic novella from burgeoning publisher Silver Sprocket. Atoms arrives as a fully formed artist with both a unique vision and a distinctive style. On the surface appearing to be Sappho-erotic fan fiction for a discontinued doll line, Pinky and Pepper Forever reveals itself to be both a touching love story and an excoriation of art school. The book's mixed media aesthetics merges the naïve colored pencil coloring of a teenage girl's diary with the deliberate conceptual touches of an adult artist literate in multiple mediums and styles. It creates a work that charms the reader so as to disarm them, allowing it to be all the more cutting in its critique.
Pinky and Pepper Forever begins with its titular anthropomorphic canine protagonists in hell dining on human flesh. While Pepper worries about the couple's prospects in the afterlife, Pinky in a telling moment asks about the reception to her Final Piece. The story then jumps back in time six months to the couple still alive and enrolled in art school purposely leaving the Final Piece a dangling narrative thread to be paid off. We then follow the pair as they work their way through the both tensions in their romance and the ignorant bigoted critiques of their fellow classmates.
These in-class critiques become the main wedge driving Pinky and Pepper apart as Pinky is infuriated that her work is not being taken seriously by her peers. While Pepper tries her best to assuage Pinky's insecurities, the latter is so consumed by her desire for recognition that she turns her frustration on her girlfriend. In the height of her frustration Pinky stages her Final Piece, her own dead body preserved in resin floating in a bathtub.
Driven by despair over her lost love, Pepper also commits suicide and winds up alone and terrified searching for Pinky in the depths of hell. Pinky however, being a masochist is overjoyed at being demonically tortured though she still longs for Pepper. When the couple finally reunites, their tender reunion is intermixed with Pinky dunking Pepper in acid. When in hell, do as the demons do, or as Pinky and Pepper do when they embrace their new lives as reapers. The story's conclusion has the pair cleaning up after a murder suicide leading them to question what the ways in which people try to escape the sadness in their lives. In creating a mural in blood our protagonist finally realize the foolishness of sacrificing their lives for art when they already had each other.
This distinct story is aided by Atoms' unique aesthetic choice. Her mix of edgy and cute is never done with a wink of cleverness as the opening pages politely provide a content warning for readers who might be affected by the book's content. This decision to discuss taboo subjects in an effort to be frank rather than to shock, in combination with the cutesy imagery, give the book a tone akin to Junko Mizuno's early work.
Even if that is not a vein Atoms is drawing from, her direct homages to works from art history nicely expand the visual vocabulary she is using to tell her story.  Pepper paints the living Pinky like Botticelli's 'Birth of Venus', and after her death as Millais' 'Ophelia'. In one of the strongest spread of the book Pepper cowers in the hell-scape of a Hieronymus Bosch that is made all the more grotesque with Atoms' style. These references not only nicely fit the art centric storyline, but they provide Atoms with opportunities to show the breadth and flexibility of her cartooning.
For even if Atoms' rendering can be a bit simplistic and her backgrounds sparse, she is constantly making aesthetic decisions that cover these weaknesses in favor of highlighting her strengths. The aforementioned homages are one such case, but another is her strong sense of composition. Framing choices are decently balanced between close-ups and full body shots and her usage of shifting color as emotional background gives the visual storytelling a consistently engaging pace.  Equally successful are Atoms' varied page layouts and other formal flourishes.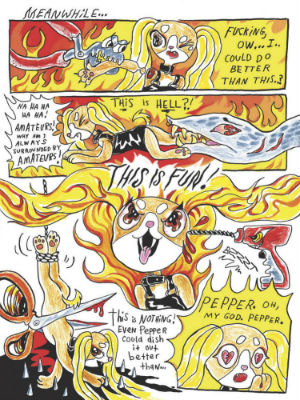 Pages flip between densely paneled story vignettes and more meditative splash pages. The splash pages are also where Atoms experiments the most with form as she uses them to render the art history homages, advance the story via browser pages on a phone, and in a profound aesthetic break render Pinky's Final Piece via a photograph of a sculpture of the doll Pinky floating in resin inside a handmade tub. These are all bold and confident choices by an artist who well understands the underlying mechanics of the medium.
This confidence extends to scripting and theming as well. Pinky's death is smartly foreshadowed by an early panel of her in the tub that is later replicated in her Final Piece, both of which invoke the imagery of 'Ophelia'. Also smartly foreshadowed is Pepper's suicide over Pinky's death when she sings Prince's 'I Would Die 4 U'. The singing of The Velvet Underground's 'Venus in Furs' within the same sequence functioning as a clever call back to Pepper's painting of Pinky as 'Birth of Venus'. Equally strong is the way Atoms parallels Pinky's masochism with her treatment at the hands of her peers and teachers.
When Pinky lets herself be tormented physically she finds it pleasurable, enough so that she hopes to bond with Pepper by inflicting the same on her. But even the torments of hell are nothing compared to the venomous words of her peers who prey on her insecurities, making the art world the true demon in this equation; one that eats away at the soul. Art becomes violence when it is used to exert power over others. Yet violence can, like the best of art, be used to provoke joy in others. Pepper's paintings of Pinky are as devotional as her whipping of her. The pair's struggle only comes to resolution when they intermingle the two and paint on the wall together in blood.
Pinky and Pepper Forever is a perfect example of the power comics can have to tell a deeply human story by rendering it in a fantastical manner. Atoms tells larger truths about the futility of seeking validation in notoriety by dragging two anthropomorphic dog dolls though hell. The way the book reveals in its art literacy is exactly what so finely sharpen the knife it drives into the heart of art school snobbery. Atom's aesthetic is an exact match for the story she is trying to tell here, but it's the conceptual choices she makes as a visual storyteller that hint at the even greater potential she has to tell all manner of stories in the future.
Ivy Atoms (W/A) • Silver Sprocket, $12.00
Review by Robin Enrico