As one might suspect from an anthology with the theme of 'Plant Power', the latest issue of Latvian publisher kuš! comics signature š! anthology sees more than its fair share of environmentally pointed allegory. There are a number of perhaps more obvious stories about ecological warnings from the plant realm and comic strip homilies on our fragile relationship with the natural world herein. But the joy of š! is that each issue is so chock full of cross-continental international contributors that every new entry feels radically different in style, such is the diversity of approaches to graphic narrative within its pages.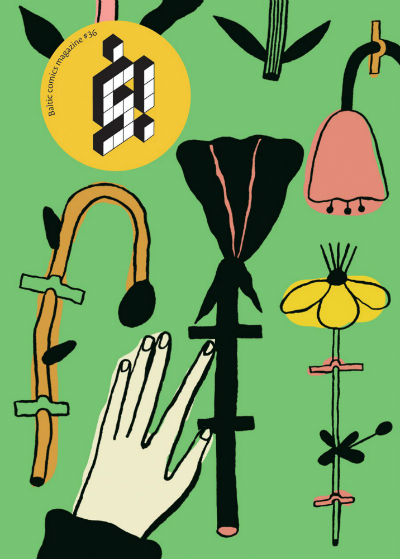 An average issue of š! can comprise the work of around twenty creators, meaning any write-up here will only cover a handful of contributions but there are a number that particularly caught my eye this time round. It will come as no surprise to regular Broken Frontier readers that the pick of the issue for me was our 2017 'Six to Watch' artist Peony Gent's 'Today Not Then' (below), a reflection on the creative process with plants taking on a cathartic metaphorical life. It's astonishing how deftly Gent manages the tone of each page with the merest shift in a limited colour palette changing the entire emotional tempo of the piece. The added joy of seeing her work in a kuš! comics collection is knowing that it will reach a wider international readership. As I have said on countless occasions of late, in terms of taking the form into entirely new territory, Gent is undoubtedly our most important new creative voice in the UK and this short alone is worth buying the collection for.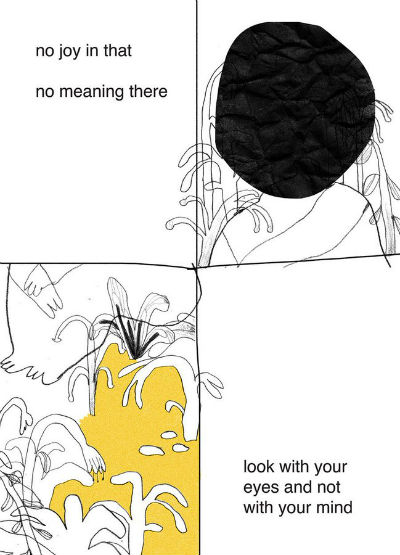 Other standouts include Austrian Simon H's 'Gated Community', a personless tour through the plant life of an urban environment that, through its quiet stoicism, seems to hint at the ironic insignificance and impermanence of humanity in contrast to the flora we surround ourselves with. Latvian Ingrīda Pičukāne's 'Fusionem Paradisum' is notable for the way her characters move through images rather than panels. This melding of the human world and the plant one can be interpreted as symbolising a need for us to be in tune with our surroundings, or the reader can simply immerse themselves in its oddly soothing strangeness. Roman Muradov's tale of a river than runs through a house in 'River Run' (below left), meanwhile, has a similar motif of the worlds of nature and the built environment merging; where one ends and the other begins becoming less and less certain with the structured clarity of the visuals underlining that contradiction all the more.
Līva Kandevica's 'Pollen' (above right) is one of the most unsettling stories in the book. Allergy and allegory interweaving as much as the hayfever sufferer's symptoms and a literal floral oppression are entwined in its pages. Other highlights include Finnish artist Anna Sailamaa's stark look at a brutal plundering of nature in 'Gatherer', the oblique magical colours of French illustrator Amandine Meyer in 'Don't Let the Bed Bugs Bite' and the dreamy pastel colours of Tor Brandt's story of the cycle of life and death in 'Samsara' (below right). Patrick Kyle contributes 'The Agony of the Dry Room' (below left), indulgent neglect here seeming to mirror recognisable ideas of obsessive work patterns and ignoring wellbeing, with a poor, unwatered plant providing the bleakest representational comedic input.
When it comes to kuš! comics and the opportunities they provide to sample alternative comics work from across the world we can never recommend their output too highly here at Broken Frontier. Invitingly experimental in approach, 'Plant Power' is yet another vital entry point into the styles and approaches of artists whose work you may yet to have experience. Give this a shot – it's 160 pages of intriguingly different work for just $13.95 after all!
Amandine Meyer, Anna Sailamaa, Daria Tessler, Disa Wallander, Ingrīda Pičukāne, Jean de Wet, König Lü. Q., Līva Kandevica, Lote Vilma Vītiņa, Marlene Krause, Molly Fairhurst, Pauls Rietums, Patrick Kyle, Peony Gent, Roman Muradov, Simon H, Tor Brandt, Valentine Gallardo, Vivianna Maria Stanislavska, Ward Zwart (W/A), Lote Vilma Vītiņa (CA) • kuš! comics, $13.95
Review by Andy Oliver