The lurching feeling in your stomach as you find yourself endlessly falling into a void. It's a triggering sensation that will have abruptly woken many of us from our slumber and that familiar dream of plummeting ever downwards. It's also the starting point for Sherwin Tjia's graphic novel Plummet from Canadian publisher Conundrum Press. But for protagonist Mel Eichenwald a return to consciousness is no respite from her nightmares. Instead she finds that in the waking world she is also somehow in the sky in freefall, but dropping down towards a world that simply isn't there anymore.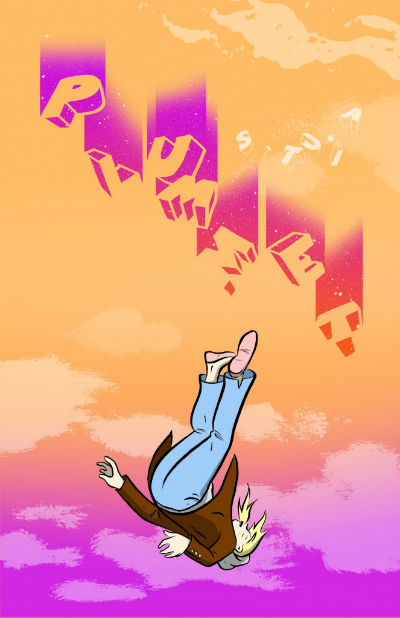 In this bizarre new environment Mel must quickly adapt to an existence where gravity is the only constant and there are a whole new set of rules for survival. As her endless plummet continues she finds herself encountering other displaced objects and people who have also found themselves inexplicably transported here from their daily lives. Falling houses, islands of detritus and giant trees are there to be investigated, while her fellow fallers can be vital allies or deadly opponents. As time goes on will the incongruities and the contradictions of this groundless realm shed any light on the truth of her situation?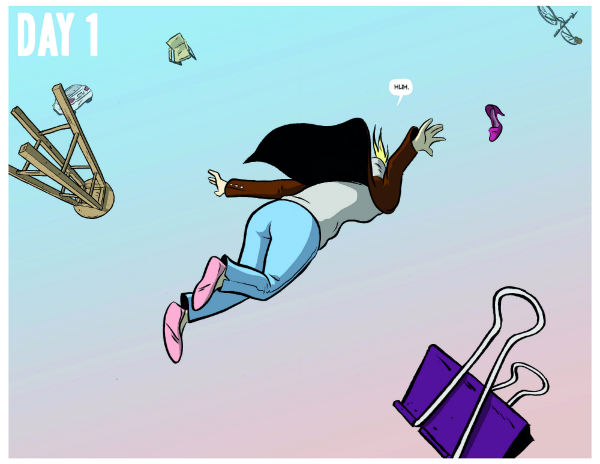 Sherwin Tjia's clever premise gives us a strange new locale to explore alongside Mel that is familiar and yet utterly alien. Hints and clues prevail but they act more as teasers that give the narrative an ambiguity that its occasional sidesteps into reality-bending alternative scenarios only serve to accentuate. Within that fantastic set-up, though, is a very real character piece that examines questions of human nature and morality when the social structures that guide and protect us suddenly collapse.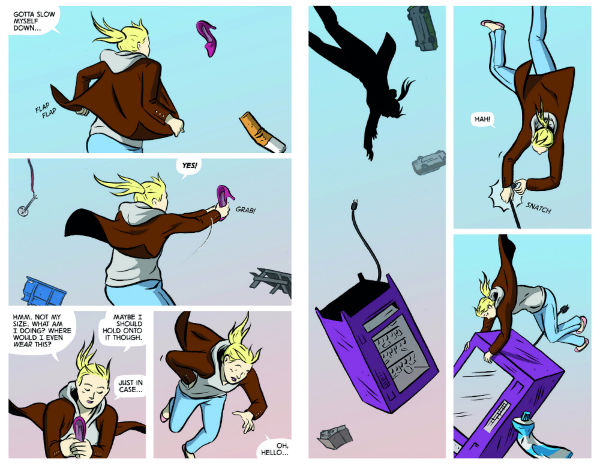 It's the clarity of the book's accessible cartooning style in bringing the concept of a world in descent to life that impresses equally as much as its more overt themes. Mel's attempts to navigate her environment have a constant sense of motion with individual panels rotating perspective to underline the gravitational pull of surroundings (her attempts to investigate a falling house are a fine example of this with a claustrophobic unpredictability to events), and more expansive single illustrations reminding us of how desolate the sky-like void she is passing through can be. One of the most memorable scenes involves Mel and a friend passing through a lake that is descending at a slower rate than they are which is inventively captured in terms of panel-to-panel sequencing.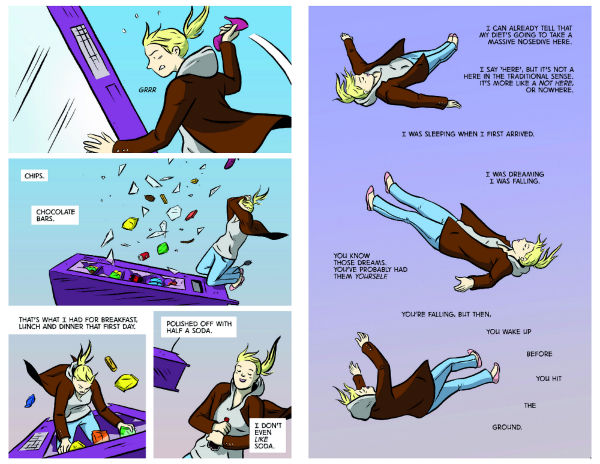 Ultimately.though, this is a story that contrasts the best and worst of humanity in a world with its own internal logic and one that plays with ideas of time and space in ways that only comics can. Pleasingly, there's plenty of scope for a return to Mel's story by the graphic novel's end. A possibility that many readers, no doubt, would relish.
Sherwin Tjia (W/A) • Conundrum Press, $20.00
Review by Andy Oliver