AVAILABLE AT THOUGHT BUBBLE!
Satirising the music industry with equal dollops of scathing parody and fond homage, John Riordan and Dan Cox's Hitsville UK was one of the earliest comics to be reviewed in 'Small Pressganged' way back in January 2012. Originally published by the creative team themselves, Hitsville UK also spent some time under the Great Beast banner before that venture's demise, and has now returned to the self-publishing arena with its long-awaited fourth issue. Fans of Six Music may also have heard Riordan talking to Stuart Maconie about the book a few weeks ago.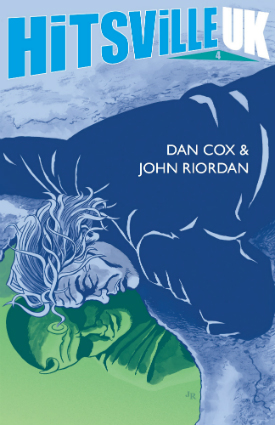 For new readers, who better to sum up the book's premise than co-creator John Riordan with the following taken from my interview with him last year. "The basic premise is that washed-up bass player and wannabe music mogul Gerry Corden decides to set up a record label, the eponymous Hitsville UK. He recruits drug-addled maniac, Greg Pastis to be his producer and the pair of them sign up impressionable/desperate acts.
"These include Gwillum, a depressive country & western troubadour with the physique of a goblin, The Carrie Nation's Revenge, a supercool group of punk girls who find time to fight zombies and vampires, and Haunted by Robots, a bullied school boy with a possibly imaginary robot friend, who channels his intense hatred into terrifying, bowel-shaking techno-dirges. There's also a bunch of 60s-obsessed retronauts, which gives us an excuse to have a bad trip-psychedelic section in each issue."
Another of the many Thought Bubble debuts Hitsville UK #4 promises "office politics, musical differences, school bullying, A PROPER FIGHT and an arctic roll." Below we present a preview of that fourth instalment.
For more on Hitsville UK visit the site here and follow the comic on Twitter here. You can buy copies online here or at Thought Bubble at the weekend. 
For regular updates on all things small press follow Andy Oliver on Twitter here.