Top Cow has provided BF with a preview to The Darkness #115 in stores September 18, 2013.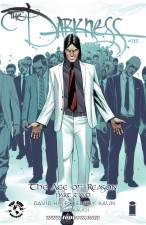 The Darkness #115
Story By: David Hine
Art By: Jeremy Haun
Art By: John Rauch
Price: $3.99
Diamond ID: APR130533
"THE AGE OF REASON," Part Two
Hope Estacado is very much her father's daughter. But Jackie Estacado was raised to be a hired killer for a crime family before he inherited the curse of the Darkness. As she matures to take care of her mentally unstable mother, what terrible rites of passage await Hope?