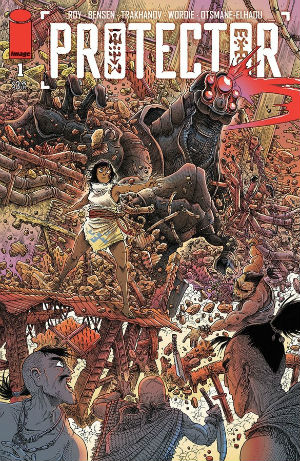 Welcome to 33rd century America, a country almost unrecognisable from our the one we know and yet imbued with fragmentary echoes of its past. Here, in a world that appears to have undergone some form of environmental collapse and a return to a more tribal culture, the Hudsoni are the dominant group, having enslaved other communities including those of the Yanqui tribe. Their grip on power has been bolstered by the favour of the mysterious and godlike Devas.
In this opening chapter an escaping Yanqui slave girl named Mara unwittingly awakens something within the ruins of the city of Shikka-Go. What is this "demonic" entity? Why are the Devas prepared to react to its existence with such extreme measures? And what lengths will First Knife of the Hudsoni go to in order to avert disaster for his people?
Protector #1 (complete with a striking James Stokoe cover) is an intriguing first instalment but one that does underline the limitations of the serial comics format when dealing with such a sprawling and complex world. It's difficult to look at something as intricately layered as the environment and society created here by writers Simon Roy and Daniel Bensen and not feel that a European-style album format would be a better fit for a story like this. But perhaps that's a wider discussion about a need for evolving methods of delivery that would be more appropriate for another day…
Artyom Trakhanov's visual storytelling steals the show in this premiere. Use of perspective in Mara's escape attempt (below) to both hone in on her individual struggle and to pan out onto the wider desolation she flees through directly immerses us in this realm and its harsh realities with no need for further exposition. Trakhanov's slightly caricatured cast placed across a detailed and devastated background also ensures our interest in Mara as a narrative focal point, despite our introduction to her being so limited in terms of further information.
But it's his sequential storytelling that is sublime in construction: multiple panels can sit within panels to create a sense of movement through environment, circular spotlights on characters stress their interaction with their surroundings and visual characterisation makes up for a lack of more overt character development. It's backed up by Jason Wordie's atmospheric colouring – so vitally important in emphasising the barren devastation of Shikka-Go – and Hassan Otsmane-Elhaou's lettering which gives the dialogue an idiosyncratic style in terms of both font and speech balloon design. It ensures the Hudsoni's speech patterns have a suitably naturalistic feel while the Devas retain a godlike arrogance.
There's much to hook the reader in this first part and Roy and Bensen provide relevant supplementary material at the back to further explain the world of Protector. Where Protector does feel lacking at this point is in our ability to empathise with the main players. We just know so little about them that our connection to their story feels limited. However, there's plenty of time for further development in that regard and the potential of this series is undeniable. It has sleeper hit written all over it.
Give Protector your support if you're looking to invest in a new genre comics offering. Image are always adept at curating books that combine sheer escapism with pure craft but, as the short run of Gogor showed last year, that isn't always a recipe for sales success. The world-building elements of this book have been so carefully thought out that we can only hope this initial arc is just the beginning of a long exploration of the wider storytelling landscape of Protector and its characters.
Simon Roy & Daniel Bensen (W), Artyom Trakhanov (A), Jason Wordie (C), Hassan Otsmane-Elhaou (L), Richard Ballermann (Logo), James Stokoe (CA) • Image Comics, $3.99
Review by Andy Oliver