Creating truly alien visual environments in comics does not necessarily require elaborate extremes of intricately designed and pseudo-realistic extraterrestrial landscapes, flora and fauna. In PUDICA33, another digital offering from this year's Shortbox Comics Fair, artist Chelsea Akpan gives us a planet that is otherworldy through its nuance and implication rather than amplified ostentation. A world where darkness and colour redefine each other in their contrasts, and where superficially familiar plant life can suddenly take on eerie and unexpected qualities.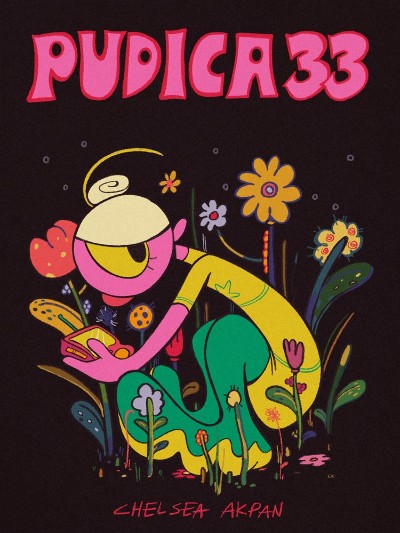 On this world a lone explorer is looking for the enigmatic "sample 33", a flower that can only bloom at night but is highly sought after because of its propensity for dying immediately on tactile contact. As our protagonist wanders through this ethereal forest locale they speculate on the plant's origins, interact with its sometimes rather animated floral inhabitants, and come to a final, spiritual connection with their target…
Akpan's quirkily appealing cartooning emphasises the weirdness of the locale with a clear line and an endearing focus on disproportioned exaggeration. PUDICA33 also has a number of eccentrically amusing touches. One especially neat wink in the reader's direction is the old comic book convention of blanking out swear words with symbols being given a meta irony when the word in question is translated in a footnote.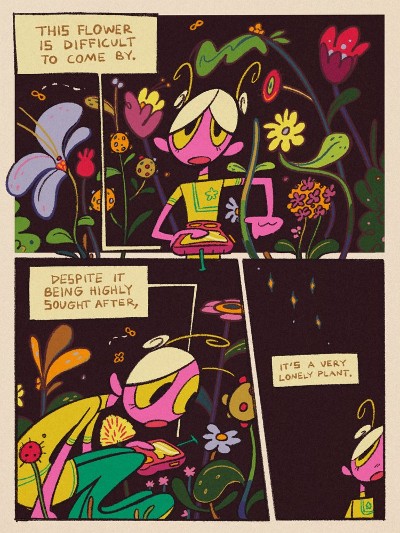 The casual reader may miss just how crammed Akpan's panel are but it's that facet of the comic – vibrant growth placed against the stygian backgrounds – that create its atmospheric alienness. Akpan playfully allows cross-panel interaction to great effect and embeds some of the tools of comics storytelling into scenes rather than over them (plants growing over text boxes for example).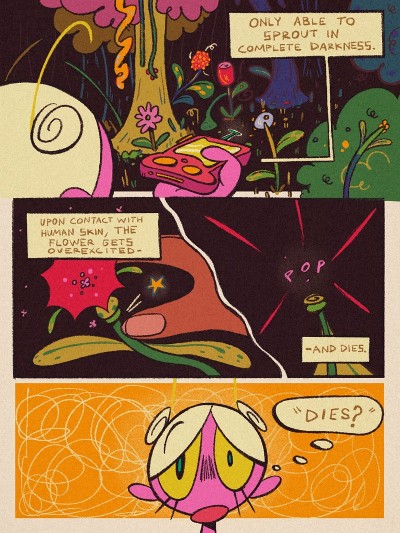 Ultimately, it's up to the reader to take their own message from the comic's denouement which can be interpreted in a number of ways. But PUDICA33 will be a great introduction to Akpan's work which, after all, is one of the joys of an event like the Shortbox Comics Fair.
Chelsea Akpan (W/A) • Shortbox Comics Fair/Self-published, £3.50
Review by Andy Oliver