While there is a narrative in Rachel O'Regan's This is Not an Appropriate Climate for Your Survival it's actually the least interesting aspect of this intriguingly bizarre, almost visual stream-of-consciousness offering. Another comic I picked up at this year's ELCAF, This is Not an Appropriate Climate for Your Survival is ostensibly the story of a small group of snails who are unfortunately crushed to death in their garden home. Consigned to hell, and finding themselves shell-less thanks to an act of particularly cruel satanic intervention, the naked gastropods are forced to face an eternity of self-conscious torment staring awkwardly at their own reflections.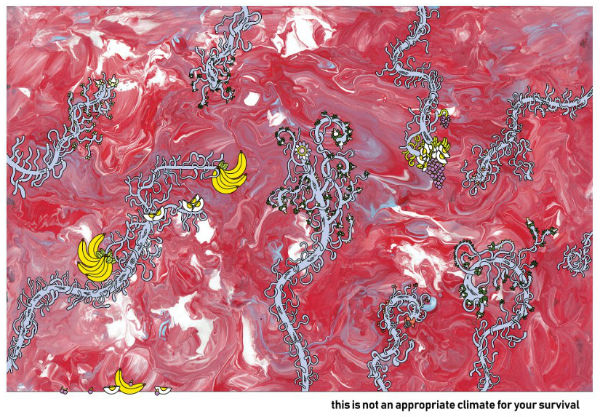 There's a certain dark wit to O'Regan's tale of mollusc damnation. But what is of far more interest to enthusiasts of small press publishing is the manner in which she presents it rather than the admittedly slight plot. Published in an A4 landscape format, O'Regan uses that larger page size and orientation to present imagery that in its merging of the disturbing, the intense and the strangely cute proves to be all the more unsettling for its cluttered chaos.
O'Regan's depictions of the netherworld are akin to a contemporary, cross-media Bosch. Most pages are a panel unto themselves; tumultuous tableaux that depict the torment of a world beyond with often innocuously appealingly characters placed on deliberately naive backgrounds. It emphasises a sense of pandemonium; of souls lost in a swirling mass of oppressive confusion building up to an almost organic crescendo of horror and despair as the pages open out into a screamingly surreal and abrupt denouement.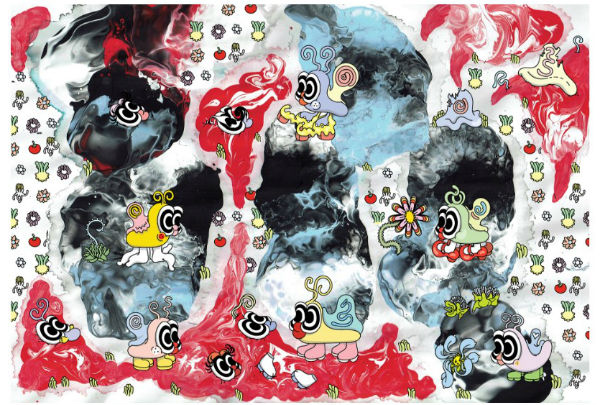 If you're looking for plot, character development and linear narrative This is Not an Appropriate Climate for Your Survival is probably not the book for you. But readers who enjoy more alt comics fare and are unafraid to look for their own meaning from an artist's work will find much to interest them in O'Regan's truly unique approach to sequential art.
For more on the work of Rachel O'Regan visit her site here and follow her on Instagram here. You can buy This is Not an Appropriate Climate for Your Survival online here. 
For regular updates on all things small press follow Andy Oliver on Twitter here.
Review by Andy Oliver