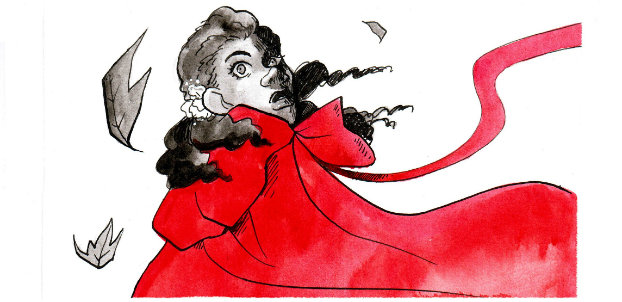 AVAILABLE AT THOUGHT BUBBLE!
We're returning to the familiar but always rewarding territory of my 'Six UK Small Press Creators to Watch in 2015' in 'Small Pressganged' today but with a topical Thought Bubble twist. I first discovered Jess Milton's gorgeously flowing work last year in the pages of First World War anthology To Arms! and via her story 'Kentish Town' in the third issue of Dirty Rotten Comics. Over the course of 2015 as part of our Six to Watch initiative I've interviewed her here, published an exclusive creator's commentary on her work here, and reviewed her contributions to Dirty Rotten Comics #5, Sleater-Kinney zine Not a New Wave, and the One Beat Zines anthology Identity (also a Thought Bubble debut). You might want to find as many of those comics as you can at TB this weekend as well…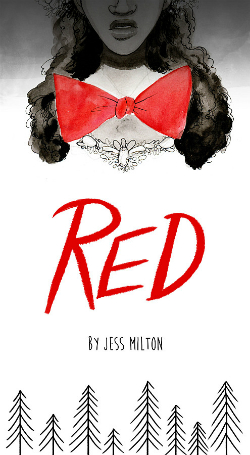 At 13 story pages, Red is Jess Milton's longest-form comic this year and one that underlines her diversity as a storyteller. Historical biography, contemporary LGBTQ adaptation of classic literature, autobio, fantasy… Milton's versatility is one of her great selling points. Red takes the Red Riding Hood fairy tale as its starting point, repurposing and reimagining it with what I am now beginning to recognise as a distinctly Miltonian slant.
Lost within a twisting forest, a crimson-cloaked young woman attempts to find her way to her partner on her wedding day. But as she traverses the woodland's tortuous pathways she discovers there are other denizens within its environs. Can she discover the route to her intended destination? Or will she find herself entangled in something even more alluring…?
It may, perhaps, be more delicate in plot but Red's substance is in its atmosphere, mood and beguiling sense of dark enchantment. Milton's willingness to embrace that fundamental element of pure comics – to show not tell – is her forte here. It's that ability to communicate through expression rather than exposition that is so very impressive in this wordless offering; the subtle assuredness of someone who knows their craft, of an artist who always exhibits a quiet but confident ownership of the page.
This is a playful take on the core elements of the Red Riding Hood tale. Milton effectively subverts the original, taking its motifs and creating something that manages to be its own entity and yet is also entirely recognisable despite its careful reconstruction of the source material. There's a visual eloquence to Red throughout; Milton's aptitude for ever inventive page design – specifically the way in which her protagonist's scarlet trappings eventually become a part of the panel structures – giving the book a gorgeous fluidity from page to page, and evocatively enhancing its thematic heart.
Lyrical and haunting, the hypnotic visuals of Jess Milton's Red pull the reader into the page with their inescapable, spellbinding beauty. A classic tale of yesteryear re-imagined by a comics star of tomorrow.
For more on Jess Milton's work check out her site here and follow her on Twitter here. You can buy Red from her at Thought Bubble this weekend at table 152b priced £5.00 in the New Dock Hall or pre-order it online here.
For regular updates on all things small press follow Andy Oliver on Twitter here.