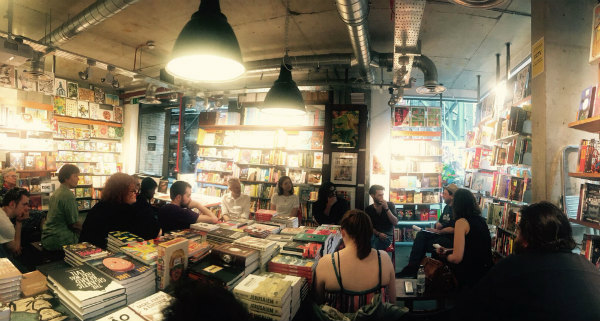 This past week I had the privilege of stepping into the very big shoes of Steven Walsh of Gosh! Comics to chair one of the shop's Process evenings – talks and panel events that aim to give invaluable insights into the creative process of comics practitioners for aspiring artists. This edition was a special Unbound evening giving me the opportunity to chat with Lizzie Kaye who oversees Unbound's new line of graphic novels, their Head of Publishing Mathew Clayton, and two creators currently involved in Unbound's unique crowdfunding model – Ram Venkatesan (Grafity's Wall) and Owen Michael Johnson (Reel Love).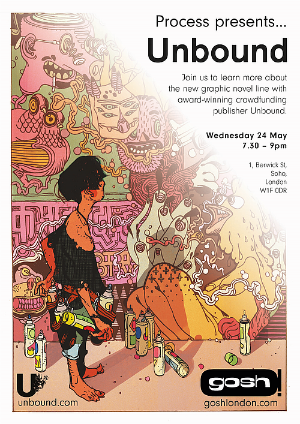 The discussion covered Ram and Owen's books – two coming-of-age stories with very different approaches – as well as Unbound's history, publishing philosophy and other graphic novel projects. Those wanting to read more about Unbound at Broken Frontier should check out my interviews with Lizzie Kaye here and another of their graphic novelists Jessica Martin here. You can catch up on Gosh's great list of events on their new website here.
One of Lizzie's valuable pieces of advice about pitching for newer creators on the night was on the importance of doing your research before approaching publishers. That emphasis on how vital that first contact is brought me in mind of this much-read (and sorely in need of updating!) article at BF from 2014 giving thoughts on getting coverage for your work if you're a newer creator.
Given how many coverage request e-mails we receive at BF this is something I have been considering  a lot this year. It's a tough task to make yourself stand out among the many hundreds of other new self-publishers looking for reviews/interviews. So what's follows is a few "dos and don'ts" from the perspective of someone who has been receiving coverage requests for over a decade. I'm not going to re-write that 2014 article – there's plenty of solid suggestions there – but below are pointers solely about that initial e-mail approach.
(i) Do always make it an e-mail request – E-mailing will immeasurably improve your chances of getting your work covered. Direct messages on Facebook, Twitter or (bizarrely) under images on Instagram are easily missed or forgotten about. I can't forward your messages on to the rest of the team from Twitter DMs to the Broken Frontier account. Social media is a wonderful tool for connecting people but our e-mail inboxes at BF are where the coverage/scheduling process begins.
(ii) Do appeal directly to the recipient – Explain succinctly why your project may be of interest based on the site or the reviewer's previous coverage. Give a brief synopsis, the options for review copies, sample images and where it's available. If it's been positively reviewed before add relevant links.
(iii) Do be professional in tone – "Hey don't suppose you'd be interested in reviewing my comic? Here's a link." doesn't cut it either in tone or as a first impression. This shouldn't need saying but it does. Your request e-mail is essentially a presentation for why your work (over the work of others) deserves to be reviewed. Do not forget that. Even asking for a review is effectively a pitch.
(iv) Do your research – There's probably little or no point asking a site dedicated to indie/alt comics to review your super-hero book just as there's probably little or no point asking a site dedicated to super-hero comics to review your abstract autobio work. Expend your promotional energy in directions where it's most likely to get results.
(v) Don't undermine yourself at the outset– Don't start your e-mail by telling us that your work isn't very good. That's our call to make. Far too many requests come in with a self-deprecating tone and that's baffling. Sell your work to us by being positive about it without hyperbole.
(vi) Don't over-hype – Similarly, don't start your e-mail by telling us how brilliant your work is. That's also our call to make. In ten years of doing this I've yet to encounter a self-proclaimed "original new take on…" something that actually was. Again, be positive without hyperbole. There's only one Stan Lee who can get away with that kind of thing and it's almost certainly not you!
(vii) Do remember when e-mailing that nobody is entitled to coverage – And the overwhelming majority of aspiring creators, of course, appreciate that and are remarkably understanding, realistic and often also incredibly patient in their interactions with us. We know how demoralising it is not to get the review you were hoping for because, as a site, we've made a point of championing and mentoring new voices in comics, and a number of our team are creators in their own right. But don't ever let that disappointment manifest itself in angry e-mails, messages or social media updates complaining about not getting coverage. Only the tiniest number of requests will result in a review – that's simply a logistical reality.
That aforementioned 2014 'How *Do* I Get Coverage for My Self-Published Comic? Thoughts on How to Secure that All-Important First Review and Increasing Your Audience Afterwards…' article gives wider advice for new self-publishers for those interested.
More people are making comics now than ever before and, correspondingly, the demand for coverage has never been higher. The cold hard facts are that the majority of those who e-mail us won't even get a reply – there simply isn't the time. And those who do can wait months sometimes for an article to materialise. But we do look through every single e-mail we receive. So remember that your initial contact with a review site is the most vital first step you'll make in getting your project wider attention and always approach it with the sense of preparation and strategy that it deserves!
You only get one chance to make a first impression after all…
– Andy Oliver, Broken Frontier Editor-in-Chief, May 29th, 2017
Photo credit: Mathanki Kodavasal
For regular updates on all things small press and Broken Frontier follow Andy Oliver on Twitter here.