Laying bare the secret history of the architecture of New York City, Pierre Christin and Olivier Balez chronicle the life of Robert Moses, whose legacy is carved into the fabric of the Big Apple.
From the subway to the skyscraper, from Manhattan's Financial District to the Long Island suburbs, every inch of New York tells the story of one man's mind: Robert Moses, the architect who designed it all. Now, in Christin and Balez's graphic biography Robert Moses: The Master Builder of New York City, published by UK publisher Nobrow Press, the rest of Robert's story will be told.
Pierre Christin is a French writer whose previous credits include European classics like The Hunting Party with Enki Bilal and the sci-fi series Valérian. He is one of the country's most revered writers and has written comics for all the greats, including Jacques Tardi, Jean Giraud (Moebius) and Jijé, so expectations for this book were pretty high at my end.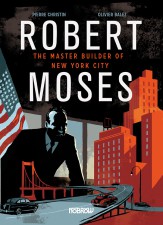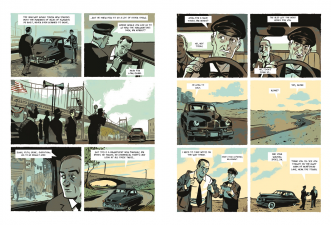 What I read  was a beautiful and informative package featuring a straightforward introduction (though Christin does switch time frames a bit in several chapters) to the life and projects of Robert Moses, a key architect of mid-20th century New York City. He was responsible for the public beaches, the George Washington Bridge, the Brooklyn Battery Bridge, the Staten Island Expressway, parkways, playgrounds and more than 150,000 housing units.
Pierre Christin focuses exclusively on the career of Moses, with only a few side steps into his personal life. These sidesteps feature supposedly key events that explain his extreme determination and stubbornness, but seem rather flimsy in the end.
For example, there's a sequence that features Moses as the outsider in an elite school, lending credibility to his competitiveness, and an incident over an athletic club, where a funding discussion led to Moses instigating his own association. In the end , they don't provide much in the way of character motivation.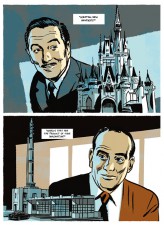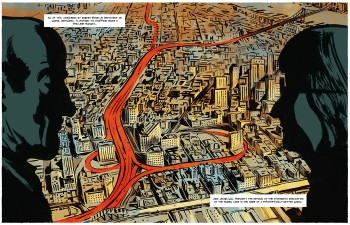 Christin also touches upon a hint of racism and does not shy away from the darker sides of the architect's personality, making him an almost archetypal Randian figure. His many feuds with politicians like FDR and Rockefeller are the stuff of legend, and his fall from grace was completed in the 1960s, when he became the fall guy for civil action groups defaming the concretization of New York and his deranged solutions for the traffic jam problems that the city faces every day.
It is to Christin's advantage that he does not make Robert Moses a likable character. In the end, we feel more than a little sorry for him, having burned all his bridges (metaphorically speaking) through his own dogmatic approach and constant emotional bribery of all the people he worked with.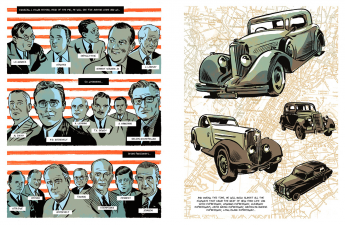 All of this is accompanied by stunning line and coloring work by Chilean artist Olivier Balez. His artwork easily handles the shifts between character and architectural drawings. He combines a rough line with cartoony features, distilling the essence of his subject whether it's a person or a building. His monochromatic coloring lends a resting point to the rather turbulent story of Moses and, frankly, Christin could not wish for a better collaborator for this biopic.
Based on legendary writer Pierre Christin's body of work, I did expect a more detailed examination of the character of Robert Moses, but Robert Moses: The Master Builder of New York City is a solid introduction to this enigmatic architect. Christin and Balez put down the facts with a deceptively fluid ease, combining story and art to create a substantial and objective graphic novel that does not shy away from the darker aspects of one of the defining individuals in the history of the Big Apple.
Robert Moses: The Master Builder of New York City by Pierre Christin & Olivier Balez is published by Nobrow Press. It is a full- colour hardcover counting 104 pages, and retails for £15.99.
For more news and info from Europe's comics community, follow me on Twitter right here.