In an alternate timeline, mythology expert Joseph Campbell, strung out of his mind on acid, benzedrine and the ashes of Philip K Dick, created a graphic novel that detailed the rise of consciousness, creationism, God(s) and worlds. In this reality, however, we get its dimensional counterpart by way of Jesse Moynihan's Forming.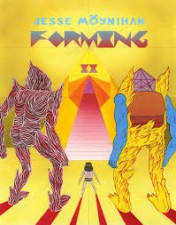 As a storyboard artist on Adventure Time, Jesse Moynihan is certainly no stranger to wackiness and zany adventures. However, the print collection of his web adventure serial Forming ups the ante considerably, striving for a new creation myth that is at once utterly crude, discompassionate, violent and hilarious at the same time.
Volume II has just been released, and here's what you can look forward to: civilization, but not quite as we know it, has started to take shape. And in the continuing chaos, the world and most of its inhabitants have brandished their swords and, in various fashions, have charged onto the battlefield.
If Forming I hailed the birth of civilization and mapped out the genesis of life, mass, time and space, then Forming II is the raging war that ensues in the universe's years of adolescence.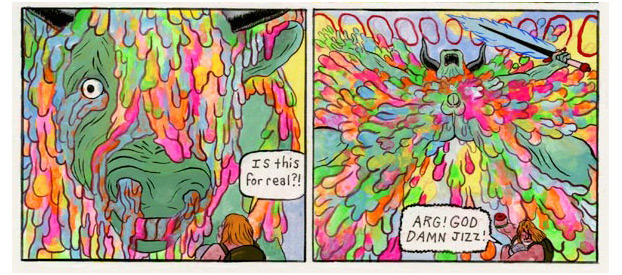 From the beautiful colouring to the crude figure work, from the visionary imagery to the coarse language mixed up with street slang, it seems like Moynihan set out to make Forming a study in contrasts.
There's a pseudo-philosophical underpinning that tries to connect it all as storylines converge and diverge again and again, which makes it no easy task to follow as characters get either possessed by super-alien gods or put in the role of puppets bestowed with god-like powers.
Despite the rather offensive language and large cast of weird and fascinating characters, Moynihan does succeed in infusing his cast with personality; it is just a shame that they are rather obnoxious and there's no-one really to root for.
However, just like its predecessor, Forming II feels like a well-thought-out creation that still manages to put instinctive storytelling moves on paper and derives a lot of strength from that impulsive approach.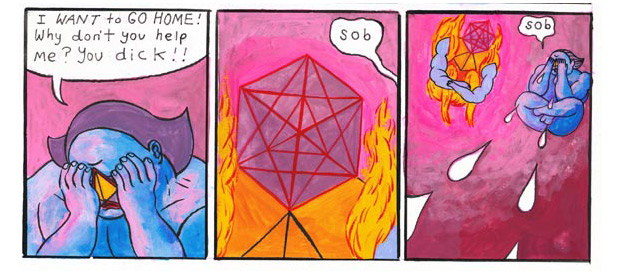 I had high hopes for Forming II since the first volume blew my mind. It is storytelling on a scale that only Kirby's Fourth World series approaches in scope, but the juxtaposition of contrasts mentioned above makes it utterly insane and contemporary.
Moynihan's art is a bit more assured than in the previous volume, and the strict nine panel grid is often deviated from to provide breathing space; there's even a full-page spread at one pivotal moment. Forming II is definitely an artistic step forward.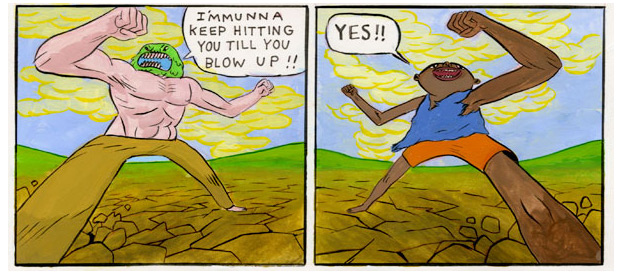 Storywise it feels very much like a middle chapter (which it is), so it is not a good jumping-on point for new readers. Although I could follow it pretty easily, it is best read in conjunction with Volume I to really understand the separate storylines and multiple reading levels, at which point some of the more meandering and seemingly less interesting subplots gain an extra level of attention.
All of the major storylines progress here without any coming to any sort of resolution, so the upcoming Forming III in 2015 has quite a job ahead of it (although I have the sneaking suspicion that easy answers won't be provided in any upcoming conclusion).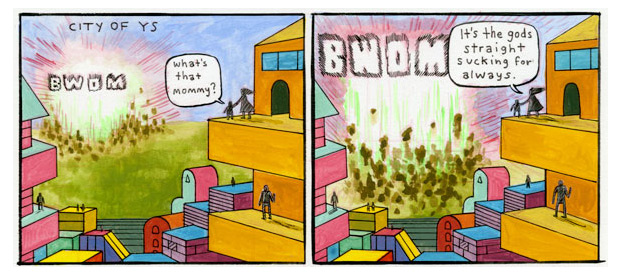 It's hard to recommend jumping in with Volume II of Forming, though; it is obviously better to start with Volume I. Printed by Nobrow on quality paper in an European album format, I can say outright that Forming as a series will astonish you with its mythology, theology, hermaphrodites, super-alien gods and the creation of the cosmos, and will leave your brain discombobulated with – to paraphrase the characters – awesomeness. Highly recommended and utterly unique in the field of comics.
If you want to follow Forming as a webcomic, click here.
I will be taking a three-week summer break, but will be back with more Crossing Borders in August. Have a great summer all!
Forming II by Jesse Moynihan is published by Nobrow. It is a full-colour oversized hardcover counting 128 pages, and retails for $30.