Writer and artist Andrew Rae crafts a parable about growing pains using the teen comedy template, while injecting a dash of absurdity into this ever-popular storytelling arrangement.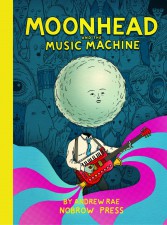 Life is a peach when you have a moon for a head. Your head can wander out of the atmosphere into galactic reveries, drift blissfully across star-specked plains or soar closer than Icarus to the sun's seething glare.
But the world of a teenage boy is a much crueler place: the taunt "crater-face" is a very literal insult and the cool kids have an unremitting supply of abuse.
And so when the school talent contest takes its yearly turn, it is the role of the outcast to take part. Thus, Joey Moonhead begins a stellar mission to create a music machine that rivals all those in existence.
As you can tell by the synopsis of Moonhead and the Music Machine, it centres on the rather typical acceptance/outsider/out-of-skin feeling that's the starting point for almost all teenage comedies centering on the 'nerd' stereotype.
But there's nothing wrong with that, as it's such a strong universal phase that every kid in every generation goes through – even the ones that are part of the 'cool' crowd. It's what growing up is all about. What I like about this theme in Moonhead, though, is that Andrew Rae, in the course of his graphic novel, makes explicit the implicit relations and ramifications of the teenage growth curve.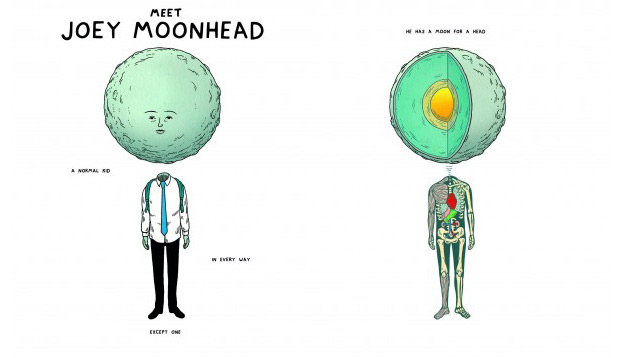 By infusing the story with elements of the absurd, he externalises the inner core of the characters. The high-school comedy revolves around the 'growing-up' of the protagonists, the realisation that it is okay to be different if you are not part of the cool crowd and that life is all about growing above those deceptive outward appearances.
Moonhead's music machine shows all those differences on the outside. Through his music, he literally transmogrifies the schoolkids into magnificent colourful being who are accepted as they are. After his performance, he walks among a plethora of creatures that are the externalisation of the uniqueness that every kid represents, and they all just 'are'. No-one even bats an eyelid or makes fun of them because they are distinct, unique.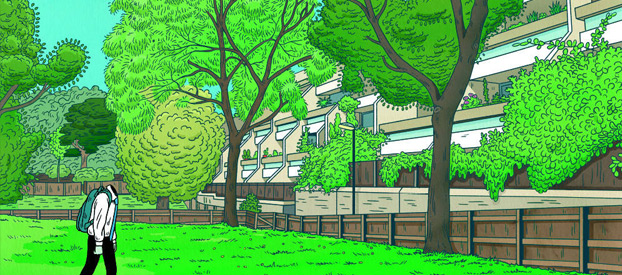 As Moonhead starts to fall in with the wrong crowd, in the form of the obnoxious son of a movie producer and his ever-popular blond cheerleader girlfriend (on whom Moonhead has a crush), things rapidly degenerate from bad to worse, with Moonhead chucking his friends to the side in order to hang with the hip crowd. But everything comes quickly to a confrontation as Moonhead realises that they just want to be his friends in order to get their grubby hands on the music machine.
Andrew Rae's love for the genre and for music is tangible throughout the graphic novel. He lovingly renders the campus in a clear line with a lot of details and it all feels real; that is the way the magical realism angle works best, infused in a real-world setting. There's one section where Moonhead recounts LP covers that is just a pure delight.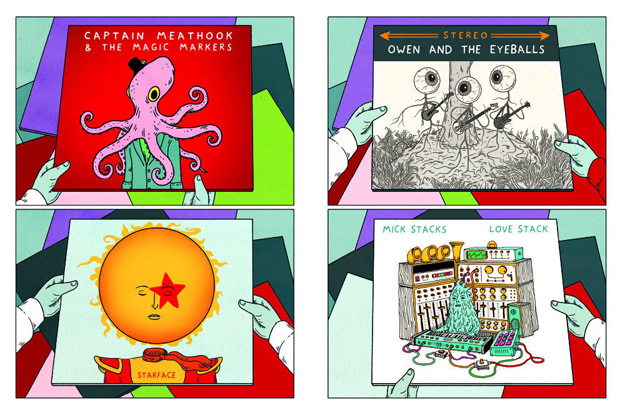 A bit more problematic is the way Rae draws his human figures. Gently stuck in a cartoony big-head mode, it is certainly adequate, but his body language is rather stiff and he sometimes gets lost in coming up with new postures.
On top of that his facial work also lacks diversity – a fault that becomes more apparent towards the end of the GN. It's a shame, because his backgrounds and his creature work is just amazing. There's just the general feel that he needs to work harder on his rendering of human beings, stepping away from the slightly underground aura it now exudes.
I was a bit puzzled because his excellent short Deity School in Nobrow's superb Graphic Cosmogeny anthology didn't display these faults at all, so I can only conclude that the long-form graphic novel tapped him out a bit towards the end.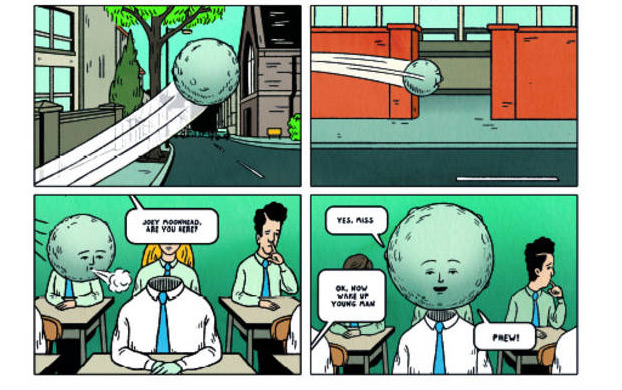 Andrew Rae's Moonhead and the Music Machine is an original and uncomplicated take on the high-school drama, infused with magical realism and absurdity. It's a pleasant enough read to let your mind drift back to earlier days of growing pains and having fun with friends, free of responsibilities.
Moonhead and the Music Machine by Andrew Rae is published by Nobrow. It is a full-colour hardcover counting 176 pages and retails for $24.95.