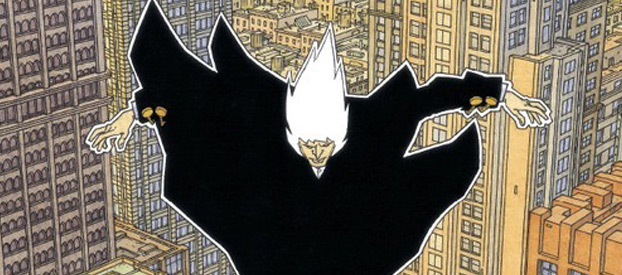 One of Europe's greatest artists and virtually unknown across the ocean, the German writer and artist Andreas, is back with a reprint of his most famous creation Rork.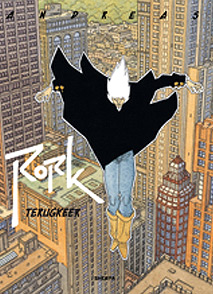 Rork Volume 2: Arrival collects the remaining tales (1988-1993) of Rork that started in Volume 1: Passages. I talked a bit about Andreas and his body of work in a previous column covering Volume 1. In this second oversized hardcover, Andreas experiments even more with architecture and cross hatching. He's starting to delve more into his angular style, stepping away from his beloved Bernie Wrightson and Franklin Booth mentors and lays the foundation for the style that is on display in his most recent series like Arq and Capricornus (a spinoff of Rork).
Arrival is mostly interested in playing with the foundations laid in Passages but that doesn't make it any less fun. Andreas plays with dimensional gateways, alien light beams, ancient civilizations and esoteric influences abound. The telling is in the story and as Andreas himself admits, he is not so interested in the characters but more in the story. This explains why Rork is more of a hard sell than his latest series Capricornus. Rork features opaque characters, sketched only with broad personalities but Andreas does pull it off. His particular brand of infusing everything with a mystical sense of grandness, a solid injection of a large dose of the weird and a haunting feeling of everything falling apart while they come together works in a compelling way.
The dimensional and mystical wizard Rork stays a bit bland as a character and is maybe the least interesting of them all but his search for his identity and his role in his multi-universal reality does provide enough empathy to keep the reader captivated. The real show is in the art and the story. Stunning vistas like the graveyard of churches, an ancient city carved out of a rock partition, strange dimensions and towering demons are all captured on the page with a stunning dynamism. Andreas framing and rhythm of storytelling borders on the experimental. Large elongated panels covering the entire page, tiny panels overpowering the page capturing Rork's mental invasion by an alien presence, broad widescreen panels capturing mysterious visions, off-kilter panels at an angle to capture movement, pulp text interludes illustrated in a woodcutting style, experimental cross hatching; the list is endless. Andreas reaches for the limits of comic book storytelling and tries to go beyond it.
Collecting the tales Starlight, Capricorn, Descent and Return, it becomes clear that we do not need to expect a clear and concise ending. Rork is about the road getting there, not what is laying at the end of the road. Most notably are Capricorn which features the introduction of the popular astrologer detective Capricorn and the text interludes in the story feature a separate pulp adventure of this known adventurer. Andreas grabs the moment to emulate in his own style the pen drawings of Franklin Booth and J.C. Coll. Return brings all characters introduced in the series together for a big finale. It is an over the top action adventure tale and probably has the most action of all previous tales put together.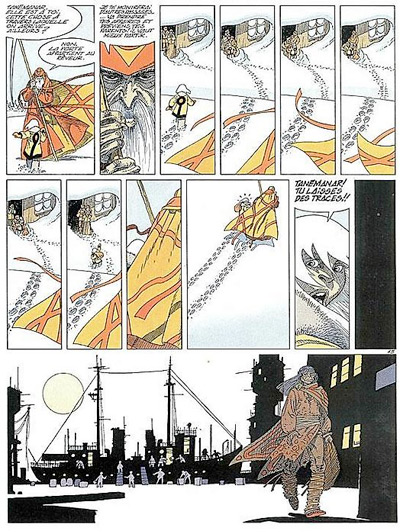 Dutch publisher Sherpa has paid a worthy homage to the genius of Andreas and his breakout series Rork. Collected in two beautiful oversized hardcovers with an exclusive interview and many never-before-seen illustrations, they are a must have for anyone interested in the evolution of the European comic book and the cross-pollination of US comics and European comics.
Rork Volume 2 : Arrival is published in Dutch by Sherpa. It is a full colour oversized hardcover counting 256 pages and retails for €49.95.
Note: preview images from the book itself were not available online at the time of publication of this column so images are pulled from the French edition and a variety of resources.