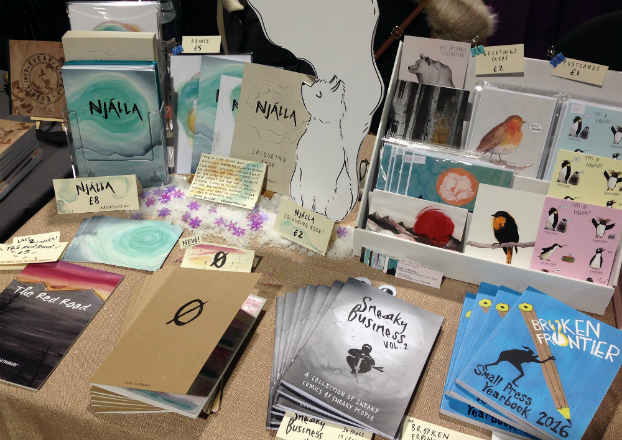 You would think – given that she was one of our inaugural Broken Frontier 'Six Small Press Creators to Watch' – that Rozi Hathaway would have made life easier for me with the name of her new comic. The work in question is called, simply, Ø. A title which made it less than easy to give a shout-out to when I was asked to point out a Thought Bubble debut comic by one of our 'Six to Watch' artists on the 'Gosh! Comics Best Thing I Read this Year' panel in Leeds last weekend.
Still, essentially referring to it as "Rozi Hathaway's comic I can't pronounce" didn't seem to hurt interest over the rest of the weekend. That's gratifying to know because in some respects this story forms part of a thematic quadrilogy that encapsulates the connective power of Hathaway's storytelling. It's one that began with her first comic The Red Road and followed through her subsequent stories 'Afloat' in the Broken Frontier Small Press Yearbook, her longer-form work Njálla and now to the 16 pages of Ø.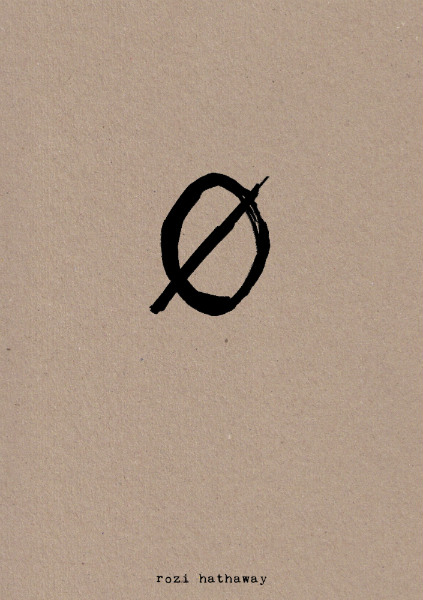 To some degree each of these offerings involves a younger protagonist making a journey of discovery with the involvement of benevolent unearthly entities, whether that be the spirit animals of The Red Road, the imaginary friend of 'Afloat', the playful mystical creature of Njálla or the "fallen star" who La, the central character of Ø, befriends. In isolation each story is a discrete, standalone entry but read together they act as complementary companion pieces providing layered explorations of solitary childhoods transformed by the intervention of something otherworldly.
In Ø, a young girl called La discovers a strangely glowing object while playing with her disaffected brother on the beach. Taking it home with her, she forms an attachment with this apparently inanimate thing and gives "him" the name Sparksy. But her attachment to her newfound companion evokes nothing but indifference from her schoolmates and sarcasm from her brother, and La must learn the lesson that sometimes friendship can be about letting go…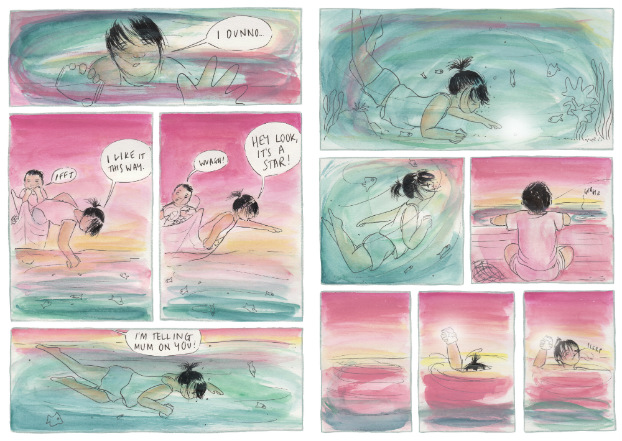 Hathaway has such a delicate touch when it comes to reminding her readership of how they saw the world themselves as children through her depiction of her younger characters' interactions with their environments. Ø speaks to us of the fickle nature of childhood hierarchies, of the sometimes squabbling nature of siblings and of the playground politics that lead to the most poignant of detachments from our peers. But there's something allegorical here too that appeals to our adult selves as well as our inner children; an underlining of the importance and value of true friendship and its vital place in our lives.
Once again there's a considered use of captivating hues to enhance mood and create an impending sense of something fantastical awaiting us. Hathaway's always striking use of colour has seldom been as powerful and evocative as it is here and the final pages are spellbinding in their visual splendour as Sparksy's true nature comes to the fore.
Committed and longer-term Hathaway readers will, perhaps, be more likely to notice that some plot elements – particularly the denouement of Ø – are indeed very similar in pacing and resolution to Njálla. But it's the themes examined in the run-up to those concluding scenes that are the focal point here, and in that regard Ø succeeds as a wistful and tender tale that fuses the everyday and the ethereal into a magical yet familiar examination of childhood affection and loneliness.
I've been following Rozi Hathaway's development as not just an artist but as a storyteller for well over two years now and her work continues to grow in poise and confidence as her craft develops and matures. At some point further down the line it would seem appropriate for Ø to be collected alongside The Red Road, 'Afloat' and Njálla in a single volume by an enterprising publisher with a wider reach. Hathaway has served her apprenticeship in the self-publishing scene now.  It's time for her to make the next and deserved step up.
For more on the work of Rozi Hathaway check out her site here and follow her on Twitter here. You can buy Ø from her online store here priced £3.00. 
For regular updates on all things small press follow Andy Oliver on Twitter here.