Press Release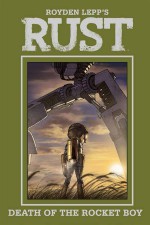 Award-winning publisher Archaia, an imprint of BOOM! Studios, is excited to announce the May debut of RUST VOL. 3: DEATH OF THE ROCKET BOY, the third installment of Royden Lepp's exciting all-ages saga. This beautifully bound hardcover continues the story of Jet Jones and the Taylor family as they struggle with a past that's rushing up to haunt them, and one boy's struggle to find his place in the world. RUST is currently in development as a feature-length film at 20th Century Fox.
"RUST continues to be one of the crown jewels in Archaia's publishing lineup," said BOOM! Studios Editor-in-Chief Matt Gagnon. "Royden's penultimate chapter is a stunner. It's a marvelous example of Archaia's commitment to producing high-end graphic novels that inspire through their stories and presentation."
WHY WE LOVE IT: Creator Royden Lepp continues his all-ages saga of Jet Jones and the Taylor family in this third and penultimate installment of RUST, giving us more of the lyrical and visually stunning ode to family, childhood, and sacrifice that we love.
WHY YOU'LL LOVE IT: More secrets of the past are revealed for both Jet and the Taylors as they face their darkest fears in this calm before the oncoming storm. And, of course, more high-octane robot action!
WHAT IT'S ABOUT: Oz Taylor may know Jet Jones' secret, but convincing the rest of his family may be harder than he counted on. As Oz plots to rid the Taylor farm of the rocket boy, Jet tries to prove himself to the family that has taken him in, in hopes of finding the home he has searched for for so long. However, when shadows of Jet's past start coming back into his life, he realizes his days of running may be numbered.
RUST VOL. 3: DEATH OF THE ROCKET BOY arrives in comic shops on May 7th with a cover price of $24.99 under Diamond order code MAR140973. Not sure where to find your nearest comic retailer? Use
comicshoplocator.com
or
findacomicshop.com
to find one! It's also available for order directly from
boom-studios.com
.