Don't just read Sandman: Overture #2 – savor it. We are in the midst of a modern classic.
Dream has an appointment with time, and not even the waiting delegation of the Knight of Clouds and his company of forgotten trumps can deter him from seeking out Mad Hettie, whose dreams reflect the stuff of life and death that defy and define time itself. She knows that Dream died, and can't believe she's currently talking to him.
"I heard he'd died. Or p'rhaps I only dreamed it…that was it. I had a dream. Everyone in the whole wide world was there."
"Yes."
"And you're him?"
"I am Dream of the Endless, Henrietta."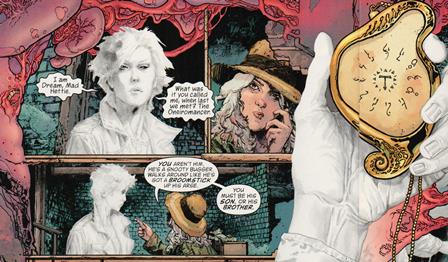 As all of the aspects of Dream converge in 1915, to discuss the removal from existence of one aspect and the interruption of the proper transfer to another, Dream receives some perspective from the Dream of the first-created things.
The universe is old. It will end. And it's all Dream's fault. But he's going to handle it with a little help from himself.
Read it once, read it again, and you still won't have a handle on all of the layers that writer Neil Gaiman has woven into this story. It's a blissful confusion only experienced in the finest of mysteries, where you read for the pleasure of taking the journey of discovery toward resolution.
Dream's dilemma speaks volumes about the level of trust Gaiman places in the readers to sit back and enjoy the journey. We get more questions than answers in this issue, but they are terrific questions, and Dream is in for a wild ride.
The visual wonderland of Sandman: Overture is another adventure in eye candy from J.H. Williams III. You won't see everything on these gloriously detailed pages in one reading, and that's fine. His buildings are alive—literally. Dream's different aspects are a riot of color and diversity, while the cat is an instant favorite.
This is sequential art storytelling at its finest. Can I nominate these guys for an Eisner now?
Neil Gaiman (W), J.H. Williams III (A) • Vertigo, $3.99, March 26, 2014