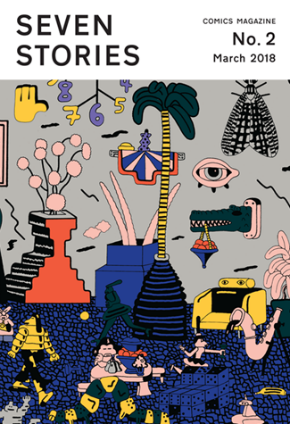 Edited and published by João Sobral as part of the output of his micropublishing venture O Panda Gordo, the twice-yearly anthology Seven Stories takes its premise from nineteenth/twentieth century literary critic Arthur Quiller-Couch's belief that all stories are essentially based around seven core concepts. Those ideas are rephrased by Sobral in Seven Stories in more considered, non-gender specific terms than Quiller-Couch's original take as: human versus human, human versus nature, human versus oneself, human versus god, human versus society, human caught in the middle, and woman and man.
Last year at Broken Frontier I looked at the first issue of this intriguing international team effort. It took those seven definitions and presented comics shorts based on their premises, including work from the likes of Ed Cheverton and Amanda Baeza. This second collection follows the same format with comics from Bruno Borges, Émilie Gleason, Giada Ganassin, Lasse Wandschneider, Marie Weber, Mike S. Redmond and Faye Coral Johnson, and Nick Norman, with a hypnotically eyecatching cover by Elliot Snowman.
As a publisher and a distro, O Panda Gordo's output is notable for its genuinely alt comics practice. In his editorial introduction in #2 Sobral reflects on both his creative process and curatorial aspirations for this second issue. What he's put together as a result is a selection of comics that challenge, subvert and defy easy definition, ensuring that Seven Stories #2 will have a definite appeal for our discerning Broken Frontier readership.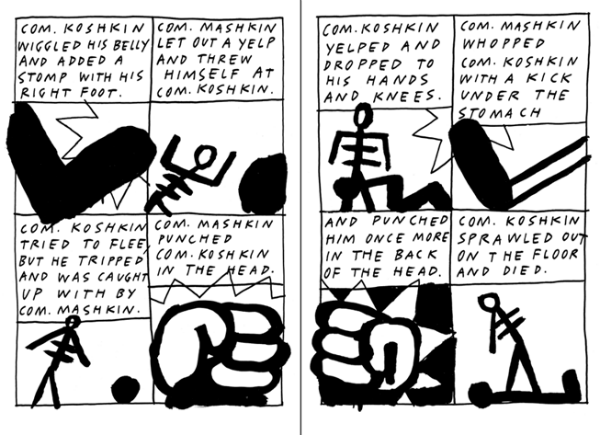 Opening the issue Bruno Borges looks at the 'Human Vs. Human' theme in 'Mashkin Killed Koshkin' (above) with a stick figure-style tale of the infliction of casual violence that underlines how we empathetically connect with basic representational figures; of how their stripped back nature can elicit far deeper reactions than the most detailed realism on the page. His images are deliberately raw and crude in order to bring us into events on a visceral, instinctive level without a deeper understanding of context or motivation being necessary.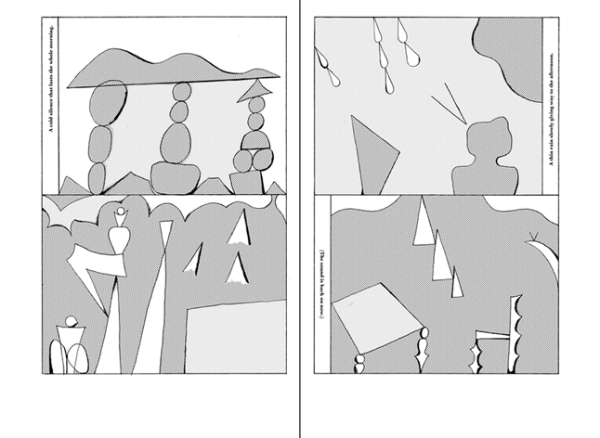 Other highlights include Lasse Wandschneider's pure abstract comic 'leave' (above) which embodies the 'Human versus Nature' theme and reminds us of the intimate inter-relationship between interpretation and interaction that makes comics such a complex and sophisticated form of storytelling. Nick Norman provides a meta self-critique in the 'Human Vs. Oneself' slot utilising a naive drawing style that we connect with because of its constructed awkwardness; yet one that is also ironically sophisticated in its communicative technique.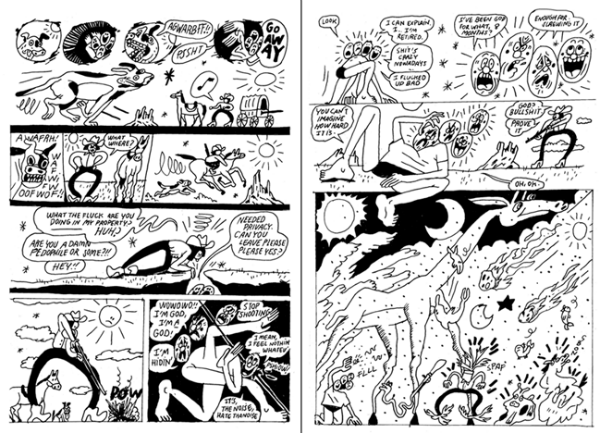 What binds all the disparate stories in this book together is that Sobral has curated a collection where the experimental can be celebrated; where we can acknowledge that comics is a medium in which work that is superficially less refined in presentation can be just as effective in its communicative power than the most intricately rendered strips. That's evident throughout this issue whether in the busy cartooning elasticity of Émilie Gleason's tale of a failed deity in hiding ('Human Vs. God' above); the minimal visuals of Giada Ganassin's solitary soliloquy ('Human Vs. Society' below); the stifled isolationism of Marie Weber's strip about a group trapped within an apartment during a hurricane wherein every panel feels like an encroaching prison cell ('Human Caught in the Middle'); and the surreally structured interlinked narrative divergences and contrasts of Mike S. Redmond and Faye Coral Johnson's 'Green Dolphin Street' ('Woman and Man').
There's a neat parallel layering to this second issue in that in its exploration of the very nature of story allows it to similarly examine and play with the perceived conventions of comics. In Seven Stories Sobral and all the contributing artists provide a collection that showcases both the true democracy of the medium and the vital importance of creative spaces like this as the form continues to evolve and grow.
You can buy O Panda Gordo comics including Seven Stories here and follow them on Twitter here. 
For regular updates on all things small press follow Andy Oliver on Twitter here.
Review by Andy Oliver