Just opened this past weekend 'She is my Daughter: All of Her is Me' is a new exhibition in the Cartoon Museum's In-Focus display space, focussing on the humanitarian crisis in South Sudan. More on what to expect from Ella Baron's graphic reportage in the press release below.
"She is my Daughter: All of Her is Me"
16 June – 08 October 2023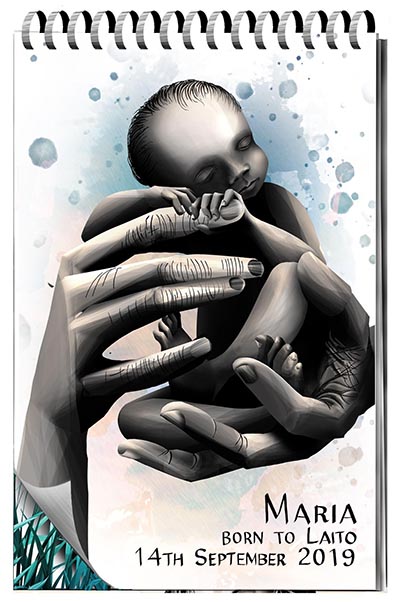 There is nothing in this world so precious as a child.
In 2019, the NGO Médecins Sans Frontières – also known as Doctors Without Borders or MSF – commissioned award-winning cartoonist Ella Baron to travel to its field hospital in Pibor, South Sudan. She spent several weeks interviewing and sketching staff and patients about the difficulties in accessing maternity care in this remote rural region. Rising star Ella Baron, who had scooped the Philip Geddes Prize for Foreign Reporting and Young Cartoonist of the Year already by this point, created an intimate and personal piece of graphic reportage out of her experience in the field. Her nine-page graphic short story follows the lives of three generations of women; Chacha, her daughter Laito, and Laito's daughter Maria. Their story is the subject of The Cartoon Museum's latest In-Focus capsule exhibition.
"She is my daughter; all of her is me" – Chacha
South Sudan is in the grip of a desperate humanitarian crisis. This graphic short story focuses on maternity care, and how access to it is severely limited by rural disconnect, social unrest and environmental disaster. But at its heart, this artwork isn't limited to the country it depicts. Chacha and Laito's story is a testament to the lengths that a mother will go to protect her child wherever she may be from.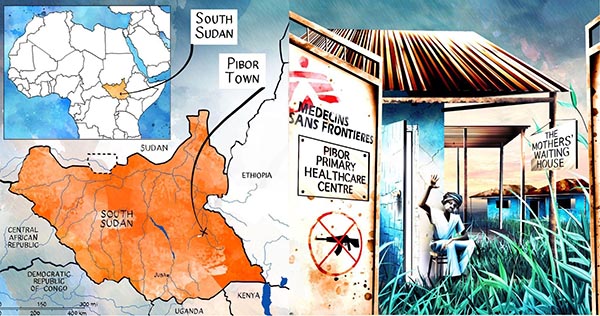 Every year brings headlines about unacceptably high maternal mortality across the world. Often women die of treatable conditions during or following pregnancy. These preventable deaths in some areas of the world reflect the inequalities in access to health services. The destruction and neglect of a fragile healthcare system further limits access to medical care for people; including young mothers like Laito. This exhibition serves as a timely reminder of the humanity of the people behind those headlines. Stories like these highlight that no matter which country you are from health care is a right and not a privilege.
Since its founding, MSF has used art as an alternative and engaging way to bring the complex reality of its work to wide audiences. Project visits by cartoonists contribute to MSF's conviction to bearing witness.
"Comic artists can illustrate complicated or sensitive medical or humanitarian activities and simultaneously show the humanity and vulnerability alongside the resilience, solidarity and agency of people caught in crisis. By allowing artists to immerse themselves in the realities experienced by our teams and communities we support, they transmit these emotions on paper.
 – Jean-Marc Jacobs, MSF International Communications Coordinator, Médecins Sans Frontières