Press Release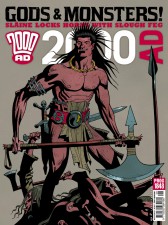 Industry legend Simon Bisley returns to 2000 AD this week for a special one-off episode of the strip that catapulted him to international fame in the 1980s – Sláine.
To celebrate the Celtic barbarians's 30th anniversary, in Sláine: Book of Scars creator Pat Mills is revisiting classic moments in the strip's history with some of the artists who made Sláine such a landmark character for 2000 AD, including Mick McMahon, Glenn Fabry, and Clint Langley.
This special eight-page episode in 2000 AD Prog 1848 returns to the events of Sláine: The Horned God, when Sláine continues his battle against the forces that continue to threat Tir Nan Og, the Land of the Young.
The Horned God was an instant hit when it debuted in the weekly anthology title back in 1989 and helped popularise fully-painted comic books. It made Bisley one of the biggest names in comic books and he went on to work on Batman, Lobo, Hellblazer, and Judge Dredd. 2000 AD Prog 1848 is available from Wednesday 4th September in print, through the 2000 AD iPad app, or DRMfree through the 2000 AD webshop.
The editor of 2000 AD, Matt Smith, said: "It's great to have Simon back on art duties for Sláine – it's been more than 20 years since he last produced strip art for us and it's fantastic  to see how his style has evolved since then.
"Book of Scars has been a real treat for fans of Sláine and 2000 AD as it has revisited key moments in this seminal character's history."