Always great to see small press comics events back after the difficulties of the last few years. SLICE, the St. Louis Independent Comics Expo returns after a three-year hiatus this weekend with a great line-up. More details in the press release below and on the SLICE site here.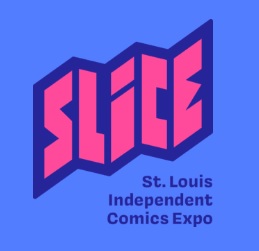 SLICE is St. Louis's premier annual indie-print showcase, bringing together writers, artists, poets, and printmakers from St. Louis and beyond to showcase their self-published books, comics, zines, magazines, poetry, and more. As a nonprofit organization, SLICE supports St. Louis's small press community through workshops, artist meetups, and expositions to foster independent print culture in St. Louis. SLICE, formerly the St. Louis Small Press Expo (STL SPEX), returns after a three-year hiatus and has led a variety of community-focused programming in 2023 in the lead-up to the expo.
The expo weekend kicks off with an opening night panel discussion featuring Bulgilhan, Xunise, and Mothwin on Friday, October 13, 6–8 p.m., at the Hi-Pointe Theatre. SLICE president Steenz will moderate the conversation. The event is free to attend and open to the public.
The expo takes place the following day, October 14, 10 a.m.–5 p.m., at the Sheldon Concert Hall and Art Galleries. Programming for the day includes screenprinting, poetry writing, button making, and live figure drawing. Bulgilhan, Xunise, and Mothwin will also lead lectures on small press publishing, BIPOC punks in comics, and solo role-playing games, respectively. SLICE is seeking volunteers to help out on the day of the expo, and those who are interested may sign up on SLICE's volunteer form.
Bulgilhan Press is a small press comics publisher making new and self-indulgent comics by excellent artists with unique visions and voices. Bulgilhan is owned by Zachary Clemente, who previously worked on the organizational committee for the Massachusetts Independent Comics Expo (MICE) and currently serves on the Board of Directors for an arts nonprofit organization—the Boston Comic Arts Foundation—as the President and Chair. Bulgilhan's recent publications include Far Distant by A Liang Chan, Die Horny by Rebecca Mock, and Stray by Molly Mendoza.
Bianca Xunise is an illustrator, writer, and educator based out of Chicago, Illinois. With two Ignatz Awards under their belt, Bianca's storytelling primarily focuses on the joys and plights of being Black in the 21st century. Bianca enjoys being a voice for those who march to the beat of their own drum and hopes that their comics are comforting to those who feel like they don't fit in. In 2020, Bianca became the first nationally syndicated nonbinary cartoonist (and the second Black woman) when they joined the comic strip Six Chix in 2020 as their first Black creator. Xunise has also collaborated with Vogue, The Washington Post, The Nib, and Believer Magazine.
Cassi Mothwin is an award-winning tabletop RPG designer, writer, and illustrator. Her game designs include Tangled Blessings, a journaling-based magic academy horror adventure; What Crooked Roots, a collection of folk-horror roleplay encounters for 5e systems; Clean Spirit, a standalone game that helps players deepen their connections with existing characters; and her award-winning output, The Sticker Game, a science fiction interactive audio drama that engages your unused sticker collections. Her game designs span genre, but are united by a throughline of emotional depth and a focus on player introspection.