The first DIY Art Market of 2015, Patt Kelley's new comic from Hic and Hoc, the Film Night anthology and One Beat Zines feature in our latest round-up of what the great and the good of the small press scene are up to, both within and without the world of comics…
DIY Art Market, EPIC Dalston, 29th March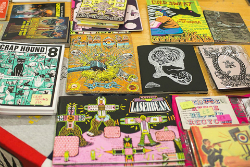 Part of the Hackney Flea Market programme, the first DIY Art Market of 2015 takes place this weekend on the 29th March at EPIC Dalston. While this event is not restricted to comics – its remit is to "celebrate London's emerging and established independent artists/makers, championing original/unique items" including ceramics, photography, illustration, clothing and more – there are always a number of notable comickers/zine-makers in attendance.
The exhibitor list includes the likes of Gareth Brookes, Decadence Comics, Esther McManus, Tiny Pencil, Eleni Kalorkoti, Eyeball Comix, Avery Hill Publishing and Darren Cullen/Spelling Mistakes Cost Lives – all of whom have been covered at Broken Frontier in some capacity (follow those preceding links for examples). DIY culture is alive and thriving in London at the moment and this show is just one more sign of its robust health!
For more on the DIY Art Market including opening times and location details visit their Facebook page here. Picture credits: Lola Rojo. 
Patt Kelley's 'Fedor' Announced from Hic & Hoc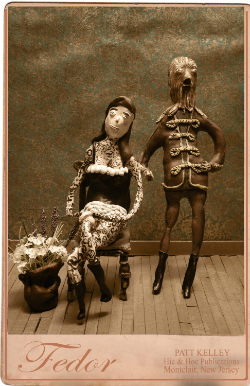 US micropublisher Hic & Hoc have added Patt Kelley's Fedor, a book that Kelley describes as "historical fiction, (sort of) based on the life of JoJo the Dog Faced Boy". I reviewed the first issue of Kelley's self-published series Scout recently here at Broken Frontier calling his creative voice one that is "both whimsical and yet disturbingly dark". And I also covered his debut graphic novel What Am I Going to Do Without You? from Top Shelf a few years ago back on the old Broken Frontier site here.
Here's the Hic & Hoc lowdown on the book's premise from their site:
Hic & Hoc is excited to announce the publication of Patt Kelley's Fedor, due this summer. Picking up where Tod Browning's Freaks left off, Fedor tells the fictionalized story of real-life turn of the century circus sideshow attraction JoJo the Dog Faced Boy and his on-again/off-again globetrotting forbidden romance with another circus spectacle — the tattooed girl.  
For more information visit the Hic & Hoc tumblr here.
'Movie Night' Anthology Launches Indiegogo Campaign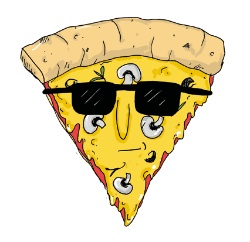 Lizz Lunney alerted me on Facebook to the existence of Movie Night, a new European-led anthology comic project being funded on Indiegogo which will be published in both English and German. "Several awesome comic artists and Illustrators have been invited to bring their favourite movies along to MOVIE NIGHT!" is the economical blurb that goes with the crowdfunding campaign. But when you look down the list of contributors and see names like Lizz Lunney, Thomas Wellmann and Mikkel Sommer you don't really need persuading further…
Other creators confirmed so far include Aike Arndt, Amelie Persson, Charlotte Hofmann, Dirk Sandbaumhüter, Johannes Mundinger, Malte Spindler, Mario Puschmann, Peter Bröcker, Roland Holzer, Sophia Hirsch , Tine Fetz and Wilm Lindenblatt.
You can back Movie Night on Indiegogo here.
One Beat Zines Announce Upcoming Zine Creators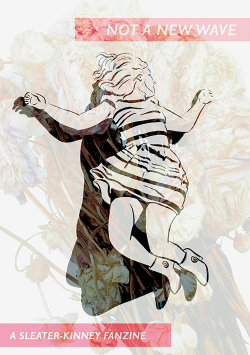 Sarah Broadhurst and Julia Scheele's One Beat Zines – a zine-making collective/distro whose first anthology publication, the Riot Grrrl-inspired super zine Double Dare Ya was a sell-out success at the end of last year – have announced the first wave of creators whose zines they will be distributing. They include Marja De Sanctis, Jordana Globerman, Clarice Holt, Johanna Lohrengel, Hannah Prebble, Kirsty Rolfe, and one of my 'Six UK Small Press Creators to Watch in 2015' Jess Milton.
Look for One Beat at the Nerd Hutch Small Press Expo, Record Store Day at Gosh! Comics, and the DIY Cultures Fair in the next few weeks. And don't forget their Sleater-Kinney zine with contributions from a number of 'Small Pressganged' reviewees including Hannah K. Chapman, Joe Decie, Wallis Eates, Babak Ganjei, Sally-Anne Hickman, Julia Scheele, Rachael Smith and more is also on the horizon.
Visit the One Beat Zines site here for more details on all their upcoming projects.
Alternative Press Takeover – Last Call for Applications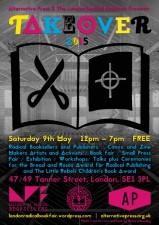 Finally, a quick reminder that the final deadline for tables at the Alternative Press Takeover (covered here in the last 'Small Press Round-Up' in this column) is 5pm on Monday 30th March.
I believe there's been a very healthy response from exhibitors looking to have a presence on the day  – unsurprising given the esteem in which Alt Press events are held – so if you are hoping to be a part of one of the liveliest self-publishing DIY fairs of the year then time is running out to get that application in!
For more on the Alternative Press check out their website here. 
For regular updates on all things small press follow Andy Oliver on Twitter here.