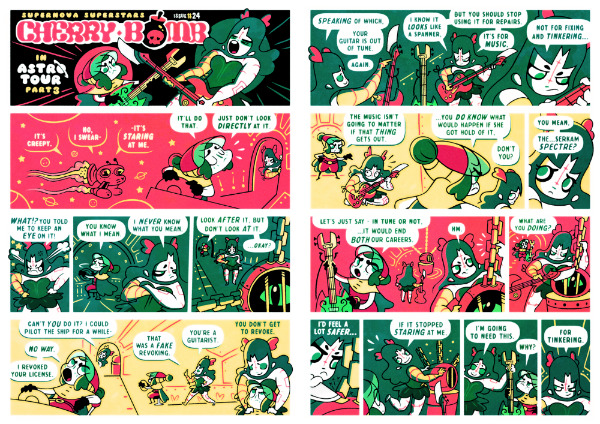 AVAILABLE AT THOUGHT BUBBLE!
For those new to the critical environs of 'Small Pressganged' at Broken Frontier – and to paraphrase an old classic industry line "every column is someone's first" – Adam Vian is one of a half dozen particularly talented UK self-publishers that I highlighted at the beginning of the year as being 'Six UK Small Press Creators to Watch in 2015'.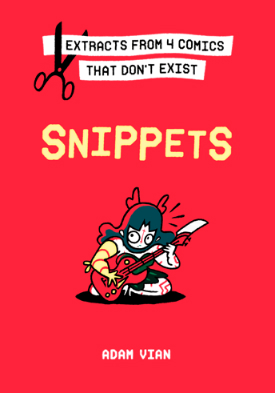 His British Comic Awards-nominated Long Lost Lempi follows the misadventures of three young pals – Lempi, Melisse and Ermin – as they journey through the fairy tale-like world they inhabit encountering the likes of mermaids, genies and an underwater circus troupe along the way! It was one of my 'Ten UK Small Press Comics You Need to Own!' for 2014 and has also received positive reviews from our friend Richard Bruton over at the Forbidden Planet International blog.
If you're already a Lempi fan then Vian's minicomic Snippets will come as something of a radical change of tempo. Where Lempi is traditional in storytelling structure, but authoritatively stamped with Vian's distinctive personal vision, Snippets embraces some of the more recognised conventions of the form yet manipulates them with a cunning and playful narrative legerdemain.
Snippets is something of an experimental piece which sells itself with the tagline "Extracts from four comics that don't exist". It's an apt description of its deliberately fragmentary interiors which consist of four superficially discrete but ultimately interconnected storylines.
The audience is thrown straight into events with a segment of the adventures of starfaring pop group Cherry Bomb. We encounter them in the middle of an ongoing storyline 'Astro Tour' as the duo ponder on how to deal with a malevolent entity they have captured on board their spaceship.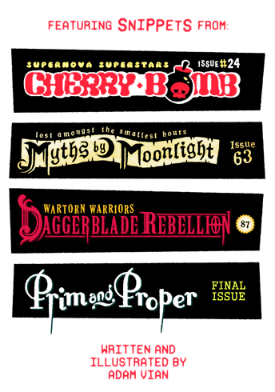 As we transition from this two-pager to the next more magical world in Myths by Moonlight – another ostensibly "detached" splinter of a greater whole – it becomes apparent that while names, genres and locales may be changing we are actually reading about the same plot and the same core characters shifting across different realities.
When I interviewed Vian earlier this year at Broken Frontier here he described the project in these terms: "Each extract is only a couple of pages long, and the initial idea was to do something that wouldn't need to have a beginning, middle and end. I wanted to make a comic that was just an experiment and not spend a month crafting a satisfying story with a set-up, conclusion, and all that boring stuff. Then I had the idea that the four extracts could be connected in some way, and eventually settled on (spoilers) having them connect to tell a single story."
Vian's greatest success with Snippets, perhaps, is that while the book retains his signature visual style – those carefully fashioned character designs and that peculiar sense of energy that his work embodies – it also underlines his versatility as a comics craftsman with an on-page sequence of events that is witty in construction, imaginative in execution, and embraces a diverting sense of frivolity throughout.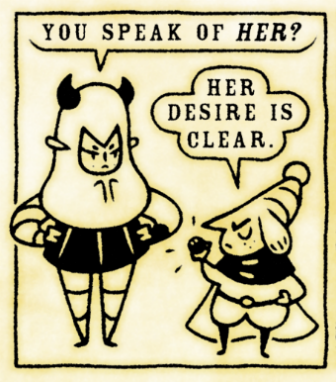 Unlike the black and white world of Lempi, Snippets utilises four colour schemes that reflect the tone of each section – the Cherry Bomb section is vibrantly coloured bringing it to vivid, almost animated life, the Myths by Moonlight spread borders on sepia lending it an aura of the archaic and the venerable, while the Prim and Proper concluding pages (featuring our heroines as supernatural detectives) have fittingly eerie, spooky hues.
What makes Snippets such an engaging read is that it's not just an exploration of the structure of comics but also a project that plays with the very traditions of the medium with teasing in-jokes and knowing Easter Egg-style references. Most importantly, as a piece of pure comics composition it underlines that although Vian's work to date has been largely within variations of the fantasy genre, his understanding of the particular conceits of the form is one that comes with both a deft craftsmanship and a sublimely subtle understatement.  When you pick up BCA-nominated Vian's Long Lost Lempi collection at Thought Bubble make sure you don't forget your copy of Snippets at the same time…
You can buy Snippets from Adam Vian's table (New Dock Hall 111) at Thought Bubble this weekend. For more on his work visit his website here and follow him on Twitter here.
For regular updates on all things small press follow Andy Oliver on Twitter here.