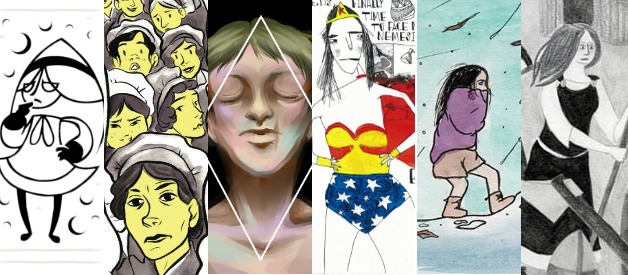 Unearthing the gems of the small press.
That was the tagline of 'Small Pressganged' when it debuted at Broken Frontier back in 2011. As a mini-mission statement it was designed to acknowledge all the exciting work appearing in the small press sections of British comics shops in those rapidly expanding early days of what many now acknowledge to be a new Golden Age for self-published comics.
As the popularity of this column grew, and both creators and the BF audience quickly began to engage with its objectives, its remit also began to evolve. Coverage became international in scope and a focus on the personalities behind the comics themselves started playing a larger part in its direction, as evidenced more recently by our 'Small Press Spotlight on…' series of interviews.
Jade Sarson, EdieOP and Jessica Martin – their print comics were all reviewed here first…
It's always a pleasure to cover the established names on the small press circuit of course. But by far the greatest reward of compiling a feature like this is in knowing that it's making a tangible difference to artists who are at the very start of their journey into the comics medium. Seizing the initiative, getting out there at self-publishing fairs and festivals, discovering talented new creators, and then actively championing their work – rather than sitting back and waiting for the same old faces to send in review copies for coverage – has become a vital part of this column's identity.
Over the years 'Small Pressganged' has been the first venue to review the print work of many now familiar rising stars of UK comics including Jade Sarson (For the Love of God, Marie!, Myriad Editions), EdieOP (Maleficium, Avery Hill Publishing) and Jessica Martin (Elsie Harris, Picture Palace, MIWK Publishing) and I would be disappointed if it hadn't played its part in bringing many other creators to an audience they may not have discovered otherwise.
'For the Love of God, Marie!', 'Maleficium' and 'Elsie Harris Picture Palace' 
With that lengthy preamble in mind, I decided this year to take a slightly different and more ostentatious approach to promoting specific creators here. Observant readers will have noticed over the last few weeks that I have been mentioning a list of six creators who I felt had yet to get the kind of online coverage they were due. Indeed, I've reviewed four of that half dozen already in January and February of this year across various 'Small Pressganged' reviews and features.
Today I'm going to give a rundown of those full six names with some links to previous coverage and examples of their work. These are people who are either relatively new to comics, or may have been around for a year or two but have yet to really break through, or in one case it's someone who is returning to the scene with a bang in her own absolutely inimitable individual style. The one, undeniable thing all of these creators share in common, though, is that they deserve to be appreciated by a far, far wider audience. And that's something we'll be attempting to facilitate in this column over the remaining ten months of this year.
These, then, are my 'Six UK Small Press Creators to Watch in 2015'…
Rozi Hathaway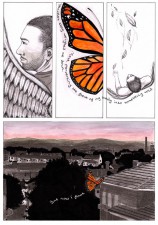 Rozi first came to prominence in 2014 when her debut published work was part of cross-media writer Ravi Thornton's graphic memoir HOAX Psychosis Blues (right), part of the larger, ambitious HOAX project that also included the musical stage show HOAX My Lonely Heart. The different strands of HOAX told the true story of Thornton's brother Rob's doomed struggle with schizophrenia.
To be published for the first time in a project that included the likes of Bryan Talbot, Karrie Fransman, Rian Hughes, Hannah Berry and Mark Stafford would be an achievement by anyone's standards but she more than held her own. Even back then I had already made a mental note of her name describing her contribution as "visual storytelling that is assured in poise and confident in technique – an artist to keep an eye out for I feel."
When I interviewed Ravi Thornton about HOAX Psychosis Blues last year she elaborated further on Rozi's input: "She worked long and hard, with more redraws and further directions than all of the other illustrators put together. But it was worth it, and it shows. And I loved working with Rozi precisely because she was willing to work that hard."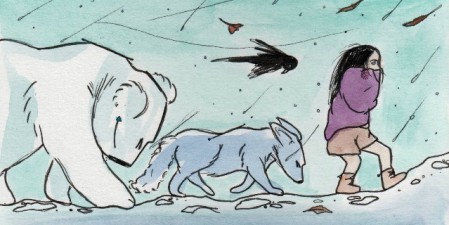 Last month I covered the first Rozi Hathaway solo self-published comic The Red Road – the tale of a journey of discovery of a Native American girl and her animal spirit guides – saying then: "Stunningly rendered, and painfully beautiful in its own way, The Red Road is an outstanding debut print offering." Rozi's regular and honest blog updates about the ups and downs of her comics journey are also an absolute must-read for those just starting out themselves.
Broken Frontier coverage: HOAX Psychosis Blues reviewed here. The Red Road reviewed here.
Visit Rozi Hathaway's site here and her online store here
Jess Milton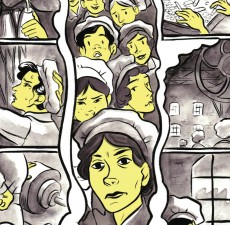 I first discovered Jess Milton's work last year in the To Arms! alternative anthology of First World War stories that spun out of the Gosh! Comics Process Group. She contributed a reflective piece on the lives of the munitions factory workers of the time in a short titled 'Canary Girls' (right) of which I said: "[she] shows a firm understanding of the possibilities of the form in terms of page design and an intelligent use of colour to create mood and layered meaning."
It was a sentiment echoed by To Arms! co-editor Matt Duncan when I interviewed him about the project: "I think Jess Milton will be a name that's new to a lot of people, but one that they'll be looking out for in future. She's really got a great eye for page design for someone so young, and a style that's fully formed."
Last month I also mentioned her jaunty, vibrant visuals on the autobio strip 'Kentish Town' (below left and centre) in the third issue of anthology Dirty Rotten Comics as "by far the highlight of the entire comic." You can also check out her webcomic Jason (below right) via the link to her site below. It's rare indeed to see so little of someone's work and yet be instantly struck by such a remarkably instinctive talent.
Broken Frontier coverage:  To Arms! reviewed here. Dirty Rotten Comics #3 reviewed here.
Visit Jess Milton's site here.
Danny Noble
Danny Noble has been producing self-published comics for a number of years but, after being away from the active side of the scene for a while, she returned to the small press world with a triumphant huzzah in 2014. Last year she got in touch with me to review her collection of (semi?)-autobio strips Monday Morning which I described as "painfully funny humour with brilliant timing… a heady mix of everyday humiliation, blasé inebriation and random slovenliness." In fact I was so impressed with the alcohol-related antics of that book that Danny made my annual round-up list of 'Ten UK Small Press Comics You Need to Own' for 2014.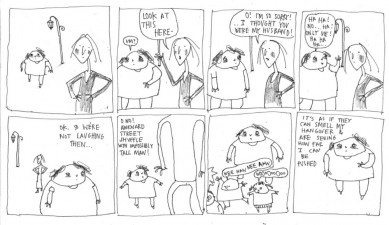 Since that review there has been a Danny Noble appearance at CECAF and new comics work has been exploding all over her social media feeds like the agitated contents of a vigorously shaken can of cider. Later this year she'll be producing print copies of her rather genius Was it… Too Much For You? Ollie and Alan comic strips (follow her on Twitter here to see regular updates) and Danny will also be chatting to me when our 'Small Press Spotlight on…' strand of interviews returns to 'Small Pressganged' in the very near future. Wildly witty and extravagantly off-the-wall, Danny Noble's work is the most appealing, glorious nonsense.


Broken Frontier coverage: Monday Morning review here. 'Ten UK Small Press Comics You Need to Own!' write-up here.
Visit Danny Noble's site here. You can buy copies of Monday Morning here.
Emma Raby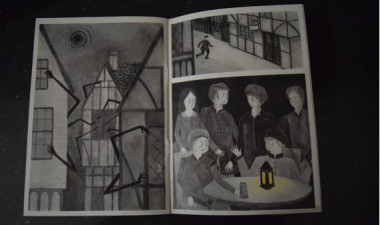 You have UK small press stalwart Donya Todd to thank for introducing me to the work of Emma Raby in the pages of her Bimba anthology in 2013 (see below left and centre). Once again you can note that I had already clocked Emma's comics as worthy of keeping tabs of back then: "Emma Raby's tale 'The Attack' is a historical short about a group of women defending their village from invasion that had me immediately bookmarking her website for future reference. The medieval style of art and the very restricted use of colour both highly effective in this four-pager."
Emma is part of the Brolly Lolly small press collective that emerged from the Cambridge School of Art's MA in Children's Book Illustration which is clearly a major inspiration in her comics style. While I've been able to pick up copies of her work like The Sea Serpent (below right) at various small press shows over the last year or so, that lack of online availability has been an obstacle to reviewing her comics at Broken Frontier. However, Emma opened a webstore earlier this year giving me the opportunity to cover her most recent minicomic The Dead Moon: A British Folktale (above right). That stunningly rendered storybook feel to her pages marks her out as one of the most distinctive new talents on the scene.
Broken Frontier coverage: Bimba #1 review here. The Dead Moon: A British Folktale review here.
Visit Emma Raby's site here and her online store here.
Alice Urbino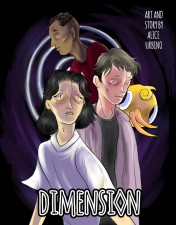 I met Alice Urbino before I ever read any of her comics back at the launch party at Gosh! Comics last November for the Comic Book Slumber Party: Fairytales for Bad Bitches anthology of which she was a contributor. A constant refrain that evening from her fellow creators on the project was that I simply had to take a look at her self-published series Dimension which I agreed to do.
While waiting for my review copies I investigated Alice's online work and was so impressed with her potent approach to the graphic medicine strand of comics that I featured her in a webcomics round-up that very same week (see one example below left). There I talked about a number of those strips in glowing terms: "'Twister' is a formidable use of visual metaphor to depict the despair of depression while 'S**t People Say to Chronic Fatigue Sufferers' is another evocative piece of graphic medicine, making its succinct but powerful point in just five panels. I would also recommend  'Finbar' – a poignant examination of loneliness, seclusion and emotional projection. Hers is a name I suspect we will be hearing a lot more from in the near future."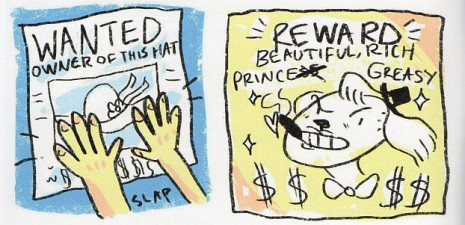 Her offering in the CBSP anthology was the standout one for me – displaying a completely different facet of her creativity with its gratuitously extreme but very funny take on the 'Cinderella' story (above) – and her metaphorical fantasy series Dimension (below centre and right) is one the most original and powerful accounts of living with depression and anxiety that I have ever read in comics. I'm quite frankly astonished that she hasn't had more press to date.
Broken Frontier coverage:  Alice's online comics reviewed here. Comic Book Slumber Party: Fairytales for Bad Bitches reviewed here. Dimension #1-2 reviewed here.
Visit Alice Urbino's site here.
Adam Vian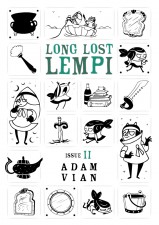 Another of my great frustrations over the last 18 months has been the lack of attention that Adam Vian's utterly delightful fantasy comedy series Long Lost Lempi has received. I first spoke about the book in August 2013 and reviewed the second and third issues at BF just over a year later. But while both myself and my sterling colleague Richard Bruton over at the Forbidden Planet International Blog have given Vian's charming cast of characters a big thumbs up the buzz this series should have been generating has been curiously absent.

I hope, in time, Long Lost Lempi pulls in the audience this sparky little fairy tale-style comedy is due (not to mention the highly inventive narrative structure in his recently released one-shot comic Snippets above). Adam also made my 'Ten UK Small Press Comics You Need to Own' column this year where I selected the following review quote to sum up my feelings about the book: "There's a sense of motion, a feeling of energy, to Long Lost Lempi that is highly engaging. It's those distinctive yet expressive character designs that provide the book with its own eccentric identity, though, and ensure the readership's affinity with these three childlike souls."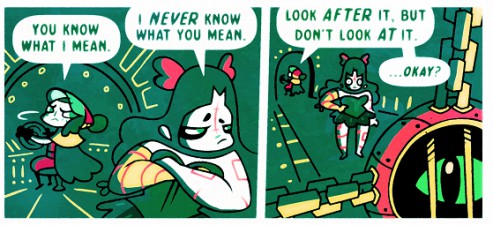 I firmly believe it's only a matter of time before bigger publishing outfits show interest in this charming and imaginative world and its amiable denizens.
Broken Frontier coverage:  Long Lost Lempi Book I reviewed here and Books II-III reviewed here. 'Ten UK Small Press Comics You Need to Own!' write-up here.
Visit Adam's website here.
For regular updates on all things small press follow Andy Oliver on Twitter here.