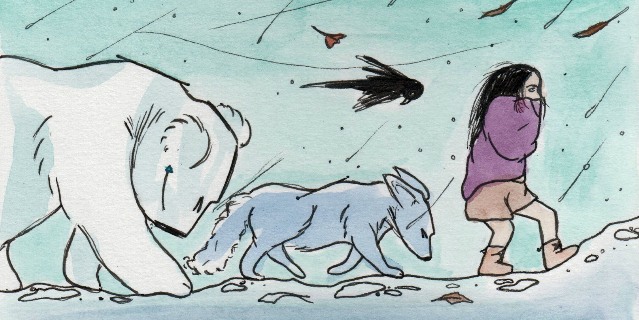 Rozi Hathaway's work originally came to my notice last year in the Broken Frontier Award-nominated graphic novel HOAX Psychosis Blues. Hathaway was one of ten creators – including names like Bryan Talbot, Karrie Fransman, Mark Stafford and Hannah Berry – who made up the team that provided the art for Ravi Thornton's powerful graphic memoir. Long-time Broken Frontier readers will be aware that HOAX Psychosis Blues told the true story of Thornton's brother Rob's struggle with schizophrenia over a several year period through a mix of autobio comics and illustrated interpretations of his poetry.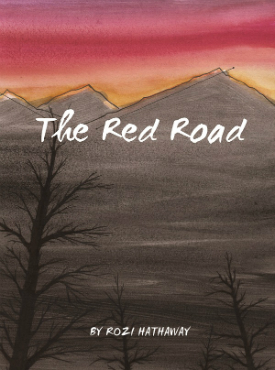 Hathaway's contribution to that project was her first professional comics work and the section of the book she was responsible for was, arguably, its pivotal sequence. Quite a responsibility for someone's industry debut! I described her as imbuing it with "a majestic sense of grace and liberation" when I reviewed HOAX at the time, and it was abundantly clear then that she was an artist to watch out for. I have been keeping a very close eye on everything she has been posting online since…
The Red Road is Rozi's first self-published print comic, based on the Native American poem 'To Walk the Red Road' by an unknown writer. It takes as its central focus the spiritual beliefs of North American indigenous peoples and a philosophy of choosing your own moral path to enlightenment in life through the teachings of the Red Road.
Hathaway uses this poem as the foundation for a tale that combines themes of companionship, destiny and self-discovery that are portrayed against a backdrop of harrowing loss and violence. In the wake of an event so traumatic that the flashbacks to it are fleetingly hinted at rather than explicitly depicted, a young girl and her animal spirit guides – a bear, a coyote and a bird – begin a gruelling journey on a route both literal and mystical. Here she must comes to terms with life without her tribe, and honour the beliefs of her people. on the way to a destination that will reunite her with those who have gone on before.
The first, and the immediate, observation to make is that if a casual reader browsed through The Red Road they would not for one moment conclude this was someone's first solo print comics project.  As I said about Hathaway's work on HOAX Psychosis Blues, there's something remarkably assured about her approach to the page – an innate appreciation of the medium's distinctive possibilities – that belies her minimal output to date. The Red Road comprises just 22 pages of story, and less than 50 panels, yet in that relatively brief space we become fully invested in, and touched by, the plight of her protagonist.
So much of that sense of being immersed in this other life comes from Hathaway's deft ability to use that fundamental quality of the comics page to show rather than to tell. Words are used economically but our empathy for the girl as she continues on her travels is evoked by a tender, delicate and yet wholly expressive visual characterisation. Small, simple moments speak volumes here about the gift of comradeship and the value of community.
Indeed it's Hathaway's decision to dwell only sparingly on the horrific incident that acts as a catalyst for the quest of The Red Road that ensures its impact is all the more keenly felt. Its graphic nature is obvious but it's the fact that so much is left to our imagination that makes this all the more disturbing, especially whenever flashbacks to it intrude into the flow of the comic's primary timeframe.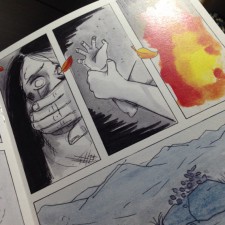 While I'm on the subject of the depiction of time it should be noted that this is one of The Red Road's great strengths. The way in which the internal chronology of sequential art can be manipulated has, of course, been long recognised as one of the medium's primary narrative strengths and it's used to powerful effect here. The opening half dozen pages with their dreamlike transitions between the brutality of the past, the refuge of the mind and the reality of the present are particularly resonant in this regard. The Red Road is one of those comics that absolutely bears multiple re-readings, with every visit to its pages revealing new details that will enrich the audience's experience. Without wanting to spoonfeed potential readers the clever use of recurring motifs that echo back to the book's opening is an especially skilful device, and the suggestive use of colour to add further layers to the comic's thematic heart is exemplary.
Stunningly rendered, and painfully beautiful in its own way, The Red Road is an outstanding debut print offering. Keep your eyes on Rozi Hathaway's work this year because she's one of half a dozen or so names I have on my list of self-publishing talents I believe will make the next step up in 2015.
For more on the work of Rozi Hathaway visit her site here. You can order copies of The Red Road from her online store here priced £6.00. 
For regular updates on all things small press follow Andy Oliver on Twitter here.