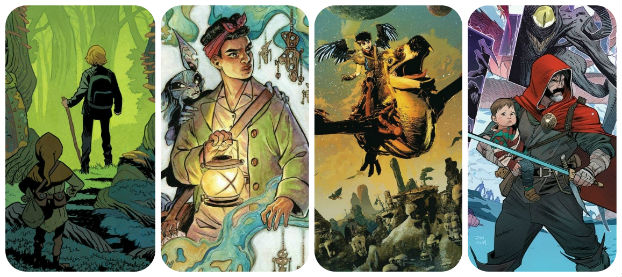 It's Wednesday, and you know what that means: a fresh load of comics and graphic novels! With so many publications hitting your local comics store, comics event or digital storefront, the BF team are here to lead you through the woods with our weekly staff picks. Satisfaction guaranteed!
Comic of the Week
Klaus and the Life and Times of Joe Christmas #1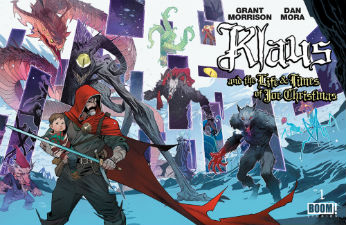 One of comics' best annual traditions continues this week as writer Grant Morrison (All-Star Superman) and artist Dan Mora (Buffy: the Vampire Slayer) release their latest Klaus collaboration. Always innovative, this series takes two interesting creative turns with its latest installment—it's silent, and it's an oversized landscape-oriented book.
Here are comments from the creators from PreviewsWorld:
"As ever, working with Dan Mora on a new KLAUS story is a highlight of my year. For this year's special we decided to do something a little different by creating a Christmas advent calendar story featuring 25 iconic scenes from the adventures of Klaus," said writer Grant Morrison. "We wanted to give Dan free rein for his remarkable creativity and imagination while also providing a narrative element that allows the images to tell the exciting, poignant and completely wordless life story of one Joe Christmas, from his humble beginnings to his inevitable end, as we see how that life has been affected and changed by his encounters and adventures with Klaus."
"Every year I look forward to working with Grant on a brand new issue of Klaus. I love visiting this world and drawing all new characters, monsters, and planets, but this year is going to be very special because the entire issue is silent!" said artist Dan Mora. "That means I've worked overtime to capture every nuance of storytelling, character, and action to bring this Klaus story to life and introduce everyone to the Life & Times of Joe Christmas, making this a very exciting challenge for me and hopefully a very exciting issue for fans."
Morrison and Mora are an unbeatable creative team, and their action-packed Klaus stories are always engaging and beautifully rendered.
Grant Morrison (W), Dan Mora (A) • BOOM! Studios, $7.99
– Karen O'Brien
Tales from Harrow County: Death's Choir #1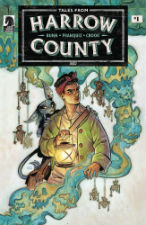 There are a number of reasons why Harrow County manages to draw readers in for as long as it has, and topping that list is its emphasis on compelling storytelling. Death's Choir #1 is a new story that follows the series' well-established Southern Gothic tradition.
This one is set during World War II, and allows writer Cullen Bunn to introduce the horror of war into some already supernatural proceedings. The art by Naomi Franquiz is glorious, and her ghostly choir is truly a joy to behold. This one has all the makings of a slow burn that promises to age well.
Cullen Bunn (W), Naomi Franquiz and Tyler Crook (A) • Dark Horse Comics, $3.99
– Lindsay Pereira
Sonata Vol.1: Valley of the Gods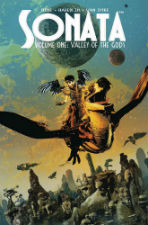 One of two sell-out collaborations between David Hine and Brian Haberlin this year (along with The Marked), Sonata tells the story of a clash between two cultures on the wild but resource-rich planet of Perdita. Walking us through the story is Sonata, the plucky young daughter of a colonist whose adventurous nature leads her into a world of conflict and secrets.
Hine and Haberlin's collaboration offers a timely examination of colonialism, environmental exploitation and resource conflict in a classic sci-fi/fantasy framework. If strong world-building, lush artwork and an unfolding alien mystery sound like your cup of tea, Sonata could be for you.
David Hine (W), Brian Haberlin (W/A), Geirrod Van Dyke (C), Francis Takenaga (L) • Image Comics, $19.99
– Tom Murphy
Folklords #2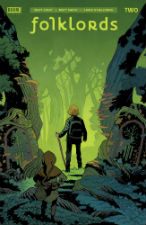 The first issue of this new fantasy miniseries was one of the standout debut issues of 2019. It follows the adventures of Ansel who must undertake a quest of his own choice as part of the rites of passage of his homeworld. Determined to understand his strange visions, he decides to seek out the mysterious and possibly mythical Folklords for answers. But that's a course of action that is punishable by death by the sinister Guild of Librarians who control the currency of knowledge in this realm…
In this second issue Ansel meets two mysterious women who we are promised will change his life forever. Matt Kindt and Matt Smith's storytelling is given resonant layers by the stunning colouring of Chris O'Halloran and the lettering prowess of Jim Campbell. We reviewed the first issue here, previewed the second here, and stand by our claim that this is already one of the best serial comics of 2019.
Matt Kindt (W), Matt Smith (A), Chris O'Halloran (C), Jim Campbell (L) • BOOM! Studios, $3.99
– Andy Oliver
The Low, Low Woods #1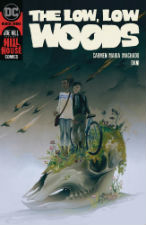 The Joe Hill-led Hill House imprint has already produced two creepy and thoroughly entertaining supernatural-themed miniseries in the shape of A Basketful of Heads and The Dollhouse Family, and is rapidly becoming the DC go-to imprint if you want something more than recycled super-hero stories from their output.
This week sees the third title in this family of books arrive in stores. The Low, Low Woods promises a horror mystery as two teenagers awake in the oddly named dying mining town of Shudder-to-Think with no memory of the last few hours and on a quest to discover the truth behind a location where "the woods are full of rabbits with human eyes, a deer woman who stalks hungry girls, and swaths of skinless men." Carmen Maria Machado and Dani's story will be well worth a look while also being a reminder of how much the Vertigo line is missed at DC.
Carmen Maria Machado, Dani (A) • DC Comics/Black Label, $3.99
– Andy Oliver