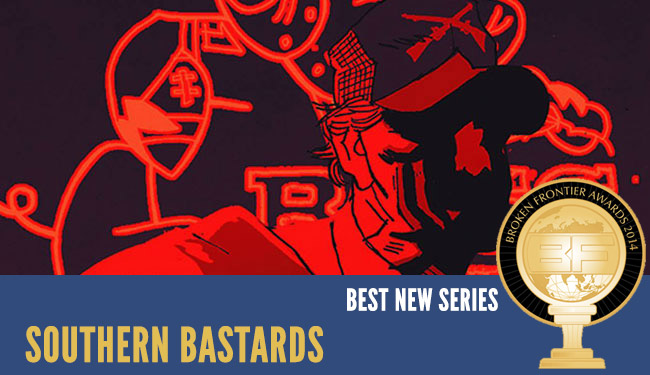 If you were waiting for Jason Aaron's next masterwork to follow Scalped, look no further. Southern Bastards is definitely it.
Want to see a grown man cry? Make him read the first six issues of Southern Bastards, a series in which bones and spirits are broken and salvation is a word that's missing from the dictionary.
What isn't missing in the dictionary of Jason Aaron and Jason Latour's superb new Image series is southern slang: this comic book bleeds the South, all the way down to the biscuit and fried apple pie recipes in the backmatter.
Just don't expect to be licking your chops when you've finished an issue, because emotionally, there isn't much to enjoy here. Unless you get a kick out of an old man being beaten to death with his own father's baseball bat. Or worse: seeing a young teenager who dreams of making his football team to make his miserable poppa proud pretty much get ass-raped by his scumbag teammates.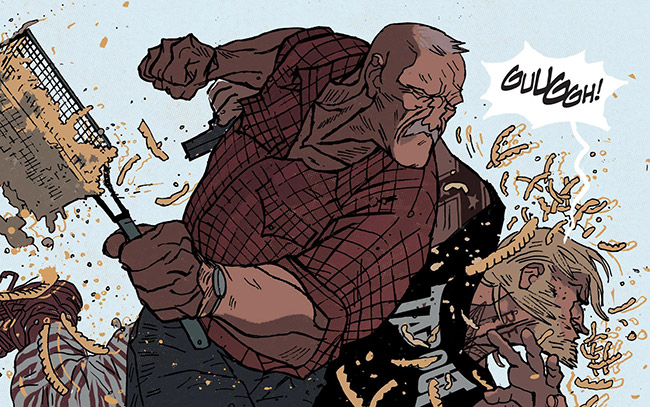 Southern Bastards just might be the bleakest book on the stands. But it being oh so very good at showing the human condition at its worst also makes it one of the best.
Aaron and Latour do a tremendous job of depicting how there's no escaping fate and how your surroundings and factors beyond your control ultimately shape you into the person you end up being, all the way from childhood on up. What that means is that even the most feared bastard of all can be a person you can't do anything but feel very sorry for all things considered. And that's some pretty darn good storytelling.
A special mention also goes to the color palette Jason Latour uses. While he draws extra gritty, with sharp corners and thick edges for everything, whether it's a face, a living room, a chicken or someone's baseball bat, the atmosphere of despair is really driven home the combination of reds and browns and the muted blues, pinks and greys. There's only one bright color to be found in this comic and that's the white of the word balloons.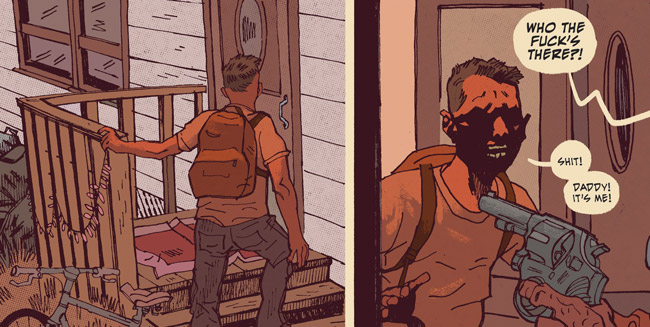 Although it faced some heavy competition, not in the least from fellow Image titles Deadly Class and The Wicked + The Divine, Southern Bastards clearly was the finest of the crop of new ongoings the past year had to offer.