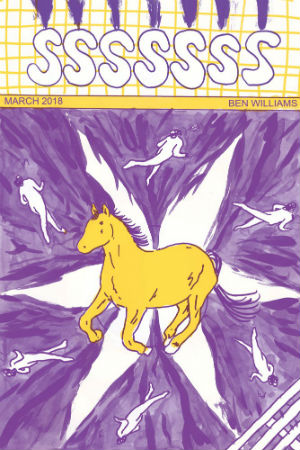 With the East London Comics and Arts Festival rapidly approaching it seems most appropriate to be revisiting a younger presence on the UK small press scene today. I first discovered the work of Ben Williams at the ELCAF Springboard Meetings last year when I had the opportunity to review his portfolio. You may remember I reviewed Williams's self-published comic Thomas Leaves earlier this year at BF and was impressed by both its experimental graphic narrative and a creator who was "unafraid to interrogate the medium and to cast aside easy preconceptions of the standards of the form."
Williams's most recent self-published offering Sssssss again displays the product of a mind constantly engaging with the distinctive possibilities of his chosen medium; one that is relentless in its exploration of the formal structure of comics. Sssssss revolves around a young man's unlikely encounter with a wild horse in a field – an equine wanderer who shoots great jets of liquid from its back when stroked.
The problem is that this phenomenon only occurs when the young fellow in question is on his own with the horse, leading to disbelief from those he confides in. Even photographs of this bizarre event come out blurred. An eventual last meeting with the horse, after a night's drinking, will bring events to a climactic finale and a moment of ultimate, dramatic release…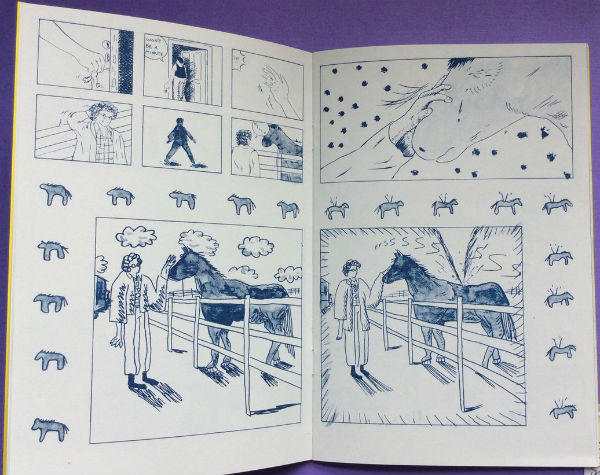 Williams makes few concessions to the reader in terms of absolute storytelling clarity here but from the overtly explicit opening sequences, to the comic's neatly placed symbolism, through to the probable metaphor of the denouement, the sexual overtones of the tale are unavoidable. In many ways, though, narrative is far less interesting than technique in Sssssss and it's Williams's truly alt-style delivery that continues to mark him out as such an intriguing new voice in UK small press comics.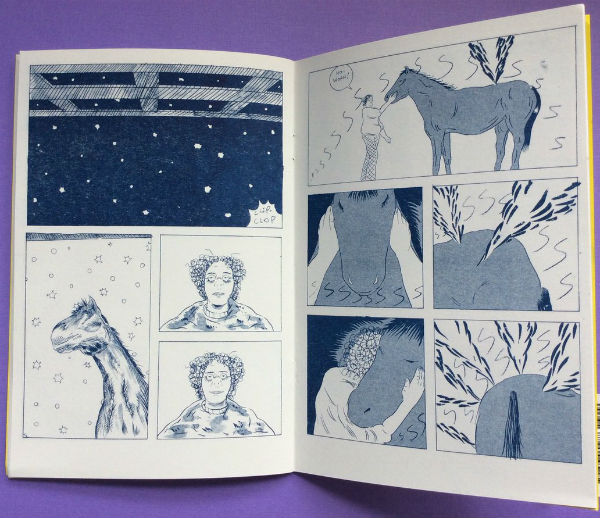 In the short page count here he shifts dramatically in drawing style from sketchy minimalism to a disproportionate faux naivety, with ever shifting page compositions and clever panel-to-panel sequencing to mark the passage of time. That experimentation – often making multiple rapid transitions in presentation in the boundaries of one narrative – will perhaps ensure that Williams is seen as a more niche practitioner at this stage. But it also underlines just why I find him such a refreshing and intriguing artist. He's actively learning his craft and pushing his potential in front of an audience and allowing us to witness that development as it happens. That's an exciting prospect and a brave move, and I look forward immensely to seeing where he goes from here.
For more on the work of Ben Williams check out his site here and follow him on Twitter here. You can buy Ssssss from his online store here priced £4.00.
For regular updates on all things small press follow Andy Oliver on Twitter here.
Review by Andy Oliver