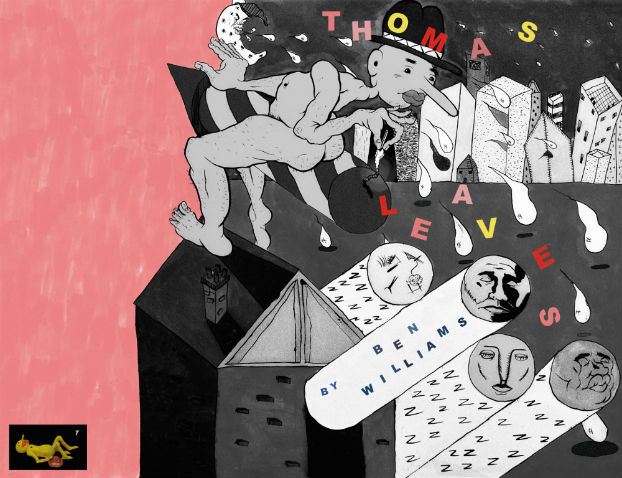 Ben Williams is a young British creator who I first had the pleasure of meeting last year when I reviewed his portfolio at the East London Comics and Arts Festival's 'Springboard Meetings'. What immediately struck me about Williams's work was his incredible versatility. The pages I saw that afternoon included various playful takes on the style of some of the true greats of pure comics storytelling. But my immediate impression was that this was not mere homage or mimickry but the results of a curious mind, dissecting and analysing the mechanics of each artist's style in order to understand the fundamentals of their individual approaches to the page.
Intriguingly enough, given that build-up, there's certainly an argument to be made that Thomas Leaves – the self-published work from Williams that I'm looking at today – is more graphic narrative than sequential art. But that's what draws me to Williams's practice. However you define it, his comics have an experimental and profoundly alternative sensibility to them. There's a sense of exploration to these pages; of an enquiring mind refusing to be bound by any perceived boundaries of the form and restructuring its narrative traditions on his own terms.
Thomas Leaves is ostensibly the story of a young man on the cusp of leaving the family home. In a series of vignettes we observe Thomas's relationship with his familial unit, his insecurities (as embodied in his self-deprecating analysis of his own pretensions), his friendships and his coming-of-age realisations. While one suspects,  to some degree, an element of autobiographical channelling is in effect here, it's the structure of Thomas Leaves that marks it out beyond the usual self-published slice-of-life material.
Williams has a darkly witty prose style that encompasses both the recognisable and the oblique in its accounts of Thomas's daily routine. It's self-reflective, philosophical, humorous and a little poignant in places as well. This narration provides an ongoing commentary on the events of Thomas's life which are captured initially in different illustrative "plates" as a preface to each section. Thereafter elements of those often grotesque and skewed images are reproduced to capture the differing perspectives of characters. Text boxes and captions take the place of panels in the sequential flow of the story with often nightmarish imagery interspersed as Thomas moves ever closer to a pivotal moment in his existence.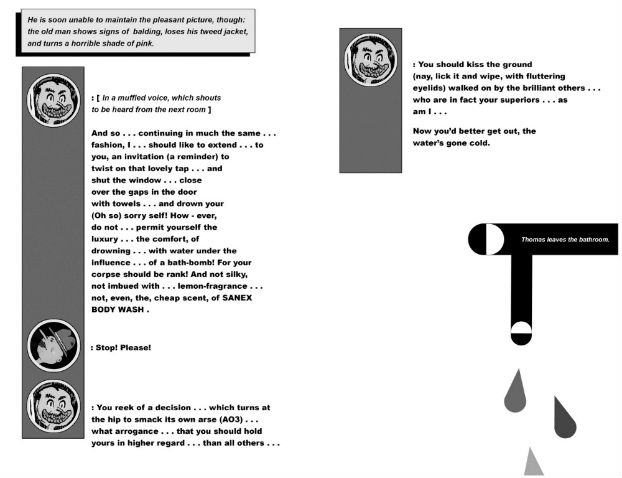 What Williams achieves here is not so much a subversion of the language of comics as a recontextualisation of it. He toys with our expectations,  and in the process redefines the way in which we interact with and interpret events on the page. Thomas Leaves is a fascinating piece of work from a teenaged artist who is unafraid to interrogate the medium and to cast aside easy preconceptions of the standards of the form.
For more on the work of Ben Williams check out his site here and follow him on Twitter here. You can buy Thomas Leaves from his online store here priced £3.00.
For regular updates on all things small press follow Andy Oliver on Twitter here.
Review by Andy Oliver