It's almost Wednesday, and you know what that means: a fresh load of comics and graphic novels! With so many publications hitting your local comics store or digital storefront, BF is here to lead you through the woods. These are the books that need to be on your pull list this week.
Comic of the Week
Enormous #1
After the 64-page Enormous one-shot from Image back in 2012, writer Tim Daniel (who impressed recently as part of the team behind tense contemporary werewolf tale Curse, for BOOM! Studios) is teaming up again with Mehdi Cheggour for an ongoing series that will continue the story. The Moroccan artist created a stir among fans first time round, and his slick digital work is a perfect fit for the story's "widescreen" sense of scale and spectacle.
Enormous is set in the wake of an ecological catastrophe that has left humanity facing extinction at the fangs and claws of a grisly array of megafauna. Following on from the original one-shot, the new series follows the adventures of Ellen Grace, the leader of the last remaining Search and Recovery Team on the ravaged streets of Phoenix AZ, as she confronts deadly predators and equally dangerous human scavengers.
Tim Daniel (W), Mehdi Cheggour (A) • 215INK, $3.99
– Tom Murphy
100th Anniversary Special: Fantastic Four #1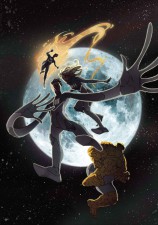 I know what you're thinking, the Fantastic Four, and indeed Marvel Comics as we know it, is nowhere near 100 years old. So how on Earth are they already publishing 100th anniversary issues? The short answer is time travel.
Set in the year 2061, the limited series of one-shots kicks off with a look at the future of the Fantastic Four; a future in which the team's legacy lies in ruin and the original members are missing and presumed dead. A future in which a new generation of heroes – including the granddaughter of Doctor Doom and the Richards-Banner twins – must confront this past.
On the surface, the 100th Anniversary Special series looks a little like DC's One Million event from years ago, but this event is more than a window into the future for the fans, it is an opportunity for Marvel's creators to cut loose from convention and envision free new interpretations of the publisher's most beloved and iconic characters, including Spider-Man, the X-Men, and the Avengers. Hopefully the event lives up to its hype, providing something fresh and exciting and new to some iconic comic book mythologies.
Jen Van Meter (W), Joanna Estep (A) • Marvel Comics, $3.99
– Reid Vanier
DKW: Ditko, Kirby, Wood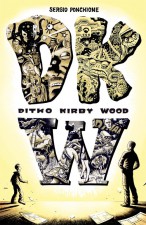 Always on the lookout for artists with a groundbreaking project, the bloodhounds at Fantagraphics are famous for uncovering creative gems. After the serialization of Sergio Ponchione's surreal Grotesque, they discovered that his blog contained portions of DKW: Ditko, Kirby, Wood.
The project is a loving tribute to master comics storytellers Steve Ditko, Jack Kirby, and Wally Wood done using characteristically trippy visuals and mind-bending artwork to bring to life their incomparable imaginations. He couldn't have selected three more influential creators, and I can't wait to see this one-shot.
Sergio Ponchione (W/A) • Fantagraphics Books, $4.99
– Karen O'Brien
Archer Coe Vol 1: Archer Coe and the Thousand Natural Shocks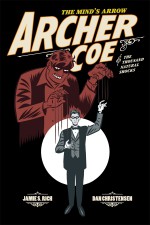 Archer Coe is a performing hypnotist with the stage name "The Mind's Arrow." When his nightly shows are over, he moonlights as a special consultant for the rich and powerful. His latest client is a woman who claims to know him but whom he swears he's never met.
Things take a strange turn for the worse when her husband ends up dead, and police suspect Archer of not just killing him, but also of being a sinister killer nicknamed "The Zipper." Archer has no memory of any of this, but it's making him doubt whether or not he's got blood on his hands. Could the master of other people's minds be losing his own?
Jamie S. Rich (W), Dan Christensen (A) • Oni Press, $19.99
– Tyler Chin-Tanner
Scum of the Earth #1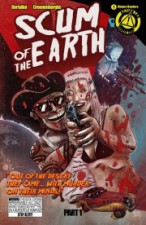 As comics are becoming taken more and more seriously, along comes Scum of the Earth to show that not everything should be taken so seriously. Like some kind of extra terrestrial Midwest Bonnie and Clyde, the two main characters True and Laura go on a lovers' rampage through America diners, on the run from a robot alien from space.
That's about all their is to say. Cartoonish, violent, tongue in cheek, illustrated by Rob Croonenborghs with a heavy roughness that suits the story of a dysfunctional, head-over-heels in lover, slightly (well more than slightly) murderous couple of gunslinging runaways and the giant alien on their trail. If you want to know how on earth the unlikely pair ended up with a giant alien on their trail… you'll have to read the comic.
Mark Bertolini (W), Rob Croonenborghs (A) • Action Lab Entertainment, $0.99
– Conori Bell-Bhuiyan